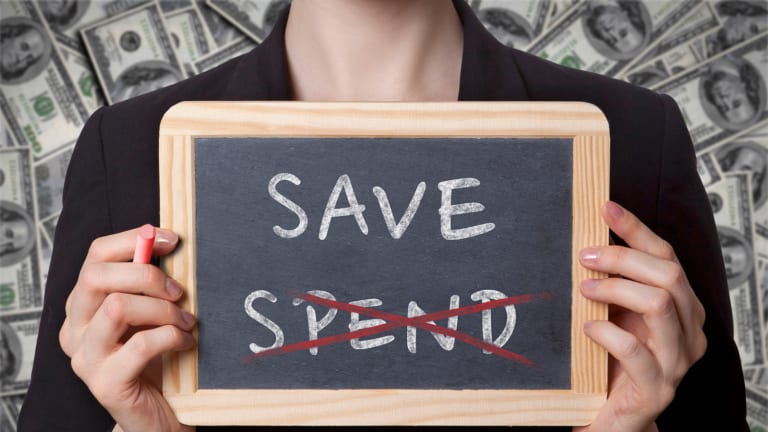 Retirement Savings Shortfall? 4 Ways to Face the Challenge of Catching Up
Many Gen X-ers and Baby Boomers have fallen behind on saving enough money for retirement, and making up the shortfall means you have to be prepared to adjust your lifestyle.
NEW YORK (TheStreet) -- Kristen Bergevin, a Gen X-er, has been an avid investor, diligently allocating her savings for her nest egg in a 401(k), Roth IRA and savings accounts.
The 41-year-old Los Angeles marketing executive is now making tweaks to her savings so she can bolster her retirement portfolio even more. She contributes the maximum amount to her 401(k), because her company provides a robust match, and she opened a flexible savings account a few years ago.
"I am just your run-of-the-mill Gen X-er that has set up the systems for saving, and I just follow that," she said. "I think we all think we could have or could be saving more."
While many Gen X-ers and Baby Boomers have fallen behind on saving enough money for retirement, it can be a challenge to make up the shortfall. Mitigating the gap means you have to be prepared to adjust your lifestyle. A realistic savings number is 10 times your current income, said MaryAnn Monforte, an accounting professor at Syracuse University.
"Adjust your lifestyle now -- leasing a BMWundefined 328i at $500 a month is not a necessity," she said. "A Ford (F) - Get Free Report Focus at $149 will you get to the same destination using much less gas. The $350 savings can be put towards retirement, not to mention the reduced insurance."
Despite the fact that the retirement crisis has been writ large, with people living longer on inadequate savings, Americans are still struggling to save more money for their retirement.
The median retirement accounts of families in which the head of household is between the ages of 45 to 54 is $87,200. For those between 55 and 64 years of age, it is $103,200, according to the Federal Reserve.
Here are four ways to get your retirement savings on track.
1. Save More Today
Create a budget of what you need to live on today, and focus on items you "need, not necessarily want," while paying down our debt, Monforte said. Any extra money should be allocated into a retirement account.
If you want to augment your retirement savings and a higher salary is not on the horizon, consider taking on a second job for the sole purpose of saving and investing.
"There really is no financial retirement at age 65 if you haven't saved," she said. "You will need to keep working longer to supplement your income."
Even if you have money allocated once or twice a month directly into a 401(k) or IRA, ensure that you don't squander any raises. Save your raises before you consider spending it on a new car or vacation.
A better plan is to save a percentage of your income and not a specified amount such as $500 each month so that you automatically save more as your income increases, said Robert Johnson, CEO of the American College of Financial Services in Bryn Mawr, Pa.
"People often need to be shocked into reality on what it may be like to live on much less money," he said. "Financial planners will often ask the client to live on half or two-thirds of their current income to better understand what it feels like."
2. Open a Health Savings Account
One way to stash away more savings and avoid paying even more money to Uncle Sam is to open and fund a Health Savings Account, or HSA. Consumers with high-deductible health insurance plans of at least $1,300 for an individual can allocate money into HSAs to cover medical expenses such as prescription medications and doctor visits. Their contributions are not subject to federal income taxes and can be invested like an IRA. The advantage of HSAs is that any unused funds roll over each year and any remaining money can be used for retirement after the age of 65.
"You can choose anything that is on the market," said Laura Adams, InsuranceQuotes.com's senior analyst. "They are totally portable, owned by you and have no affiliation with your employer. You can spend the money in retirement for non-medical expenses. A lot of people use them more for investing and try to max them out."
HSAs can be opened at any bank, credit union or an insurance company, said Carrie McLean, director of customer care at eHealth.com, an online health insurance exchange based in Mountain View, Calif. The maximum dollar amount that can be contributed to a HSA in 2015 is $3,350 for an individual.
"The minimal fees you'll face with your HSA can be made up for if you fund your account and use your tax-advantaged savings in it to pay for qualifying medical costs," she said. "These costs include things like your annual deductible and co-payments, but not your monthly premiums."
3. Examine the Performance of Your Portfolio
Individuals who are more risk averse and worried about losing money in during periods of volatility in the stock market tend to chose only "overly conservative investments" in their retirement portfolio, Johnson said. The default option for many 401(k) plans is a money market fund where the yields have been nominal.
When an investor has at least 20 or more years until they retire, it is better to allocate your assets among more aggressive securities with higher yields, such as stocks, Johnson said.
"In investing, there is no free lunch," Johnson said. "With asset classes like equities in which returns are historically higher, volatility also tends to be much higher."
4. Check Out an IRA

Open a traditional IRA, which will likely reduce the amount you have to pay in taxes. If you are in the 25% tax bracket and make a qualified tax-deductible IRA contribution, you would lower your tax bill by $1,375, said Matt Armstrong, a financial adviser from Savant Capital Management in Rockford, Ill.
Invest your one-time payments such as a tax refund, annual bonus or birthday money. While most people have a strong urge to spend this "extra" money, set it aside for your retirement, said Joe O'Boyle, a financial advisor with Voya Financial Advisors in New York. One of his clients, who is a sales director, received a bonus at work; while she didn't save the entire amount, she did allocate three-quarters of her bonus for retirement savings and used the other quarter for a trip.
"By taking some of the money to spend, she felt the immediate satisfaction of earning the bonus," he said. "By putting the majority of it towards retirement, she felt the long-term satisfaction of saving for her future, making it a win-win situation."