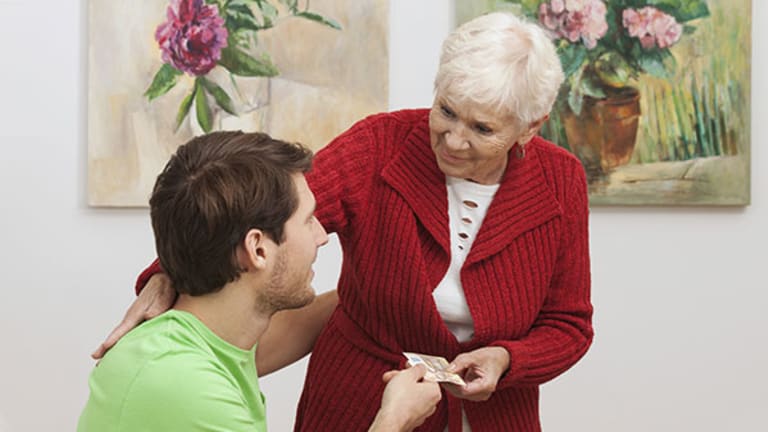 I Spoil My Grandchildren Correctly: Here's How
Take the money out of those birthday cards and put it into a Roth IRA or 529 plan.
If you're a grandparent who wants to spoil grandkids, there are better was to do it than giving them anything they want immediately.
Instead of doting on them now, it may be in your best interest to invest in their future. However, if you have more than one grandchild, you're going to have to do a bit of public relations before handing out significant financial gifts.
Rebecca Pavese, a certified public accountant and financial planner with Palisades Hudson Financial Group's Atlanta office, notes that handing out assets to grandchildren can be particularly problematic with large families. For example, if a grandparent has multiple grandchildren of varying ages and has been each of them gifts of varying sizes since birth, the amounts may not be equal. If that causes animosity, there are always ways to level things out.
"Only you can make the decision to equalize gifts to your grandchildren, but if you choose to do it, it's important to plan," Pavese says. "Remember, fairness does not always mean equality."
You should consider the wealth some grandchildren may inherit from their own parents and the chances your grandchildren have to be financially successful. If one of the children in question is making an executive salary and married to a corporate attorney, their family will likely be able to pay for college and weddings. However, if other grandchildren are just making ends meet, you can specify that assets can transfer only to the grandkids whose parents are just getting by. If your child who is doing well wants to disclaim his or her request, only then will it pass on to the grandchildren
"Some may feel this is more satisfactory than giving each grandchild an equal dollar amount," Pavese says. "It's a personal decision you should consider carefully."
However, before you reach a point where grandchild has received $10,000 over ten years while another has received $1,000, you should start out on equal footing. If you have money kicking around in a tax-deferred account like an IRA for your children's use, you could pay the taxes up front out of your pocket and convert it to a Roth IRA. Any growth in the Roth IRA would come tax-free, and investors can make withdrawals at their own pace without any tax liability, avoid a bump in taxable income from required distributions and, according to Dan Yu, managing principal at EisnerAmper Wealth Advisors, lay a foundation for future generations of wealth.
"If they did some estate planning, they could give it to a generation or even grandkids down the road and give it even more room to grow on a tax-exempt basis," Yu says. "This is a further gifting to your heirs: You've paid their income tax liability. It's kind of slick."
However, before that handover occurs, you should make sure your own needs are taken care of. While Yu says there's nothing wrong with going for 60% to 70% equities in a Roth IRA, he also knows that you may have spent your 40s and 50s putting 60% to 70% of your traditional IRA into similar stocks. If that's the case, he advises dialing back the equities in your traditional IRA to roughly 30% so that IRA and your Roth IRA serve as mirror images of each other. Since a fixed-income investment will produce enough income tax on its own, there's no need to penalize yourself with capital-appreciating assets just in time for you to collect a fat required minimum distribution. If you feel the need to take more risk, use an equity-heavy 401(k) that will allow you to defer distributions indefinitely.
"If there are assets that you plan to pass down to children or grandchildren, then a separate risk profile should be used for those assets," Chris Schaefer, head of retirement practice at MV Financial in Bethesda, Md. "A short term, income driven portfolio may not make sense for a grandchild who is about to start college and has a long-time horizon. Each 'bucket' should have its own unique risk profile and a one size fits all approach does not work."
If you're looking for another tax-free bucket, a 529 college savings plan might be the answer. Grandparents can contribute to a plan already set up by parents, or they can set up a new account for a grandchild. Withdrawals are tax-free if they're used to pay for qualified education expenses such as tuition, room and board, and books. Many states provide an income-tax deduction for contributions made to 529 plans.
Contributing when the grandchild is young allows more time for the funds to grow tax-free, In fact, grandparents can make a lump-sum contribution of up to $70,000 and elect to spread the gift evenly over five subsequent years for tax purposes, which prevents you from having to file a gift-tax return.
A Fidelity Investments study found that 72% of American families are currently saving for their children's higher education - a 24% increase since the first year the study was published in 2007. The study has also seen a 62% increase in the use of college savings accounts, such as 529 plans. In fact, 41% of families report using a a 529 college savings account, well more than the 26% in 2007.
That's surprising, considering that 72% of respondents told financial firm Edward Jones that thy have no idea what a 529 plan is, including 54% of those making $100,000 a year or more. The 529 plan has been around since 1996 and has allowed Americans to increase college savings tax-free and exempt the gains on those savings from taxes once they're withdrawn to pay for college. Yet only 28% could correctly identify a 529 plan as a college savings tool from among four potential options. This is somehow down from 37% in Edward Jones' first 529 survey from 2012 and down even from 34% in 2015. It's a big reason why even a 529 plan may not be enough.
"While families have adopted more active and effective savings habits over the past decade, this year's study still finds that on average, parents are on track to reach just 29% of their college funding goal by the time their child heads to campus," says Keith Bernhardt, vice president of college planning at Fidelity. "Parents still need help identifying how to maximize opportunities to save while meeting other family financial demands, and how to invest that savings in order to help their college dollars grow."
But that's just to help the grandchildren you're aware of. Some grandparents may be looking to spoil grandchildren who haven't been born yet. Changing plans to included those grandchildren isn't an option when you're dead, s you can grand your spouse, child or attorney "special power of appointment" to change the terms under which assets pass to your grandchildren via trust. As Pavese notes, those special powers can help a grandchild with special needs or who runs into financial problems.
However, since grandchildren do not have the direct beneficiary rights that children do in some states, there is an extra layer of distance and legal mechanisms in place that automatically provide for the inheritance of grandchildren born after a grandparent's death. However, as is the case with any grandchild, establishing a trust can be a very effective means of making sure your grandchildren are looked after.
"Nevertheless, you can make provisions for any grandchildren who might be born after your death," Pavese says. "Being as specific as possible about any current and future beneficiaries will clarify your intentions and help make sure your wishes are carried out."
More of What's Trending on TheStreet: