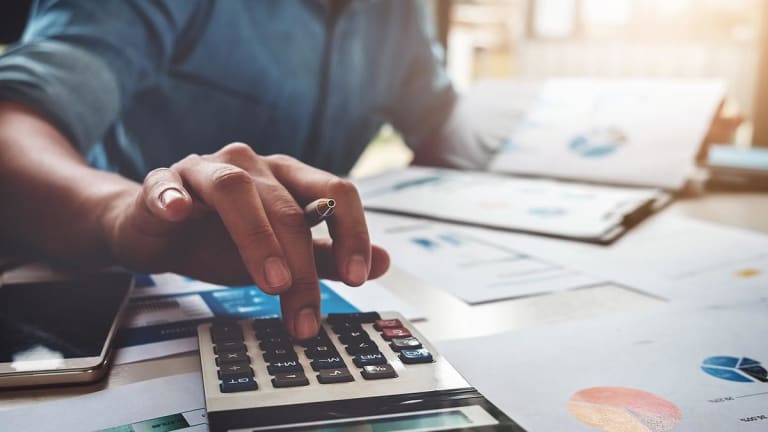 How to Use the New Tax Law to Cut Your Tax Bill
Robert Powell outlines opportunities for those saving for retirement to cut their tax bill this year and in years to come.
The Tax Cuts and Jobs Act of 2017 is old news now, but that tax law does provide some opportunities for those saving for retirement to cut their tax bill this year and in years to come.
What should folks consider?
"Those saving for retirement need to decide how to best allocate their retirement contributions given the new tax law, says Robert Westley, a CPA/PFS member of the American Institute of CPAs' PFS Credential Committee. "First, it's important for investors to think about their time horizon and retirement withdrawal strategy."
For her part, Carol Ward Ochoa, president of Your Secure Retirement, recommends reviewing your current tax bracket versus what bracket you may be in during retirement. "I often find clients have higher income in retirement than during their working years due to pensions, Social Security, etc.," she says.
According to Ochoa, it could be a mistake to defer taxes now only to pay them later in a higher bracket. "This doesn't even take into account that taxes are on sale now and most certainly will be going up due to the new Congress," she says. "Whether they revise the tax laws or not, the current Trump plan has a sunset clause that ends at the end of 2025. It is highly likely that taxes will be going back to their former brackets."
Westley agrees with this advice. "Investors retiring in eight years or more may anticipate higher future income tax rates during their retirement years," he says. "Allocating contributions to a Roth IRA/401(k) is a more attractive option over traditional plans for taxpayers anticipating lower pre-retirement tax rates. The income tax deduction generated by a traditional IRA/401(k) contribution is less valuable in a lower tax rate environment, especially given that the deferred income will likely become taxable at a higher future tax rate."
Taxes are only part of it.
How Much Money Will I Need to Retire?
Want to learn about retirement planning from some of the nation's top experts? Join TheStreet's Robert "Mr. Retirement" Powell live in New York on April 6 for our Retirement Strategies Symposium. For a limited time, tickets are available for $99 for this full-day event. Check out the agenda, learn about the speakers and sign up here.
Ochoa also recommends taking advantage of tax-favored accounts such as Roth IRAs and health savings accounts (HSAs). "Even if your income level prevents you from contributing to a Roth, you can always convert existing IRAs and retirement plans," she says. "Tax-favored accounts such as Roth IRAs and HSAs can be helpful especially if you have a number of years to go prior to retirement."
Consider too IRA-to-Roth-IRA conversions. Using a technique called "bracket bumping" allows you to see how much you can convert from your traditional IRA to a Roth IRA each year without pushing you into a new bracket, says Ochoa. "Of course, due to the change in the ability to recharacterize Roth conversions, make sure that this is indeed what you want to do since these conversions no longer get a 'do over,'" she says. Read, from the IRS, IRA FAQs - Rollovers and Roth Conversions.
Others concur. "Consider the Roth options if available," says Julie Welch, CPA/PFS member of the AICPA Personal Financial Planning Executive Committee. "Since the current tax rates are generally lower than they have been, it may make sense to make the contributions without the current tax deduction with the benefit of tax-free withdrawals in the future."
Welch likewise says it may make sense to convert some regular IRAs to Roth IRAs. "Since the current tax rates are generally lower than they have been, and especially for those with little or no current income tax, the prospect of tax-free withdrawals may outweigh the current tax cost," she says.
David Desmarais, CPA/PFS member of the AICPA PFP Executive Committee said married couples with modified adjusted gross income over $203,000 cannot make direct Roth contributions.
"However, there are no income limitations on doing a Roth conversion or nondeductible IRA contribution," he says. "So, you can make a nondeductible IRA contribution and immediately roll it over into a Roth. It's called a 'backdoor Roth contribution.'"
According to Desmarais, the reason why you roll it over immediately is if there are no earnings in the IRA before it is rolled into a Roth there is no income to pick up on the conversion. "This doesn't work if you have other traditional IRAs that have untaxed earnings -- whether it be from unrealized gains or prior deductible IRA contributions, because you have to aggregate all of the IRAs when determining the amount of the taxable conversion."
Retirement account owners who are in the drawdown phase of life might also consider this tactic. "The new tax law may have lowered your tax bracket, says David Stolz, CPA/PFS member of the AICPA PFS Credential Committee. "Since the tax rates are scheduled to go back to the old rates after 2026, You should consider withdrawing more from your retirement accounts than you need now if you believe your future tax brackets may be higher."
As for HSAs, Ochoa also recommends taking full advantage of these accounts if you qualify, as there is no income limit, you get a full deduction now, and you have the advantage of the funds coming out tax-free if used for qualifying medical expenses. Read all about it: Where can I learn more about Health Savings Accounts (HSA) and Health Reimbursement Arrangements (HRA)?
Note, too, the deadlines for contributing to an IRA and HSA. "You have until April 15, 2019 to make eligible IRA and HSA contributions for 2018," says David Oransky, CPA/PFS member of the AICPA PFP Executive Committee. "The combined traditional and Roth IRA contribution limit is the lesser of $5,500 or your taxable compensation."
Oransky further notes that if you're filing a joint return but don't have any taxable compensation of your own, you may still be able to contribute under the Spousal IRA provisions. For an HSA, the contribution limit is $6,900 if you have a family high deductible health plan (HDHP) or $3,450 for self-only HDHP coverage, he says.
Something else many couples don't take into consideration is that when one spouse dies, the income of the surviving spouse usually goes down but the taxes often go up since the survivor is now a single filer, says Ochoa. "Having large sums in pre-tax accounts can trigger large required minimum distributions (RMDs)," she says. "This is why taking advantage of opportunities that can add to the survivor's income without adding to their tax burden makes sense."
Change Your Withholding
Welch notes that 2018 saw major changes to individual taxes. And one change in particular could affect your take-home pay. "The IRS substantially revised the withholding tables in early 2018," says Welch. "Now that 2019 has begun, make sure you have checked your withholding to see if you need more or less withheld in 2019. "
Welch recommends using Form W-4 and the related instructions to estimate how much withholding you need. In addition, she says, you can use the IRS's withholding calculator or contact your CPA or financial adviser for guidance.
Westley also recommends that you consider making gifts to beneficiaries at the beginning of the year. "For those looking to reduce their estate tax exposure, individuals can give up to $15,000 to an unlimited number of beneficiaries per year without utilizing their lifetime estate tax exclusion amount or paying a gift tax," he says. "Completing these gifts at the beginning of the year allows your beneficiaries to receive a few additional months of potential appreciation."
Got questions about money, retirement and/or investments? Email Robert.Powell@TheStreet.com.
Want more tax advice? Join TurboTax's Lisa Greene-Lewis and TheStreet's Tracy Byrnes to discuss 'The Most Overlooked Tax Deductions." Catch the exclusive webinar LIVE on TheStreet.com, Friday, March 29, 2019 at 1 p.m. Click here