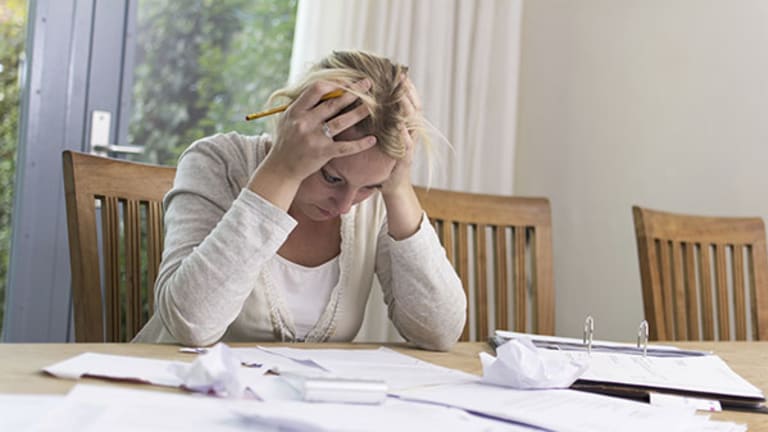 How The Self-Employed Can Still Cut Their 2014 Tax Bill
If self-employed workers would rather contribute to their retirement than pay a huge tax bill, those who filed an extension can still seek shelter in IRAs and 401(k)s.
NEW YORK (MainStreet) –- While it's too late for much of the taxpaying public to reduce the hit they took in 2014, self-employed filers still have some time to soften the blow.
Back in April, we made clear that you could take an extension and put off filing your 2014 tax return until October 15. However, what self-employed workers including freelancers, cab drivers, contractors and consultants often don't know is that you can also set up a Simplified Employee Pension (SEP-IRA) any time before that deadline and make tax-deductible contributions while getting deferred growth.
ReKeithen Miller, certified financial planner with Palisades Hudson Financial Group in Atlanta, points out that the SEP-IRA allows self-employed taxpayers to reduce their 2014 federal income taxes by offering them the opportunity to contribute up until their tax-filing deadline. That includes the six-month extension, he says.
"If you got an extension and haven't filed your return yet, you have until October 15, 2015 to make 2014 contributions to your plan," Miller says.
Granted, you those same workers could also contribute to a Solo 401(k) during that same timeframe, but that assumes they had the foresight to establish that plan by the end of 2014. However,if you're a self-employed individual without employees, other than a spouse, who may contribute to the plan if he or she is employed by the business, a Solo 401(k) is certainly worth your time.
"If you are self-employed, consider adopting a retirement plan such as a SEP IRA or Solo K which allows maximum pretax contributions up to $53,000 for 2015," said Masood Vojdani, founder and CEO of MV Financial, a Bethesda, Md.-based wealth management firm with $500 million in assets under management. "Business owners as well as self-employed individuals should consider enhanced retirement plan designs such as a new comparability profit sharing plan or a cash balance plan."

Which one is best? It depends on your circumstances. A SEP-IRA is similar to a traditional IRA, in which investment earnings grow taxed-deferred until withdrawal. However, a traditional IRA caps contributions at $5,500 (or $6,500 for those 50 and over). A SEP-IRA's contribution limits are the lesser of 20% of net business income or $52,000 for 2014. In most cases, banks, insurance companies and brokerage firms will allow you to set up a SEP-IRA online.
"When considering which type of plan to set up, self-employed individuals should consider the amount of income they expect to earn over the next several years, the amount they want to contribute to the retirement plans, whether or not they will have employees, and if they want to contribute to the employees' retirement plans or allow the employees' to fund their own plans," says Ben Sullivan, Certified Financial Planner & Portfolio Manager with Palisades Hudson Financial Group, Scarsdale, N.Y. "It's also important to consider the amount of complexity that you're willing to deal with when administering a plan."
Employees can make a SEP-IRA just a bit onerous, because you'll have to contribute the same percentage of salary for them as you do for yourself. However, since SEP-IRA contributions are deemed to come from the business, not the individual, a participant can also contribute to a Roth IRA in the same year he or she makes a SEP-IRA contribution.
"By contributing to both, you can take advantage of tax-free Roth IRA growth and increase the tax diversification of your retirement savings and have more flexibility when you're taking out money during retirement," Miller says.

Meanwhile, if you were wise enough to sense impending disaster back in December, a Solo 401(k) might just be a better option. It can be structured as a traditional 401(k) with tax-deferred gains or as a Roth 401(k) with the taxes paid at the time of contribution. However, the maximum 2014 contribution is $52,000 or $57,500 for those 50 and over. That includes an annual employee deferral – up to 100% of compensation or earned income for a self-employed individual, to a maximum of $18,000 ($24,000 if 50 or older). In some cases, that allows people to contribute more to a Solo 401(k) than to a SEP-IRA. There is also an employer discretionary contribution of up to 25% of compensation as defined by the plan or 20% of earned income for a self-employed individual.
You'll be able to borrow from a Solo 401(k) more freely than you will from an IRA thanks to the former's loan provision. You'll also be able to get tax-free withdrawals out of a Solo Roth 401(k) once you turn 59.5, and you'll be able to save more than you could in a Roth IRA without being subject to its income limits. You don't have to choose between the traditional or Roth versions of the Solo 401(k), either, as you can have both and divide your contributions between them.
"If your current tax rate is low, you may be better off forgoing a deduction now in order to withdraw money tax-free when you're in a higher bracket in the future," Miller says.
Be warned, however, that a Solo 401(k) plan can require more administration than an IRA, especially if the plan allows for loans. A plan with more than $250,000 in assets has to file a Form 5500-series return annually.

If that seems a bit frightening, you can always forego contributing to a SEP-IRA or Solo 401(k) and just contribute to existing traditional or Roth IRAs, if you have them. That's at least $5,500 out of the government's hands ($6,500 if you're over 50), and it's better than doing nothing. Besides, if you're worried about typing up your money in retirement plans, a standard Roth IRA will let you make withdrawals up to the amount of your prior contributions at any time without incurring penalties.
"This feature can come in handy in emergencies," Miller says.
This article is commentary by an independent contributor. At the time of publication, the author held TK positions in the stocks mentioned.