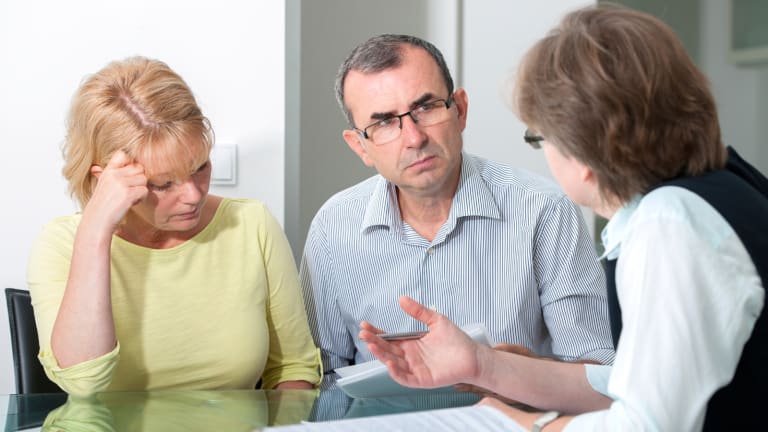 How GOP Tax Bill Can Hurt Your Retirement Investments
The proposed $1.51 trillion Tax Cuts and Jobs Act (TCJA) could mean big changes for retirees and people investing for retirement, including the repeal of many deductions and tax credits.
The proposed $1.51 trillion Tax Cuts and Jobs Act (TCJA) is far from a done deal, but those living in retirement and saving for retirement should start now to review their sources of income, their expenses, prior tax returns, and conduct what-if analyses to learn how the TCJA might affect them personally.
Take a closer look at the whole 429-page H.R.1 Tax Bill and the 82-page Tax Cuts & Job Acts summary. But here are the highlights you need to know now.
The TCJA:
Reduces the number of individual income tax brackets from seven to four (12%, 25%, 35% and 39.6%)
Sets the top tax bracket at 39.6% for married couples earning $1,000,000 per year and individuals earning $500,000
Extends the bottom tax bracket to $90,000 for couples and $45,000 for individuals
Repeals the taxes paid by large estates starting in 2024, and immediately doubles the estate tax exemption from $5.6 million per person and $11.2 million per married couple for 2018 to $11.2 million per person and $22.4 million per married couple
Retains the current pretax contribution limits for IRA, 401(k)s and similar retirement plans
Preserves state and local tax deductions only for state and local property taxes up to $10,000
Preserves home mortgage interest deduction for existing mortgages, but newly purchased homes would be subject to a new lower debt limit of $500,000, down from $1 million
Almost doubles individual standard deduction to $24,400 for married couples and $12,200 for singles in 2018
Keeps the current top tax rates on capital gains and dividend income
Preserves head-of-household filing status, often used by single parents. The standard deduction for that group is midway between individuals and married couples
Increases child tax credit from $1,000 in 2017 to $1,600, plus $300 for each taxpayer, spouse and non-child dependent
Repeals the alternative minimum tax (AMT)
Repeals an itemized deduction for medical expenses
Repeals the tax credit for adoption
Repeals the deduction for student-loan interest
So It Is Written, So It May Change
Don't do anything drastic just yet. "Bank on changes," said Jeffrey Levine, CEO and director of financial planning at Blueprint Wealth Alliance. "It's a virtual certainty that what we see today will not be the final version of the bill."
But even if nothing changes, it's not all that bad, said one expert. "On the whole it looks like good news for retirees," said Mark Luscombe, a principal analyst with Wolters Kluwer. "Lower tax rates now and in retirement and tax breaks for retirement accounts are preserved."
As with most things related to taxes however, not all agree.
"When all is said and done, if these groups -- retirees and pre-retirees -- look at their effective tax rate under the new proposed act versus their existing returns, they will end up paying more in overall federal taxes," said Jeff Rattiner, the president of Rattiner's Financial Planning Fast Track.
That said, here's what people investing and saving for retirement, and retirees, ought to consider.
Move From High- to Low-Tax States
The TCJA may affect the strategies that retirees and preretirees use to manage their personal finances effectively, said Robert Westley, an associate wealth advisor with Northern Trust Wealth Management.
In general, Westley said the House Republicans' plan decreases the number of individual tax brackets, lowers the marginal rate for some households while raising it for others, doubles the standard deduction and eliminates or reduces many deductions, exclusions, and credits.
"Whether families will see a tax cut or tax increase will depend on their own unique set of circumstances and their tax profile," he said.
For instance, while it's difficult to generalize, Westley said current retirees who use the standard deduction and reside in low-income-tax states will fare better than those who itemize and live in higher-income-tax states. "This may further increase the tax savings for current retirees to move their domicile to lower-income-tax states," he said.
As for those retirees and pre-retirees who live in high-property-tax states, Westley said his advice would be the same, with the caveat that there will be some tax benefit as the first $10,000 of property taxes will be deductible. "Additionally, if an individual itemizes the full tax benefit will be realized due to the repeal of the  AMT under the plan," he said. "In general, if one's property taxes are much higher than $10,000, moving to a lower-property-tax state will make sense, especially if they are able to retain a comparable home."
Rattiner said retirees will probably not be affected by the reduced property taxes since many retirees downsize and probably won't hit $10,000 of real estate taxes. Read, from the Tax Foundation, "How High Are Property Taxes in Your State?"
Time to Manage Your Tax Brackets
Tax bracket management will also become an important focal point as the gaps between the tax rates widen, said Westley.
For instance, he noted that married couples earning up to $260,000 will find themselves in the 25% tax bracket; however, their next dollar of income will jump up to being taxed at 35%. "With loftier rate gaps, retirees should be mindful of where their taxable income falls and what levers are available to defer and accelerate income," he said.
And for pre-retirees, he said it's important to think about their time horizon and future retirement withdrawal strategy. "Consequently, individuals retiring in 10 years or more may not have a good sense of where tax rates will be given the current uncertain landscape," said Westley. "Therefore, maintaining flexibility and agility will be a critical component to their retirement planning."
Part of managing one's tax bracket might also mean saving for retirement in a tax-efficient manner while being mindful of the need to create tax-efficient income in retirement. "If anything even resembling the current bill is eventually enacted, the Roth versus traditional decision should be re-evaluated by those saving for retirement," said Levine. "I can see scenarios where each could become more valuable, depending on a person's specific set of facts and circumstances."
Keep Saving for Retirement
Under the TCJA, 401(k) plans remain largely unchanged and still allow pretax deferrals up to $18,000. And that means those saving for retirement should continue saving. "Regardless of the future tax landscape, the tax-free compounding growth that tax-advantaged retirement accounts offer, over the long-term, will be quite beneficial to pre-retirees who continue to contribute," Westley said.
Others agree. "I think that the biggest news for these people is that there were no major changes to 401(k)s and other retirement plans," said Levine. "No 'Rothification,' and no lowering of the annual deferral limits. This will allow those close to retirement to continue to sock away sizeable amounts on a tax-favored basis."
AARP Executive Vice President Nancy LeaMond said in a news release Thursday, "AARP is pleased that the proposal rejects making changes to contributions to 401(k) plans. Proposals to immediately tax income placed in a 401(k)-type retirement plan would have been a retirement tax on workers and likely discouraged savings for retirement."  
Postpone Income, Accelerate Deductions
To be fair, what changes will be retroactive to 2017 is not yet known. Given that, said Luscombe, "planning might involve even more emphasis on the usual techniques of postponing income until next year and taking maximum advantage of deductions and credits this year before they disappear."
With the increased standard deduction, a lot more taxpayers will lose a tax incentive to give to charity, Luscombe said. "The tax bill increases the adjusted gross income (AGI) limit on charitable contributions from 50% to 60%, probably to help charities compensate for the loss of lower-level contributions by increasing the reward for the wealthy to give to charity."
Luscombe also noted that qualified charitable distributions, or QCDs, from IRAs survived and will perhaps be even more attractive for people who no longer would itemize deductions. "People also might want to give to donor-advised funds this year to get a charitable deduction while it is still available and then distribute the funds to charities over the next five years," he said.
For her part, Mary Kay Foss, a director at Sweeney Kovar and an instructor for the CalCPA Education Foundation, recommends that retirees "bunch deductions" and plan to itemize every other year. So, for instance, if you own a home consider paying the first half of your 2017-2018 property tax this month, pay the second half next March and then pay all of the 2018-19 in November 2018. And then, in 2019, pay one-half in November and plan to use the standard deduction," she said.
She noted that retirees don't have as much ability to bunch mortgage interest, but they can make 13 payments the year in which they itemize and 11 the standard deduction year. The same advice goes for charitable contributions. Pay charities in December one year and then wait 13 months to make the big donations again, said Foss.
How to stop elder fraud.
Goodbye Second Homes
Retirees and retirement savers who had designs on owning two homes, one for summer and one for winter, might have to re-evaluate their plans. Under the TCJA as written, there would be no mortgage interest deduction for new second homes and no interest deduction for a line of credit secured by home interest, said Luscombe.
Pay Off Your Mortgage?
Jean-Luc Bourdon, a wealth adviser and principal at BrightPath Wealth Planning, said pre-retirees and retirees often ask whether they should pay off their mortgages. "The question often comes up when the mortgage balance is low, or the homeowner receives a windfall such as an inheritance," he said.
The answer, he said, depends partially on how beneficial the mortgage deduction is. "So, it involves assessing the mortgage interest-rate net of any tax benefit -- which would change under the proposed tax bill," Bourdon said.
So, first, with a more generous standard deduction, fewer homeowners would find it beneficial to itemize deductions, including their mortgage interest, he said.
And second, with a smaller allowed mortgage interest deduction, those who still itemize could get less of a tax break, Bourdon said. "When the mortgage interest deduction is less beneficial, many retirees will find a greater incentive to pay off or pay down their mortgage," he said.
Others also say the TCJA creates an incentive for retirees and pre-retirees to pay down their mortgage. "This TCJA will hit retirees and pre-retirees in many ways, said Rattiner. "Among other things, it will allow for more retirees to pay off their mortgages or move into adult communities sooner and take the increased standard deduction, which is already taken by close to 70% of Americans," he said.
To Downsize or Not
Under current law, a taxpayer may exclude from gross income up to $500,000 for joint filers ($250,000 for other filers) of gain on the sale of a principal residence. The property, according to current law, generally must have been owned and used as the taxpayer's principal residence for two out of the previous five years.
Under the TCJA, however, a taxpayer would have to own and use a home as the taxpayer's principal residence for five out of the previous eight years to qualify for the exclusion. And, the exclusion would be phased out by one dollar for every dollar by which a taxpayer's adjusted gross income exceeds $500,000 ($250,000 for single filers).
And this provision, which would be effective for sales and exchanges after 2017, could be a problem for retirees who want to downsize but haven't lived in their house all that long. "They will now be required to live in the house for the last five of eight years to benefit from the tax-free exclusion," said Rattiner. Plus, he noted that the exclusion is phased out for high-income taxpayers.
"Planning for downsizing needs to begin immediately for these groups," he said.
The provision is aimed at speculators and so-called "flippers" in the housing market, who under the TCJA, would not be rewarded for their activity with tax-exempt income.
Of note, the provision restores "five-out-of-eight year" rule that existed prior to 1978.
Repeal of Deduction for Alimony Payments
Under the TCJA, alimony payments would not be deductible by the payor or be able to be included in the income of the payee. The provision would be effective for any divorce decree or separation agreement executed after 2017 and to any modification after 2017 of any such instrument executed before such date if expressly provided for by such modification.
According to the summary of the bill, the provision would eliminate what is effectively a "divorce subsidy" under current law, in that a divorced couple can often achieve a better tax result for payments between them than a married couple can.
The provision, according to the summary of the bill, recognizes that the provision of spousal support as a consequence of a divorce or separation should have the same tax treatment as the provision of spousal support within the context of a married couple, as well as the provision of child support.
According to Malcolm Taub, partner and co-chair of the divorce and family law practice group at Davidoff Hutcher & Citron, eliminating the deduction for the payment of spousal maintenance is a major issue in the matrimonial world.
"Many settlements are based upon the fact that spousal maintenance is deductible and can provide a major benefit towards settlement as a result of the difference of tax rates between the monied spouse and the non-monied spouse," he said.
What's more, he noted that judges also consider this deduction in rendering opinions as to spousal maintenance. "The disparity in tax rates offers more available cash to the non-monied spouse while providing a benefit to the higher monied partner," Taub said.
Taub also noted that lowering the amount of mortgage deductibility to $500,000 will also have a significant effect on matrimonial settlements. "The marital home, in many cases, is the major asset which the parties own," he said. "It provides a major currency to settle a matrimonial case. The party receiving the matrimonial home is very concerned with the deductibility of mortgage payments."
To the extent that the deductibility of such mortgage payments are limited, Taub said, it will significantly impact the ability of a party to afford to maintain the marital residence and, therefore, a reasonable lifestyle after the marriage. "Reducing the deductibility of mortgage interest increases the need for additional spousal maintenance," he said. "The limitations on deductibility of spousal maintenance is also detrimental to the monied spouse."
High Medical Expenses
At the moment, taxpayers with high medical expenses can deduct those expenses. According to Luscombe, the higher standard deduction and the new tax brackets might work in favor of some taxpayers who are able to deduct medical expenses. "But I would expect there would be situations with high medical expenses where the loss of the deduction is not fully offset by the lower tax brackets and higher standard deduction," he said.
Still, those saving for and living in retirement might want to consider that the cost of healthcare in retirement -- already expensive -- may get even more expensive. "Medical expenses are a huge cost for many retirees, and the current proposal would eliminate the deduction for those expenses," said Levine.
Dr. Oz talks healthcare with TheStreet. 
Goodbye Roth IRA Recharacterization
According to Levine, the TCJA calls for the elimination of the Roth IRA recharacterization -- a change that would make the Roth IRA conversions a much less attractive option and eliminate a slew of Roth IRA conversion strategies.
"That said, this may not affect those five to 10 years out, those who are still working and presumably have significant income, as much as it might the newly retired, who often have lower income in the years before starting Social Security, a pension, and the like, and can use those low-income years to make tax-efficient conversions," said Levine.
Luscombe noted that the most significant proposed change in the retirement area, from his perspective, is the elimination of recharacterizations of Roth contributions and conversions effective after 2017. "This could mean that an individual who thought they had until October 2018 to do a recharacterization might have to do it before year-end 2017," he said.
Goodbye Grandparent Funding of Education Accounts
Under the TCJA, new contributions to Coverdell education savings accounts after 2017 (except rollover contributions) would be prohibited, but tax-free rollovers from Coverdell accounts into section 529 plans would be allowed. Elementary and high school expenses of up to $10,000 per year would be qualified expenses for section 529 plans. Qualified expenses would also be expanded to cover expenses associated with apprenticeship programs.
"The desire for retirees and pre-retirees to contribute to children's and grandchildren's educational savings plans will be curtailed as well by changes to these fundamental accounts," said Rattiner.
Advocacy Group Raps the TCJA
Meanwhile, at least one group advocating for retirees expressed displeasure with the 429-page H.R.1 Tax Bill.
"The bill unleashed by the House today moves us one step closer to massive, unnecessary tax breaks for the wealthy and corporations," Richard Fiesta, executive director of the Alliance for Retired Americans, said in a statement Thursday.
The Alliance said in its release that seniors, low-income and middle-class taxpayers will be footing the bill for these changes through healthcare cuts, by losing the ability to deduct all their state and local income and sales taxes, and by limiting their ability to deduct their property taxes.
"This is the latest cruel scheme," Fiesta wrote. "The tax cuts for the wealthiest Americans are so massive that they plan to cut nearly $500 billion from Medicare and more than $1 trillion from Medicaid over the next 10 years to pay for them -- but they will still add $1.5 trillion to the deficit."
More of What's Trending on TheStreet: