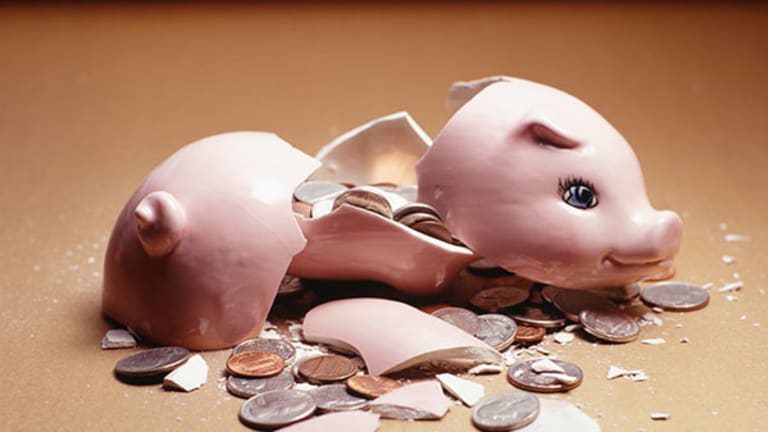 Financial New Year Resolutions Expected to Decline in 2015
The number of Americans making financial resolutions are declining even as most consumers are failing to save enough money for retirement or pay down their debt.
NEW YORK (MainStreet) —The number of Americans making financial resolutions is declining even as most consumers are failing to save enough money for retirement or pay down their debt.
Only 31% of Americans are considering making financial goals for 2015, compared to 43% in 2014, according to a recent Fidelity survey. This sentiment could be occurring because the stock market hit new record highs this year and many Americans feel their conditions have improved. In reality, this feeling could be a fallacy since wages across the board have not increased by large percentages.
Six years after the Great Recession, it appears complacency about finances could have crept into some households, said Lauren Brouhard, senior vice president of retirement at Fidelity, the Boston financial services company.
"The fact that resolutions are down is troublesome, since the survey numbers indicate people who made financial resolutions at the start of 2014 are more likely to say they are now in a better financial position, demonstrating there are real advantages to making them," she said. "Simple commitments such as saving more and paying off debt can have a tremendous impact on the financial and emotional well-being of a household."
Creating a plan and sticking to it is the key to improving your financial circumstances. The survey found that the top three resolutions are saving more with 55% of consumers who expressed the sentiment, 20% who want to pay off debt and 17% who plan to spend less.
Investors need to remember that any gains in the stock market are not real until the equities have been sold and taxes are paid on them, said Gail Cunningham, spokesperson for the National Foundation for Credit Counseling, a Washington, D.C.-based non-profit.
"I always recommend that people make financial decisions with their head, not their heart," she said. "Basing spending on how you feel, puts a person on a financial roller coaster with whims that could change daily."
Many consumers said their financial situation turned around in 2014 with 41% who agreed with the sentiment, which is a 58% increase over how they felt last year. One of three people reported that they have less debt in 2014 compared to last year. Millennials reported the most progress in reducing the amount of their debt this year and 50% said they are now in a better financial position.
Even small changes can result in having consumers save more and lower their debt level, said Brouhard.
"Challenging yourself to save more and invest for the long term is not as hard as it may seem and can truly improve your peace of mind," she said. "Even a 1% increase in savings in the year ahead can have a profound impact on your financial security."
Whether your goal is to allocate more money for an emergency or retirement, the first step is for consumers to spend less money and focus more on saving itself, said Robert Wyrick, Jr., a managing partner of Houston-based MFA Capital Advisors.
"It's not as important that the money be investing in the stock market as it is to set funds aside," he said.

WATCH: More personal finance videos on MainStreet | More videos from Ross Kenneth Urken
View Today's Auto Loan Refi Rates
While paying down your student loans or car loan is vital, saving for an emergency is equally important, said Wyrick.
"In many cases if a person waits until they have zero debt before they begin saving, the saving may never come," he said. "I recommend blending saving while also paying down some debt."
Not all financial resolutions require a monthly task. One resolution many homeowners can follow to improve their outlook is to make an extra mortgage payment, said Stephen Stabile, a New York wealth management advisor at Merrill Lynch. Or shift your automatic payment to December 31, he says, if you normally pay your mortgage at the beginning of the month.
"The one day change means you will get an extra month's interest deduction on your 2014 return," he said.
Most employees have not maxed out their 401(k) each year, but doing so will boost your retirement in the long run. If you get a raise, go ahead and raise your savings rate as well, said Catherine Golladay, vice president of 401(k) participant services for Charles Schwab, the San Francisco-based financial services company. The IRS has increased the contribution maximum for 2015 to $18,000, with additional catch-up contributions of up to $6,000 if you're over 50.
Now is the time to take a look at your portfolio, especially if you have neglected it. Rebalance your portfolio so that it "still reflects your desired asset allocation and risk profile, especially after a volatile year in the markets," she said.
Some plans offer auto-rebalancing at given intervals, which is a great option if you're not comfortable rebalancing on your own.
"Make sure you're not putting all your eggs in one basket," said Golladay. "You may love your company and may own stock in it, but make sure you're not allocating more than 20% to it help stay properly diversified."
--Written by Ellen Chang for MainStreet