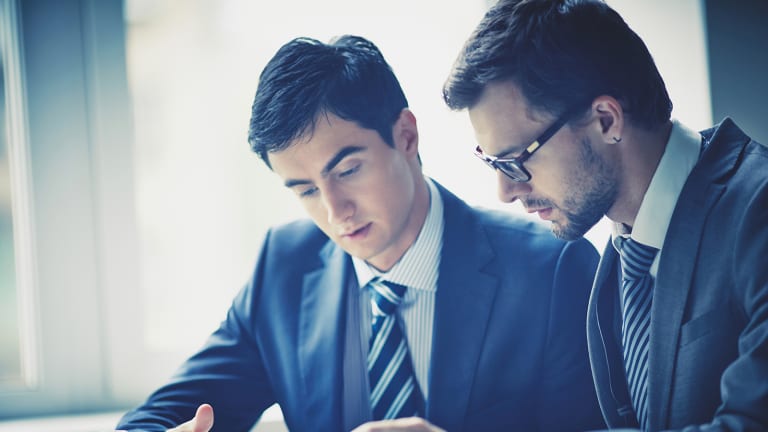 Financial Advisors Are Advocates of the DOL Fiduciary Rule
Many financial advisors are supportive of the pending Department of Labor fiduciary rule as they view the greater transparency in fees and commissions as an opportunity to increase business.
Many financial advisors are supportive of the pending Department of Labor fiduciary rule as they view the greater transparency in fees and commissions as an opportunity to increase business.
The Department of Labor rule is expected to go into effect on June 9 and is intended to protect investors from paying hefty commissions to brokers for their retirement portfolios. Of course, it has faced opposition in both Washington. D.C. and the financial industry among those who find it to be harmful to advisors.
But holding financial advisors to a fiduciary standard should not be controversial, said David Twibell, president of Custom Portfolio Group, an Englewood, Colo.-based financial planning firm.
"When people trust you with their life savings, you really should be required to put their interests ahead of your own," he said. "Unfortunately, too many in our industry view that idea as quaintly aspirational rather than a hard-and-fast rule."
Advisors who are primarily "fee-based" will not see any significant changes in their revenue, while those who generate their income from commissions "may find it difficult to compete and stay in business," said Jon Ulin, a managing principal of Ulin & Co. Wealth Management and a registered investment advisor in Boca Raton, Fla.
The rollout of the fiduciary rule will have a positive impact on advisors who charge annual fees and not for each investment product.
"We foresee that our firm will be in a better position to compete with less advisors entering the industry and with many seasoned advisors exiting the industry altogether," he said.
As the payoffs from high-commissioned products are "whittled from around 8% down to 1%, many staunch commissioned-based advisors may reluctantly pivot a greater portion of their business to fee-based platforms rather than tie up their client's assets for many years with a fraction of the reward," Ulin said.
The investment industry is "clearly pointing" to the elimination of commissioned-based products within the next five to ten years which benefits investors who are receiving more transparent information about the fees they are paying, he said.
"The fiduciary rule is also good for clients as it provides a transparent, recurring fee structure which helps to lower upfront investment costs and conflicts of interest while increasing liquidity and transparency," Ulin said.
Some of the worst abuses in the industry should be curbed with the new rule, said Tim Quillin, a CFA and partner at Aptus Financial, a Little Rock, Ark.-based financial planning firm. The change to greater transparency has been fought by insurance brokers and stock brokers who have "thrived on commissions generated from proprietary products that are theoretically 'suitable' for people but not necessarily in their best interests," he said.
What the new rule does not alter is the fact that advisors can make small changes to their current business model and keep their conflicts of interest intact such as selling products created by their firm and still be able to call themselves "fiduciaries."
"While financial advisors continue to fight the rule, it may ultimately benefit them," said Quillin. "They might not be able to sell insurance to 401(k) participants as easily, but the wolves will be in sheeps' clothing and still have the ability to steer participants toward poor choices."
Even the run-of-the-mill typical economic arrangement where financial advisors charge clients 1% of assets under management creates a clear conflict of interest because the advisor is "much more likely" to recommend allocating funds into the managed account rather than paying down debt or contributing to employee-sponsored 401(k)s, he said.
To avoid this conflict, some firms like Aptus Financial have chosen a different strategy and charge investors by the hour for financial or tax planning and asset management and do not sell any products.
"We are fiduciaries not just in name, but in the truer sense of removing all conflicts of interest from our business and focusing solely on what's best for our clients," said Quillin. "Ultimately, we think this is where the world is headed."
Additional reform is needed in the industry, because too many investments and 401(k) plans still contain extremely high fees. While this rule has highlighted some of the abuses, which has cost many retirees thousands of dollars in paying unnecessary and hidden fees, too many employees and investors still remain unaware of how it impacts the returns of their retirement portfolios.
"We are hopeful that as the fiduciary rule is adopted, even more people will become better educated and more skeptical consumers of investment advice and seek out non-conflicted firms," he said.
One of the major issues with 401(k) plans is that they are not reviewed on a regular basis, which can lower fees for both the plan itself and the investment choices offered, said Grant Easterbrook, co-founder of Dream Forward 401(k), a New York-based low-cost 401(k) plan provider.
"In the blink of an eye, three years can pass since a company last reviewed their 401(k) plan," he said. "The discussions about the fiduciary rule helps because it causes companies to have their plan reviewed, which can be eye-opening for them."
Having worked as a commissioned broker previously, Ron McCoy, who is now a fee-based RIA, said this rule will give clients more transparency.
"If nothing else, maybe the rule will shed some light on the differences between the two and the role of a fiduciary," he said.
Registered investment advisors are fiduciaries and must disclose all their fees upfront unlike a commissioned broker who is not required to disclose the information, said McCoy, a portfolio manager of the LOWS Fund with Covestor, the online investing company, and founder of Freedom Capital Advisors in Winter Garden, Fla. RIAs typically charge from 1% to 2.5% of the assets under management, depending on the size of the account and the complexity of the strategies involved. Clients may not be aware that brokers are being compensated by fees such as principal trading, rebates, mutual fund trailer kickbacks and rebates of margin.
"Transparency can only help clients better understand their true costs and therefore make sure their interests are aligned with the person giving them advice," he said.
Some of the DOL rules will create new problems because the labyrinth guidelines relating to how an advisor can counsel a prospect or client on transferring a qualified plan account are "borderline unworkable" and could lead to clients receiving less "worthwhile" advice, said Twibell.
"While I whole-heartedly support the concept of requiring everyone in the financial services industry to adhere to a fiduciary standard, I'm not yet convinced the DOL rules are necessarily a meaningful step in the right direction," he said. "At some point, regulations become so complex and indecipherable they end up thwarting the cause they were designed to promote. The jury is still out on whether this will be the case with the DOL fiduciary rule or not."