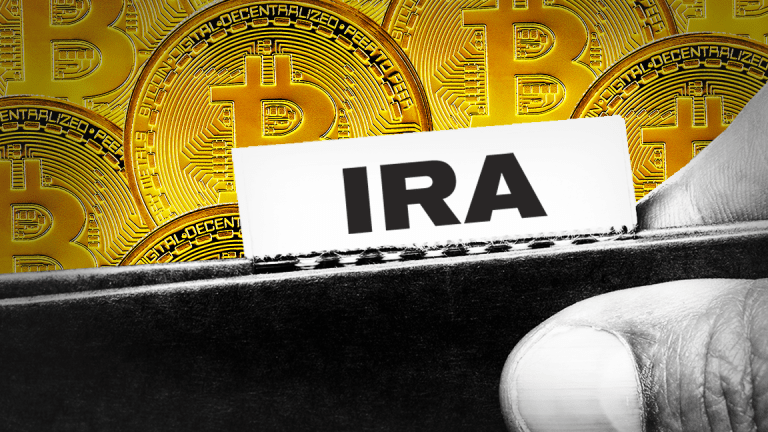 Bitcoin Can Fuel Your Retirement
Can this cryptocurrency add security to your golden years? With most Americans believing their retirement investments are inadequately diversified, it may be high time for them to dip a toe in Bitcoin IRAs.
Can this cryptocurrency add security to your golden years? With most Americans believing their retirement investments are inadequately diversified, it may be high time for them to dip a toe in Bitcoin IRAs.
Bitcoin's valuation is soaring - up 322% since the start of the year - but plenty of critics are throwing shade at the dazzling cryptocurrency.
Most prominently, JPMorgan Chase (JPM) - Get Report CEO Jamie Dimon earlier this month called the digital currency a "fraud" and described it as "worse than tulip bulbs." Unsatisfied with his sick burns, he came back a few days later and dismissed Bitcoin as "a novelty...worth nothing." And though the haters are going to hate and view Bitcoin as a risky proposition, it may actually offer a safe route to a secure retirement for long-term investors like you and me.
First off, as TheStreet contributor Tanzeel Akhtar delineated this week, Bitcoin IRAs are attractive to investors looking for stability during these volatile times. Amid the threat of nuclear war with North Korea and a spate of terror attacks around the world and uncertain legislation stateside, Americans are looking for safe havens, namely in alternative assets, to park their money. And though gold once reigned supreme for this purpose, Bitcoin has taken up the mantel. Though Bitcoin alone, despite some volatility, could be seen as a hedge to market uncertainty, keeping Bitcoin in a retirement vehicle like an IRA is actually doubly safe.
Editor's Cut Exclusives
A self-directed IRA is the way to go to allow for the integration of Bitcoin, amid other alternative assets like cryptocurrency Ethereum and gold. Firms like First Digital IRA (FDIRA), Pensco, The Entrust Group and the Millennium Trust Company also allow investors to stick Bitcoin in a self-directed IRA. By being aware of contribution limits - $5,500 annually - and the need to hire a custodian, investors are being prudent with their choice. The flexibility of a self-directed IRA is key.
"The Internal Revenue Service allows self-directed IRAs to hold a variety of investments far beyond stocks, bonds and mutual funds such as gold and other precious metals, along with some non-publicly traded real estate, private equity, partnerships, joint ventures and other alternative investments," said Jeffrey Kelley, senior vice president of Equity Institutional, which through Equity Trust Company offers IRAs, retirement and non-retirement plans for alternative and traditional assets.
For some investors, part of that push for diversification may well entail Bitcoin. Sometimes it pays to think outside the box, even when planning for something like a safe retirement. As TheStreet contributor Larry Light recently told us, even target-date funds, the most run-of-the-mill way to structure your 401(k) don't always deliver. And as long-time TheStreet contributor Jason Notte wrote this week, if your retirement savings aren't diversified, you aren't ready for your golden years. Mixing it up by diversifying your asset allocation through alternative investments in your IRA can be an exercise in prudence, despite associations of danger you may have with Bitcoin as a currency that fuels that Dark Web. 
Perhaps it's no surprise that as Bitcoin goes mainstream, even prominent retirement account custodians like Fidelity are getting in on the game. As TheStreet contributor Brian O'Connell noted, in a partnership with digital asset exchange platform CoinBase, Fidelity Labs lets Bitcoin and blockchain users track their crypto investments along with their more traditional investments. And we may soon see approval for a Bitcoin futures-based ETF, the VanEck Vectors Bitcoin Strategy ETF.
But fads in the investment world are short-lived; true trends stick around when they have legit intelligence behind them. As TheStreet contributor Jordan French points out, the real point of investing in Bitcoin, especially in your portfolio, is diversification. Of course, impediments to Bitcoin's meteoric rise - above $5,000 and beyond - include skittish investors, legal uncertainties and structural complexities such as open-end funds and unit investment trusts for Bitcoin. But with Edward Jones finding that one-third of Americans believing their retirement portfolio is not diversified enough to provide a comfortable retirement, it may be the moment to dip a toe in an asset shining enough to make Midas jealous.
Are you investing in cryptocurrency? Don't miss TheStreet's coverage:
Why Bitcoin Cash Prices Are Likely to Dive Again
Bitcoin to Take Over Civilization