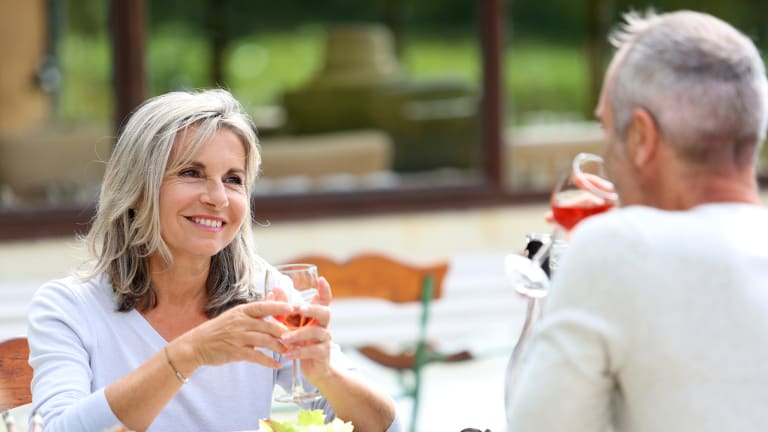 Baby Boomers Face Tough Decision: Ramp Up 401(k) or Pay Off Mortgage?
Pre-retirees often face a difficult dilemma during this low interest rate environment of whether to pay off their mortgages or boost their retirement funds.
Editors' pick: Originally published May 20.
Baby Boomers, especially ones getting especially close to retirement, often face a difficult dilemma during this low interest rate environment of whether to pay off their mortgages or boost their retirement funds.
The choice is often not simple to make, because while many people favor being debt free, some employees have fallen behind on their retirement savings, because they started putting money aside later in their career, never increased the initial amount or borrowed against their 401(k)s or IRAs.
With the possibility of paying off a burdensome mortgage tantalizingly within reach, a person nearing retirement could be enticed to do away with that long-term loan once and for all instead of allocating more money into a 401(k) or IRA to boost retirement savings.
But there's one major issue with earmarking extra money for a mortgage: "Money in the bank will pay the bills while home equity will not," said Greg McBride, chief financial analyst of Bankrate (RATE), a North Palm Beach, Fla.-based financial content company.
Why Retirement Ranks Higher
Instead of making extra mortgage payments, Baby Boomers should focus on saving more money for retirement, because those funds are not taxed and depending on the amount of the mortgage, the interest being paid can be deducted also.
"Paying down a low, fixed rate, often tax deductible debt is a comparatively low financial priority," McBride said. "The extra mortgage payments limit your financial flexibility, rather than expanding it. I'd rather see people focus on maximizing their tax advantaged retirement savings options such as 401(k)s and IRAs before paying ahead on the mortgage."
Rather than paying off a mortgage earlier, an argument can be made that it can be "advantageous to invest those prepayments and earn a rate of return that is higher" than the mortgage rate because of the low interest rate environment, said Joe Jennings, an investment director of wealth management at PNC Financial Services Group, a Pittsburgh-based financial institution.
"When contemplating this decision, it is crucial to keep several things in mind such as maintaining a cash reserve of six to 12 months worth of living expenses," he said. "One should never raid a rainy day fund to pay down a mortgage."
When an emergency arises, the home equity cannot be accessed immediately unlike more liquid retirement funds, which allow consumers to borrow from them swiftly, said McBride -- albeit with penalties and fees.
"The extra money poured into mortgage payments isn't liquid - you can't get to it when you need it," he said.
Funding your retirement funds first, especially if your total is lower than you anticipated, is crucial because once you quit the work force, the options are limited. Most people can either choose to work longer, obtain a part-time job or lower their standard of living, said Robert Johnson, president of the American College of Financial Services in Bryn Mawr, Pa. 
"People should pay themselves first and only then consider making other financial moves," he said.
Too many people wind up retiring because of their own health issues or being a caregiver for a significant other or spouse. A 2015 survey from the Employee Benefit Research Institute (EBRI) reports that 50% of retirees left the workforce earlier than they had planned with 60% making the choice due to health problems.
The "stark truth" is that many people reach retirement and have not saved enough money, Johnson said.
"There is a great fallacy in thinking that you can 'forgo making retirement contributions today and make up for it tomorrow,'" he said. "The problem is that too often, as the Garth Brooks song says, 'Tomorrow never comes.'"
Tax Advantages of Maintaining Mortgage
Homeowners who continue to pay off their mortgage while allocating money into a 401(k) and IRA can lower their taxes each year, because the IRS allows deductions for the interest on the mortgage payments and also the amount of the taxable income is lowered from contributing to a retirement plan.
The money allocated into a retirement fund will also grow tax free until withdrawals are made when you stop working when "in all likelihood, you will be in a lower tax bracket," Johnson said.
Returns in this current volatile stock market demonstrate that it is shrewd to keep paying a mortgage, said Julie Murphy Casserly, president of JMC Wealth Management in Chicago. Baby Boomers who are unsure of what to do should view this as a "pure financial move and not emotional," she said.
"You really need to take the rate of your mortgage, say 4% and take the net after taxes of what you are really paying, which is about 3%," Casserly said. "Then if your income from your assets is over 3%, it's smart to not pay off mortgage early. Most people emotionally aren't wired that way."
Ensuring that there is ample cash flow for necessities or even emergencies is also a good strategy, she said. 
"I have some clients that actually just took out 30-year fixed products to minimize their cash outlay and stabilize their out of pocket cash," she said. "These are Boomers who have not saved enough and are just squeaking by as they approach retirement."
Baby Boomers should opt to make larger contributions if they are behind in their savings, since the IRS allows people over the age of 50 to save another $1,000 tax free in IRAs. For 2016, the total contributions for an IRA and Roth IRA are $5,500 and increases to $6,500 once you reach the age of 50. For 401(k) plans, the maximum amount is $18,000, but the catch up contribution is another $6,000 for people who are 50 years old.
"The one caveat we always say is, if you're behind be aggressive with your contributions, not your investments," said Scott Thoma, an investment strategist for Edward Jones, a St. Louis, Mo.-based financial planning firm. "Don't take on too much risk in an effort to make up for lost time."
Of course, when it comes to considering paying off your mortgage, the equity in a home does not always produce adequate returns, said Mike Chadwick, CEO of Chadwick Financial Advisors in Unionville, Conn.
"The fundamental problem is the house is a money pit, not a big money maker," he said. "Consider the rate of return on a home in depth and you'll mostly find a long-term homeowner is losing money regularly."