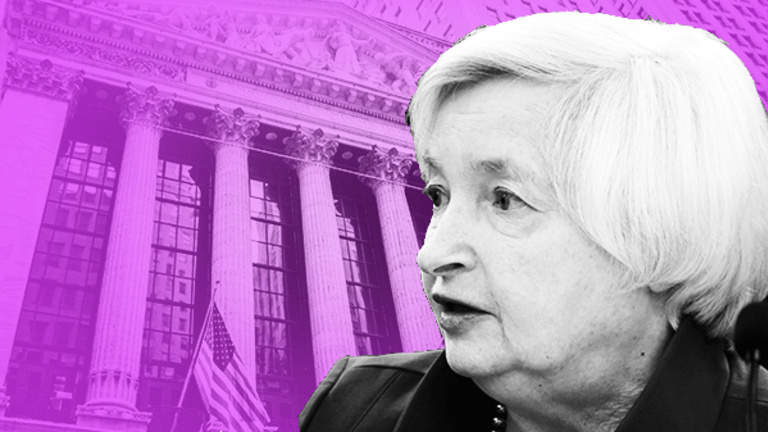 As the Fed Unwinds Its Balance Sheet, Here's How to Watch Your Wallet
Consumers are facing headwinds.
Janet Yellen coughs, and Americans worry they might catch a cold. And though the Fed Chair's rhetoric is inevitably contagious within our economy, there are ways of building up some immunity for your assets and loans.  
The Fed Reserve announced on Wednesday that it will begin to unwind its huge balance sheet of Treasury securities and mortgage-backed assets, beginning with a reduction of up to $10 billion a month and reaching $50 billion a month by this time next year. The Federal Open Market Committee also said it would hold the fed funds rate in a range of 1% to 1.25%. And though those revelations were not exactly unexpected, the everyday American is wondering: how are future rate hikes going to hit me in the wallet, and how can I protect myself?
A rate hike may very well come sooner rather than later, with many speculating we'll see one by year-end. 
With the interest rising on variable rate loans, consumers who have large amounts of debt will see their borrowing costs rise.
June saw the fourth hike since the central bankers began raising rates in December 2015, said Greg McBride, chief financial analyst for Bankrate, a New York-based financial data and content company.
The impact for consumers saddled with credit card debt will occur quickly as the hike will be reflected within two statement cycles, he said.
The cumulative effect of increasing rates means borrowers are facing rates that are 1% higher than nearly a couple of years ago, McBride said. A $5,000 balance on a credit card results in a consumer paying another $700 because of the previous hikes if he only made the minimum amount on payments.
Homeowners with a home equity line of credit are also facing the same rising rate environment, because the rates are also variable. Should we see another rate hike this year, consumers should expect the increase to occur within 60 days.
In anticipation of another rate hike, consumers who have variable rate debt should pay down their debt with low rate balance transfer offers or refinance their adjustable rate mortgages into 15-year or 30-year mortgages with a fixed rate.
"They should aggressively pay down debt like credit cards," McBride said. "Those great balance transfers can give you a great tailwind toward debt repayment."
The steps that the Fed is taking to reduce the balance sheet will affect mortgage rates, which have fallen to the levels of December 2015 when the central bankers started their trajectory of raising interest rates, McBride said. Short-term rate changes do not impact mortgage rates.
"With the economy in a slow growth period and unemployment which is also low, the wind is definitely blowing in the direction of higher interest rates over time," he said.
Whether the Fed hikes rates again in 2017, consumers whose budgets are tight and have noticed an increased in their minimum payments should seek to pay a little more each month in order to reduce the balance faster, said Bruce McClary, spokesperson for the National Foundation for Credit Counseling, a Washington, D.C-based non-profit organization.
"The increases would have more noticeable impact for budgets that are close to the edge," he said. "You can make faster progress by making more than the minimum payment on some cards by making adjustments to your budget."
Instead of eliminating purchasing certain items, consumers should seek creative ways to save such as looking for online coupons or discount codes.
"You can have the same quality of life if you cut back a little from each area," McClary said. "It doesn't have to come from a single category. You would be surprised at how much you can trim, especially if you have never looked at your budget before."
Of course, the rate hikes don't seem to be spelling bad news for Americans with retirement accounts like 401(k)s and other investments. It's important for Americans to be on edge and mitigate their risks, but they should feel confident in stocks as it stands.
During rising rate environments, stocks have typically generated lower returns, Robert Johnson, president of The American College of Financial Services in Bryn Mawr, Pa. From 1966 to 2014, when rates were declining, the S&P 500 returned 15.2% and only 5.7% were rates were rising. While many investors mistakenly believe that bonds are exposed to less risk than bonds, the opposite is true. As rates increase, bond prices fall.
"I think there is more risk right now in the bond market than the stock market," he said.
More of What's Trending on TheStreet: