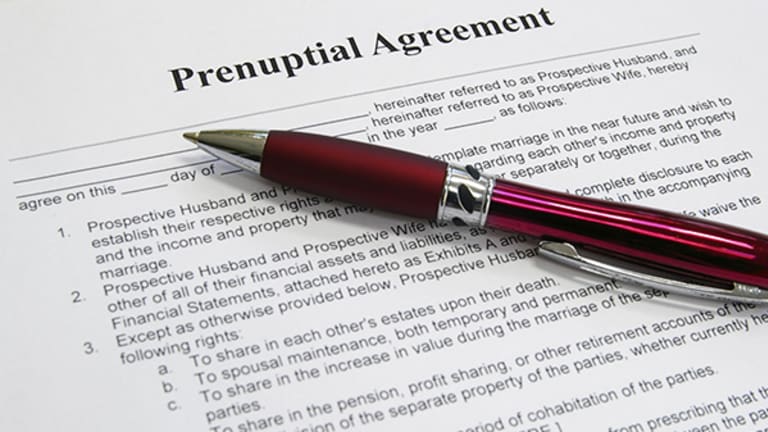 As Oscar Wilde once said: "Marriage is the triumph of imagination over intelligence. Second marriage is the triumph of hope over experience."
If you're a romantic who believes in "true love," you won't like what you're about to read. But if you're planning to get married, you'd better heed the following advice, for the sake of your finances and net worth.
Recent statistics show that in the United States, 50% of first marriages, 67% of second, and 74% of third marriages end in divorce.
That's why you should prepare your finances for the better-than-even odds that your spouse isn't the person you'll grow old with.
No one wants to think about the possibility of splitting up, particularly if the couple is just planning to get married. We're all conditioned by movies, books and popular culture to think love will last forever. The statistics indicate otherwise.
In the event of divorce, lifelong assets in a marital partnership must be valued and divided. There are six major reasons why people about to get married should consider a prenuptial (or "prenup") agreement:
1) Keeping assets separate. This can apply to investments, property or inheritances. If you don't want all of your hard-earned money to get jointly owned by your spouse, you'd better get a dividing line in writing before you get hitched.
2) Keeping debts separate. It often comes as a nasty surprise that without a prenup, creditors can go after marital property even if just one spouse has incurred the debt. In the prenup, specify who is responsible for specific debts and limit liability for any debt a spouse accumulated before the marriage.
3) Defining inheritance issues. If you want certain property or assets to go to, say, your children rather than a new spouse (or vice versa), you'd better clarify this intention in a prenup.

4) Defining rights to a home. When older couples marry, they often move into a home that's owned by one spouse. If the owner dies or becomes incapacitated, it's not uncommon for adult children to try forcing out the surviving partner. A prenup can specify how long and under what circumstances the non-owning spouse can stay in the house.
5) Specifying what children are entitled to get after divorce. To prevent post-divorce strife and resentment between your former partner and your kids, a prenup can limit the dollar value of gifts made to children after the marriage. If your former partner is on a frugal budget and he or she sees largess heaped on your kids, the situation could get ugly.
6) A prenup can also address a host of other financial issues, such as how to handle credit card or student loan debt after the bust-up.
Once the divorce dust has settled and you're back on your feet as a single person, address these vital steps:
Review and revise beneficiary designation forms to make certain you have named the intended beneficiary.
Protect your identity and credit status, through services such as LifeLock and Equifax.
Rebalance your investments. Individuals may need to have a larger equity (domestic and foreign) exposure to get the return needed for retirement.
Start a Roth Individual Retirement Account (IRA) and make annual contributions. These accounts provide for tax-free growth.
Seek smart financial advice to minimize poor decisions and maximize your present situation. An expert advisor can create both a post-divorce financial plan and a retirement income plan, which will provide a solid road map after your divorce is final.
For further advice, consider consulting the financial advisors at Charles Schwab (SCHW) - Get Charles Schwab Corporation Report , TD Ameritrade (AMTD) - Get TD Ameritrade Holding Corporation Report , or T. Rowe Price (TROW) - Get T. Rowe Price Group Report .
The divorce process can be extremely difficult, complicated and overwhelming. However, the financial decisions that you and your attorney make together will definitely exert a profound influence on your future retirement. Go ahead and fall head over heels for your betrothed, but just in case, prepare for the worst case scenario.
Ultimate Retirement Guide: Are you making the right investment moves for your retirement, or are you blowing it by making all-too-common money mistakes? There are crucial steps that you should be taking now, to build wealth over the long haul. To find out whether you'll have enough money in your later years, download our free report: Your Ultimate Retirement Guide.
John Persinos is editorial manager and investment analyst at Investing Daily. At the time of publication, the author held no positions in the stocks mentioned.