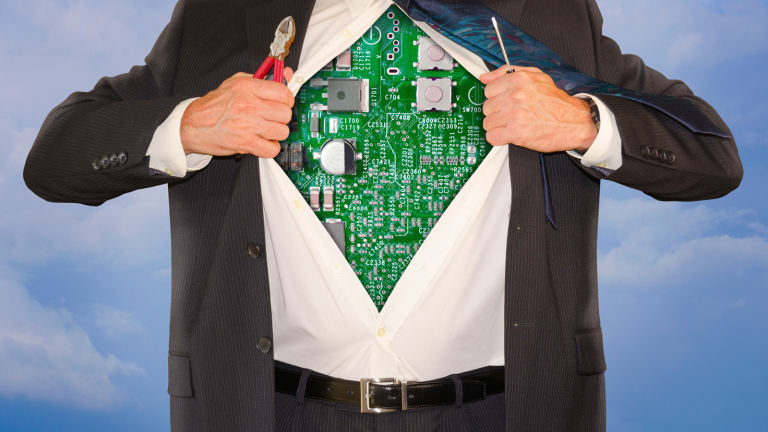 If 'Robo Advisors' Are So Good at Finance, Why Don't Rich People Use Them?
Traditional financial advisors have largely had the turf for themselves for decades, but backers of 'robotic' advisors say the future is now.
NEW YORK (MainStreet) — Can two disparate financial advisory resources get along without driving each other crazy?
Traditional financial advisors have largely had the turf for themselves over the past few decades, but robo advisor backers say the future is now and robotics is a market reality.
Call them the "odd couple" on Wall Street, a blend of traditional and technological that could change how people manage money for decades to come — or eliminate one or the other.
"Virtual advisors, also known as 'robo advisors' are the latest trend in the world of investing," a Spectrem study says. "Instead of working with a financial advisor in person, the investor answers questions about his or her investment risk tolerance, age, etc. via an online questionnaire. The investor is then presented a portfolio suggestion determined by a computer algorithm. This provides the ability for anyone to invest, regardless of their total portfolio picture or the amount of assets they are planning to invest."
Yet financial consumers, especially wealthier ones who are more likely to use an advisor, don't really have robo planners on their radar screens. According to Spectrem, on a scale of 1 to 100 (1 being low and 100 being high), wealthy investors rated their knowledge of robo advisers at 15.47, and only 6% said they have ever used one. Of that small group, only 47% of respondents say they were "satisfied with their robo advisor," compared with 85% of those who said they were satisfied with their traditional advisor.
Critics say there is a good reason for that.
"The robo advisor will assess your risk and invest your savings, usually for a fairly low fee," says San Francisco's JL Franklin Wealth Planning in its spring newsletter. "The robo advisor may even do tax loss harvesting for you. But, like self-driving cars, robo advisors have no judgment. They focus solely on steering your investments and ignore crucial aspects of financial planning such as wealth protection, cash flow and taxes. As such, they leave your life savings, goals and future comfort at risk."
But business is booming anyway. According to TheStreet, as of late 2014 the top ten robo advisors managed about $10 billion in client assets. Companies that make robot advice software platforms, such as Betterment and Wealthfront, raised almost $300 million in venture capital last year.
Some investment professional say traditional advisors can only blame themselves for the competition.
"Most advisors think that their job is to sell a cookie-cutter portfolio and then every three months report back on the performance," says Randy Kurtz, president and chief investment officer at BetaFrontier, a Chicago Investment services firm. "That is not worth much. Quite frankly, Vanguard has had 'retirement date funds' for years, and these portfolios are somewhat diversified, home-biased, cookie-cutter portfolios." The robo portfolios are very similar in their portfolio offerings to the Vanguard funds. "Most advisors should be displaced by the robo advisors, as most advisors don't provide value either," Kurtz adds. "But, if you can find a financial advisor who actually provides advice, who acts as your personal CFO in life, then this can be very valuable. A great one is worth the price."
The market will dictate the success of robotics-based financial planning, especially toward younger investors, others say.
"I absolutely believe that robo advising will work," says Reshell Smith, founder and president of Florida-based AMES Financial Education & Consulting. "As a matter of fact, it's necessary in this technologically advanced society. There is a large market share of investors who want someone else to manage their portfolios efficiently, and they want that management to be affordable. Robo advisors offer Millennials an opportunity to participate in the market with a smaller dollar amount because most of them do not have account minimums."
Smith may have a point, given the younger demographics' embrace of technological tools. Even the under-35 generation sees it that way.
Andrew Mohrmann, founder of Modern Dollar Planning in St. Louis, Mo., says he'll be using a Betterment platform as a technology solution for managing his firm's clients' assets — but as a collaboration tool, not as a means to eliminate the human touch. "Much has been written and talked about in terms of robo advisors disrupting the industry and leaving everyone out of a job," Mohrmann says. "I think it's quite the opposite; aligning with a robo is precisely the solution that is going to allow me to create a firm that can efficiently serve younger clients."
But Mohrmann also issues a warning to advisors who aren't focused on good customer service. "If you're an advisor that slings front-load, high-expense mutual funds and simply collects 12b-1 fee trails, yes, you're in for an awakening," he says. "And it's long overdue."
— Written by Brian O'Connell for MainStreet