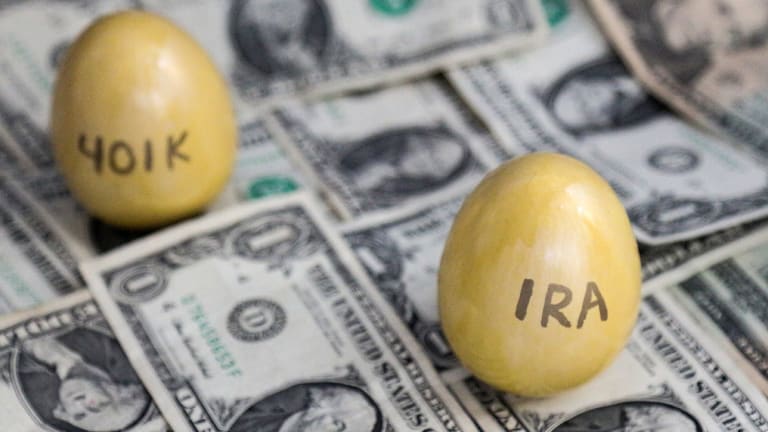 How to Turn Your IRA Into a Family Fortune
Financial advisor David Dixon explains how to manage inherited IRA money to maximize benefits and minimize taxes.
By David S. Dixon
Who will inherit your IRA? The headline of this article could also be, "How Much Do You Love Your Grandchildren?"
Who inherits your IRA and how the money is handled after your death largely determines the future of this money. If handled properly, your IRA could turn into a family fortune. If it is not handled properly, a potential family fortune could be lost to taxes and frivolous spending.
Imagine that your parent dies and leaves you with a $100,000 IRA. In settling the estate, you contact the IRA provider and provide certification that your parent has died. You provide proof of your identity and it is confirmed that you are the beneficiary of these funds. The institution then cuts a check for $100,000 and sends it to you. You may think that all is well and good until you receive a 1099R from the IRA provider for the previous year. You then learn that this money is fully taxed and you now owe $35,000 to the IRS. Not only do you owe $35,000 in tax, but because the IRA money is added to all of your other income, this has pushed you into a higher tax bracket. This means that a higher percentage of your income for the year is now taxed at a higher percentage.
You begin to fume and wonder, "Why didn't anyone tell me about this? Can this be fixed? Can I put this money back in the IRA and not be taxed on it?"
The answer is no, you can't put the money back in the IRA, it can't be fixed, and the reason you weren't told is most likely due to the fact that many financial advisors and customer service personnel who handle these distributions are not aware of the complex and obscure tax rules associated with IRA money.
What should have happened is this: With the "blessing" of the IRS you could have had this money placed in a Beneficiary IRA. In a Beneficiary IRA, you are required to take distributions from your parent's IRA. When you take these distributions you are then taxed on them. You are not required to take all of the money out at one time. You are only required to take a minimum distribution which is based upon your life expectancy.
Let's assume that your parent died in 2017 and this year, 2018, you are 35 years old. The remaining life expectancy for a single individual that is 35 years of age per the IRS single life table for inherited IRAs is 48.5 years. This means that in 2018 you are only required to withdraw $2,062 and next year you are only required to withdraw $2,186.
Again, these are required minimum distributions, commonly referred to as RMDs. If you only take RMDs from the beneficiary IRA for 48.5 years, how much money would you actually end up withdrawing? Assuming you could average a 6% rate of return over those 48.5 years, you would end up withdrawing $545,915.00.
The $100,000 you inherited has turned into more than $500,000. Which would you prefer: paying $35,000 in tax upon your parent's death and be left with $65,000, or would you prefer to withdraw $545,000 over time? You will owe tax on the $545,000, but the tax liability would be stretched out over 48 years, still leaving you with substantially more than $65,000. Depending upon what one's tax bracket is, it would not be unusual to net over $400,000 or more, after tax.
Think bigger than $500,000. How about turning $100,000 into $2.3 million? How is this possible?
Assume that you have a new grandchild who you name as the beneficiary of your IRA. You die, and this little guy inherits your IRA money. If a properly titled Beneficiary IRA is established, this little one is allowed to take distributions from the account over 81 years. In the first year, this little bundle of joy is required to withdraw only $1,225 and $1,299 the next. Assuming the account averages 6% a year, the total amount of the distributions over the 81-year period would be $2,352,611. If one earns 8% a year, for 80-plus years, the total distributions would be $8,167,629. What a legacy.
Inheriting a $100,000 retirement account is quite common. Imagine what your inherited funds would be worth if you inherited $250,000, or $500,000. It is important to note that the rates of return used in these illustrations are just assumed and are not guaranteed in any way. But, regardless of what one may earn on invested dollars, the key is to make sure you and your heirs know about these IRA rules and how best to take advantage of them.
What are the IRA rules?
First, you must designate a living person as the beneficiary of your IRA. To "stretch out" the distributions over one's life expectancy, the beneficiary has to have a life expectancy. Only living persons have a life expectancy. If you inherit IRA money through an estate or through a will, you will not be able to take advantage of these rules. In addition, if you inherit IRA money through a trust, you may not be able to stretch the distributions.
IRS rules will allow those who inherit IRA money through a trust to "stretch" distributions, but there are additional requirements that are not often met and are sometimes complicated. If you want to ensure that your heirs will be able to take advantage of these rules, the most important thing you can do is to make sure you name them on the beneficiary form provided by the IRA custodian. If they are not named on the beneficiary form, they most likely will not be able to take advantage of this opportunity. In addition, if you only state in your will or your trust that your children are to inherit your IRA money, you almost guarantee that they will not be able to stretch distributions.
The person named on the beneficiary form with your IRA provider is the person who will inherit these funds. The beneficiary form almost always trumps your will or your trust.
There are some important rules and dates to be aware of as well. If you have multiple persons named as beneficiaries of the IRA, each person can establish their own beneficiary IRA and use their own life expectancy to determine their RMDs. The beneficiary IRA must be established by Dec. 31 after the year of death and the first RMD must begin by that same date. If the IRA has an entity, such as a charity, and persons named as beneficiaries, the entity's portion needs to be distributed by Sept. 30 after the year of death. Those persons who remain as beneficiaries as of Sept. 30 after the year of death are considered "designated beneficiaries" and they can stretch distributions over their specific life expectancy. It is also important to note that the person who inherits IRA money and then establishes a beneficiary IRA also needs to name a beneficiary of their beneficiary IRA.
These are important and sensitive matters, and they need to be handled properly. Don't just leave these things to chance. When was the last time you updated your beneficiary form? If there has been a birth, or a death, a marriage or a divorce in your family, it is time to review these important documents. It is possible to have a somewhat modest retirement account turned into a family fortune, but you have to know how to do it. Don't leave your money exposed to positions where the IRS can potentially take over a third of your money in one fell swoop. Do some planning instead. Update those beneficiary forms. Think about it: How much do you really love your kids and grandkids?
Things to Know
Contributions to a traditional IRA may be tax deductible in the contribution year, with current income tax due at withdrawal. Withdrawals prior to age 59 ½ may result in a 10% IRS penalty tax in addition to current income tax.
"Stretch IRA" is a marketing term implying the ability of a beneficiary of a decedent's IRA to withdraw the least amount of money at the latest allowable time in order to maintain the inherited IRA assets for the longest time period possible. Beneficiary distribution options depend on factors such as the type and age of the beneficiary, the relationship of the beneficiary to the decedent and the age of the decedent at death, and may result in the inability to "stretch" a decedent's IRA. Illustration values will greatly depend on the assumptions used, which may not be predictable such as future tax laws, IRS rules, inflation and constant rates of return. Costs including custodial fees may be incurred on a specified frequency while the account remains open.
This is a hypothetical example and is not representative of any specific investment. Your results may vary.
About the author: David Dixon is a registered representative with securities offered through LPL Financial, member FINRA/SIPC. Dixon is also a member of Ed Slott's Elite IRA Advisor Group. For more information about this group, or to find a member near you, visit www.irahelp.com.
More of What's Trending on TheStreet: