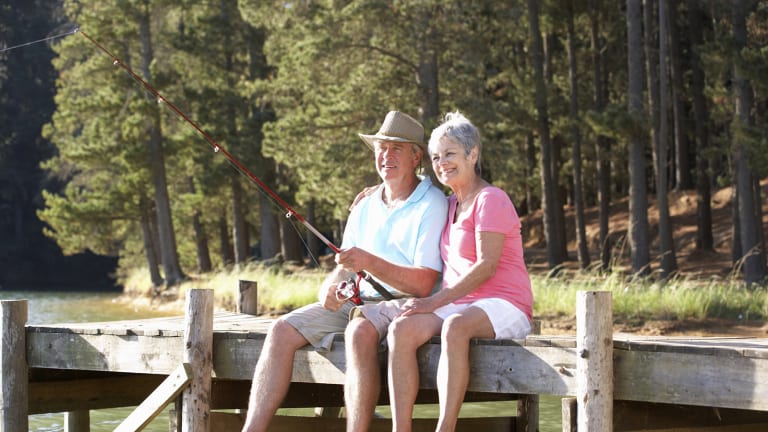 How to Enjoy Retirement Without Going Broke: 6 Tips for Older Americans
Financial pros offer practical money advice for a frugal yet fabulous retirement.
NEW YORK (MainStreet) — What do you hope to experience during your golden years? Perhaps you dream of spending your days playing tennis, dining out and traveling to exciting destinations. In theory, retirement should be the time in our lives to enjoy the fruits of our labor at long last, but some older Americans struggle to stay afloat financially after leaving the working world. 
The good news: there are ways to enjoy a fabulous retirement without going broke—all it takes is some practical financial planning. Read on for six essential money-management tips from the pros.
Develop a Smart Distribution Strategy
If you have a tax-deferred retirement plan, such as a traditional IRA or a 401(k), it's important to develop a smart strategy for making withdrawals from your fund (called "distributions"). You should keep in mind that distributions will be taxed as income, and you'll generally have to start making required minimum distributions (the minimum amount you must withdraw from your account each year) when you reach age 70.5, or else you'll face harsh tax penalties. 
If you're in good health and can afford it, waiting to make distributions until age 70.5 allows more tax-sheltered years for your retirement money. However, sometimes it makes more financial sense to start taking money out of your retirement account sooner.
"In many cases if somebody's retired, they actually end up paying less in taxes by taking some distributions prior to age 70.5 as opposed to waiting until 70.5," says certified financial planner Gary Plessl, co-founder of Houser & Plessl Wealth Management Group in Allentown, Pa. "Especially if they retire before
, because from a tax standpoint they're not even getting the Social Security income yet, so they're actually in a lower tax bracket."
It's a good idea to speak to a financial planner to figure out the right distribution strategy for your unique financial situation.
"I think the best thing a retiree can do is understand their financial picture; the earlier they can do this, the better," says certified financial planner Jason Silverberg, vice president of financial planning for Financial Advantage Associates, Inc., in Rockville, Md. "Many retirement success stories start off with informed clients."
Consider Downsizing
For many retirees, selling their current home and moving to a more modest abode can be a great way to cut down on costs.
"Not only does a bigger house carry a larger mortgage payment, but that typically means higher insurance premiums, higher property taxes, more maintenance and cleaning costs and that constant pressure to keep your furnishings, flooring and paint on the walls fresh and up to date," says certified financial planner Andrew McFadden, founder of Panoramic Financial Advice in Clovis, Calif. "Everything about a cheaper, smaller home tends to be easier on your lifestyle and your pocketbook."
Moving to a location with a lower overall cost of living and lower tax rates can also contribute to your savings, says Ben Sullivan, a certified financial planner with Palisades Hudson Financial Group in Scarsdale, N.Y.
Earn More Cash
Even after you begin living off of your nest egg, you might feel that you need more cash to help pay your bills or to simply cover the cost of "extras" such as travel, eating out and entertainment. Consider getting a part-time job or taking on some freelance work to generate extra income.
"Think about tutoring, substitute teaching, consulting in the field you worked in, taking on seasonal work with a local sports team, pet sitting, dog walking or even babysitting," says Kevin Gallegos, vice president of Phoenix operations with Freedom Financial Network. "It may take some creative thinking and work to set up, but can be more than worth it."
Even if you're not interested in getting a job during your retirement years, you can still find simple ways to bring in some extra cash.
"It's often possible to generate an extra $1,000 to $2,000 during the year by doing things like cleaning out the house and selling unneeded items on eBay, holding yard sales and redeeming credit card rewards," says Gallegos.
Enjoy Low-Cost Activities
If you're on a budget, you can still enjoy many fun activities without spending a ton. To save money, consider exploring low-cost or free things to do in your area.
"Your local library has an endless supply of reading materials and free Internet access, local parks provide the chance to watch a youth ballgame or go for a walk, and the Internet and newspapers often list free concerts, festivals and other performances in the area," says Sullivan.
Take Advantage of Senior Discounts
Getting older has its perks, including the many senior discounts available on everything from food to hotel accommodations to entertainment.
"Do some research online and ask in person at the businesses you frequent to find out what discounts are available at the places that you most enjoy," says Clare Levison, a certified public accountant and author of Frugal Isn't Cheap: Spend Less, Save More, and Live Better (Career Press 2013).
If you're looking to travel, Amtrak offers passengers ages 62 and older a 15% discount on the lowest available rail fare on most Amtrak trains. Or if you need some new items for your wardrobe or home, Kohl's offers a 15% discount every Wednesday for shoppers ages 55 and older (offer not available online).
AARP members should also be sure to check out the organization's website for great deals for seniors.
Review Your Bills
It's a good idea to review your bills to check for recurring payments on services you may not really need.
"Even a small monthly payment has the ability to compound into a much larger figure over time," says certified financial planner Dan McElwee, executive vice president of Ventura Wealth Management in Ewing, N.J. "Cable bills, telephone bills, subscription services and gym memberships all add up over time. The extra $20 a month you are paying for a premium channel that you may or may not watch for one hour a week is $240 per year or $1,200 over a five-year period."
—Written by Kristin Colella for MainStreet