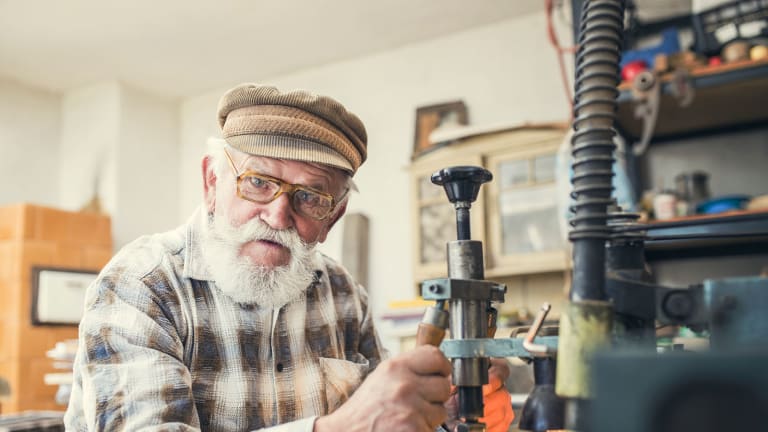 How to Combat the Senior Poverty Epidemic
Could you live on $32,000? That's the median household income of retirees.
Forget about the "golden years." For millions of American seniors, their post retirement years are a blur of poverty and simply scraping to get by. That is a takeaway from detailed research done by the Transamerica Center for Retirement Studies.
The dismal numbers spell out how gloomy things are. Unmarried retirees, per Transamerica, report an annual median household income of $19,000. That is $1,583 per month. For everything. Housing, food, healthcare, transportation, entertainment, you name it.
Married retirees do a little better. Transamerica estimates their median income at $48,000.
Sort all retirees, and Transamerica said the median household income is $32,000. A quarter have a household income below $25,000.
How did seniors get into this impoverished state? Social Security is cited by 89% as part of their income mix, but company funded pensions are cited by only 42%; 401(k)s and IRAs are cited by only 37%. That means many seniors are trying to get by on Social Security (said by the Social Security Administration to usually replace only 40% of pre-retirement income) supplemented by often meager savings.
In a recent survey one-third of Americans had exactly zero saved for retirement. Some 23% have less than $10,000 saved.
"Most are relying on Social Security," said Catherine Collinson, president of the Transamerica Center for Retirement Studies. She added: "We are not seeing the effects of 401(k) savings. We would have expected more income from them."
Nobody has a quick explanation as to why - just that seniors seem destined to have to learn to get by on a small Social Security check.
How to do that? And still live reasonably well? Experts are quick with suggestions.
Emily Brandon, a retirement reporter for U.S. News & World Reports and author of Pensionless, said that the first step in retiring better is picking a date that maximizes Social Security benefits.
That's easy on paper. Delay retiring to 70, and the monthly check skyrockets. Claim Social Security at 66 - the full retirement age for retiring Baby Boomers - and let's say it is $1,000. Claim that at 62, and it is instead $750 per month. Wait until 70, and it is $1,320. The longer you wait, the more you get - forever.
The problem: "60% of retirees retired sooner than expected," said Collinson. Some cited health concerns, but, said Collinson, two-thirds named "work related reasons" -- that is, they were probably downsized out of their jobs. That pushes many seniors into collecting earlier than they had hoped.
Delaying picking up the Social Security check is a brilliant strategy - if you can pull it off.
What other options do seniors have? "Downsize to a smaller house," said Brandon. "Housing often is among a senior's biggest expenses." Frankly, few seniors still need a big, sprawling house. Thinking smaller is a survival strategy.
Or take in a roommate, said Collinson, who explained that most seniors live alone, but bringing in a roomie to share the costs is a quick way to lower outgo.
Become a coupon clipper is advice from Tracie Miller-Nobles, CPA. "Take advantage of discounts at the grocery store, restaurants, and entertainment," she added. There's Groupon, lots of online grocery coupons and plenty more ways to save 10% to 50% on just about every purchase. When budgets are small, it's shrewd shopping.
Don't be shy about asking for help. Some 8 million Baby Boomers are said to be hungry every day, due to money shortages, and for them there are many resources - such as soup kitchens and food banks - more of which now specifically target hungry seniors. In New York, for instance, the state Department of Agriculture and Markets has a program that gives low income seniors vouchers that can be used to buy food at select farmers markets. Much good food is a senior's just for asking for it.
Health care -- particularly prescription medication -- is another budget drain for many seniors, and the advice there is to try to maximize use of low cost generics, which often cost pennies on the dollar. At least some big pharmaceutical companies also have programs where they make premium drugs available at cut-rate prices.
Probably the best advice is from Miller-Nobles: "Consider getting a part-time job." That's because expenses can only be cut so much. But many seniors are finding it easy to pick up part-time work. Research finds that a growing number of seniors are working at age 70 and older, some because they want to, many because they need to.
Bottomline: retirement years may indeed be golden if you work at it. Vigilantly cut costs and look for ways to bring in supplemental income. Do both, and just maybe you will have exactly the kind of retirement you had dreamed about.
This article is commentary by an independent contributor. At the time of publication, the author held TK positions in the stocks mentioned.