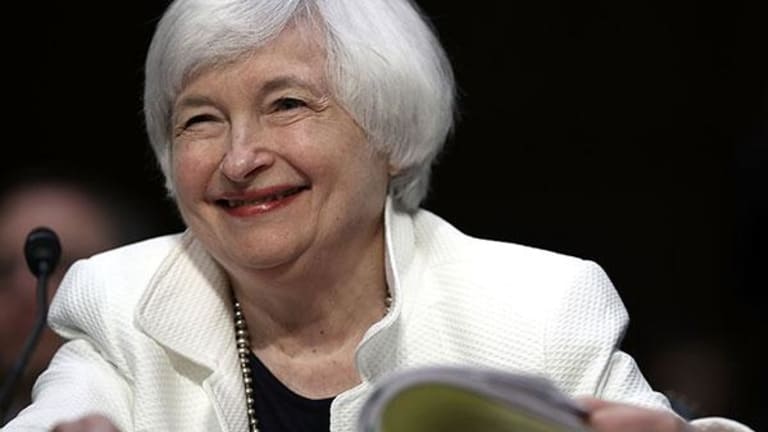 How This Little Known Investment Can Help Boost Your Retirement as the Fed Raises Rates
Certain areas of the closed-end fund market could see a huge boost as the Federal Reserve continues to raise interest rates and the economy strengthens.
Several sectors of the economy appear poised to benefit as the Federal Reserve embarks on its path to raise the federal funds rate in 2017 -- banking, consumer discretionary companies and certain parts of technology.
Picking which company or companies in these sectors can be a harrowing experience without the proper tools and homework. But thanks to this unloved investment product, investors needn't have to worry about which bank stock to pick, which retailer will be hot this year or whether that technology craze is likely to last.
"The most interesting space for [closed-end funds] right now is senior loan funds," said Greg Neer, director of research at Relative Value Partners, a Northbrook, Ill., firm that specializes in closed-ends and has roughly $1 billion in assets under management. "They have floating rate assets and liabilities and as LIBOR [London Interbank Offered Rate] goes higher with a higher Fed rate, their distribution levels increase over times. It's a really great fixed income investment in a rising short rate environment."
Like a mutual fund, a closed-end fund (CEF) is a collective investment in which people pool resources together. Unlike an open-ended mutual fund, there are only a fixed number of shares, so even if demand outstrips supply, no new shares are created.
LIBOR is commonly known to home owners and investors in the real estate space because of its impact on adjustable rate mortgages, but it's widely used in the banking sector. It's a rate that banks around the world charge each other for shorter-term loans and like mortgages, is used in a variety of loan products.
This chart from the St. Louis Federal Reserve shows 3-month LIBOR has been rising, as the global economy and markets adjust to and anticipate a continued rise in the federal funds rate.
The benefit of closed-end funds, Neer noted is that while certain parts of the CEF market could be hurt by rising rates, like municipal bonds, senior loan funds aren't really impacted whether the Fed raises or doesn't raise. "I don't see it as a direct issue [the Fed raising]," Neer said. "If they don't raise, it means there are problems elsewhere, which is a bigger problem."
Like mutual funds or ETFs, there are two ways of making money in a CEF: appreciation and dividends. Yet, there are two other ways to earn money in CEFs that aren't readily apparent in most ETFs and mutual funds -- discount contraction and activism.
Because of the nature of the investment, closed-end funds tend to trade at discounts to their net asset values (NAVs). That spread has widened as bonds have fallen out of favor since the U.S. election, to the tune of approximately $1 trillion globally, per a November 14 report from Bloomberg.
With closed-end funds being a small market (it's far less than the $3 trillion in assets in ETFs and $11 trillion in mutual funds), there tends to be a discount to the tune of 15% or so based on what the underlying assets are worth.
"It's a small market and not a lot of people play close attention to it," Neer added. "A lot of people need to do their homework."
Like with a company with an activist investor -- Bill Ackman and Chipotle Mexican Grill (CMG) - Get Report is a good example -- closed-end funds can also benefit if an investor wants to do something to boost the value, either forcing a liquidation or having a tender offer. "Closed-end funds aren't incentivized to trade at a tight discount until an activist investor gets involved," Neer said. "Until then, they're not overly concerned about the discount, so there's opportunity there."
Tri-Continental Corporation (TY) - Get Report  is one example of a closed-end fund that's trading at a large discount to its net asset value. 
"It's a large equity oriented fund that trades at a 16% discount -- people just are not that interested in it," Neer said of the fund. "There's no real inherent flaw -- it has good NAV performance, it's fairly liquid, it just doesn't market itself, so there's an opportunity."
For the retail investor who already has considerable amount of assets in ETFs or mutual funds, closed-end funds might be a good alternative to capture additional performance, if they're willing to do their homework and potentially juice their returns in 2017.
"The lack of liquidity drives away large investment managers, but there's more liquidity for the average retail investor," Neer said. "Because of that discount, it's an opportunity that might not exist otherwise."