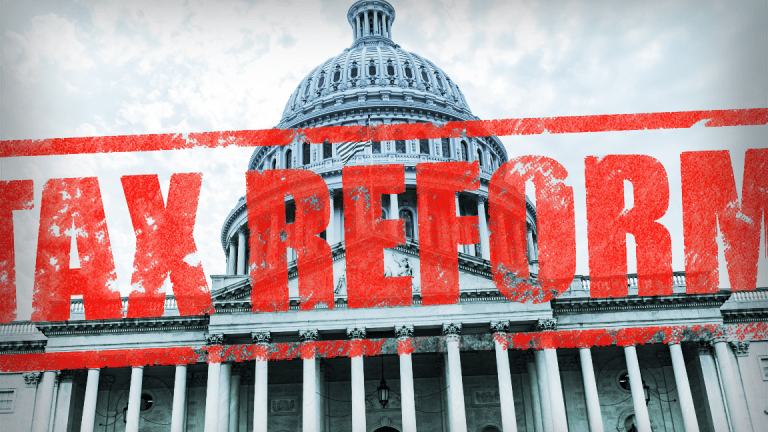 How the New Tax Law Affects Property-Tax Deductions
We're going to help you find the answers to your questions about the new tax legislation. Today: Property-tax deductions and the Alternative Minimum Tax.
Ask us anything: We're getting questions from readers about the new tax law. While there's a lot still to be learned about the Tax Cuts and Jobs Act of 2017, people are wondering if they should pre-pay their 2018 property taxes now, or whether they can do a Roth characterization in 2018. No matter your question, we've got answers from some of the nation's top tax and financial planning experts. So, don't be shy. Send your questions about the new tax law to Robert.Powell@TheStreet.com. We'll try to answer and publish as many as we can about how it's going to affect your investments, retirement savings and taxes.
Question: Can I prepay my Oregon property taxes for the year 2018-2019? We are assessed as of Jan. 1, 2018 for the tax year of July 1, 2018 through June 3, 2019. Even if my county accepts payment could I be denied a tax benefit on my 2017 taxes because of the new tax law?
Answer: The provision of the tax bill that addresses state and local tax deductions is very short, according to John Kilroy, a managing member of iValue Financial Planning.
It does, however, clearly state two things: the $10,000 limit for state and local taxes paid in 2018 and for some years to follow, and a prohibition against deducting any state or local income tax in the year before it is assessed.
"This will prevent any 2018 state and local taxes paid in 2017 to be deducted on a 2017 federal tax return," he said. "This prohibition did not include mention of real estate taxes. Therefore, it may be reasonable for you to pay the 2018 real estate tax in 2017."
This, however, is an interpretation and not a certainty, said Kilroy.
"Also, you should be aware that if you are likely to be subject to the alternative minimum tax (AMT) in 2017 no benefit would be achieved by paying the 2018 real estate tax in 2017," he said.
Question: If a filer is subject to the alternative minimum tax (AMT), there seems to be no benefit to prepaying 2018 property tax in 2017, or is there?
Answer: For those who are already subject to the alternative minimum tax, there's no benefit to prepaying 2018 property taxes in 2017, because that's not a deductible payment anyway for AMT taxpayers, Michael Kitces, publisher of the Nerd's Eye View. Read more about strategies related to this on his blog. 
That means, Kitces said, the deduction is limited in both 2017 under AMT and 2018 under the new limitation for state and local tax (SALT) deductions and the potential that you won't itemize anyway due to the higher standard deduction.
"Indirectly, that was actually a key point of the new tax reform -- the number of people who will be impacted by the AMT in the future is greatly diminished, because the AMT adjustments like deductions for state income and property taxes that used to trigger the AMT -- deduct them for regular tax purposes but add them back for AMT purposes - are simply gone," said Kitces. "Or viewed another way, it's almost impossible to be driven into the AMT by SALT deductions if the SALT deductions are so limited under the regular tax code in the first place, starting in 2018."
Got questions about money, retirement and/or investments? Email Robert.Powell@TheStreet.com