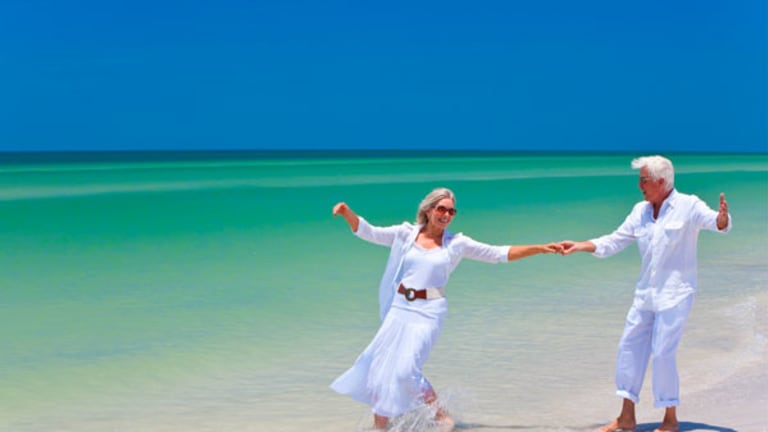 How Does Going Bald Impact You?
When Pierre the Penguin started going bald, the blow to his ego was as jarring as the cold water against his newly bare skin.
When Pierre the Penguin started going bald, the blow to his ego was as jarring as the cold water against his newly bare skin.
That is because a penguin's waterproof feathers serve as insulation, and without them, swimming is virtually impossible. Pierre, 25, was distraught. He moped by the side of his tank at the California Academy of Science  in San Francisco, his pink rear end almost completely bare.
Senior aquatic biologist Pam Schaller came to the rescue and contacted Oceanic Worldwide, a Bay Area diving outfitter, to design a one-of-a-kind penguin sized wetsuit. Six weeks after the penguin started sporting the suit, he's back in the water and even growing new feathers again. His confidence is back, too. According to reports, Pierre is now mating with a female half his age.
It is too bad balding isn't as easy to overcome for Pierre's human counterparts. Hair loss is an estimated $1-billion-a-year industry, with Rogaine (JNJ) and Propecia (MRK), considered the most effective (but not 100% effective) medical interventions. And, while a few celebrities like Bruce Willis might be bald and proud, most people find hair loss distressing. A recent study published in the Journal of the American Academy of Dermatology concluded that most men consider balding "an unwanted distressing experience that diminishes their body image."
"For both men and women, hair loss can be devastating and adversely affect one's overall quality of life," says Dr. Amy McMichael, associate professor of dermatology at Wake Forest School of Medicine. "As with most medical conditions, the key to controlling the hair loss cycle is to seek treatment early. The problem is that most people tend to ignore the first signs of hair loss or delay treatment, hoping that their hair will re-grow on its own."
Laura Bzowy, who runs the website Baldiness: The Truthiness about Baldness, says that taking action is understandable. "If you aren't comfortable with being bald—and lets face it, it isn't always easy—there is no shame in covering it up if you aren't quite ready to show your bald head to the world," says Bzowy. And according to Dr. John Hotard, a career counselor based in New York City, taking control of how you look can translate into performing better on the job, too. "A person that feels better about their appearance will often be more decisive in the office," says Hotard. "In addition to wigs people even get braces in their 40s; it is about reducing anxiety and regaining a sense of control."
Controlling the costs of hair loss, however, can be a challenge. A year's supply of Rogaine can cost $200 and Propecia can cost around $720 a year. These drugs are usually not covered by insurance. (However, if your hair loss is due to a medical treatment, like Chemotherapy, most health insurance other than Medicare will cover part or the entire price of a wig if you provide a prescription.) Meanwhile, wigs range significantly in price, with custom human hair wigs costing several thousand dollars.
"At the end of the day your work speaks for itself," says Hotard, who also cautions that attempts to combat hair loss, such as surgery, can be risky, for your health and your career. And, if one day you change your mind after getting a wig, remove your rug with humor. "I think if you are ready to let it go, then do it," says Bzowy. "Obviously you can't pretend that the hairpiece wasn't there before, but after an initial shock, it's going to be a big relief to the person who did the "unveiling," and the people closest to them." But, don't let it affect your self esteem. "Whatever decision you make," says Bzowy, "just own it."

People who read this story might also be interested in Britney's Medical and Legal Dramas Continue, TV Doc's Credentials Questioned, and Can You Get Health Insurance If You Are Already Sick?