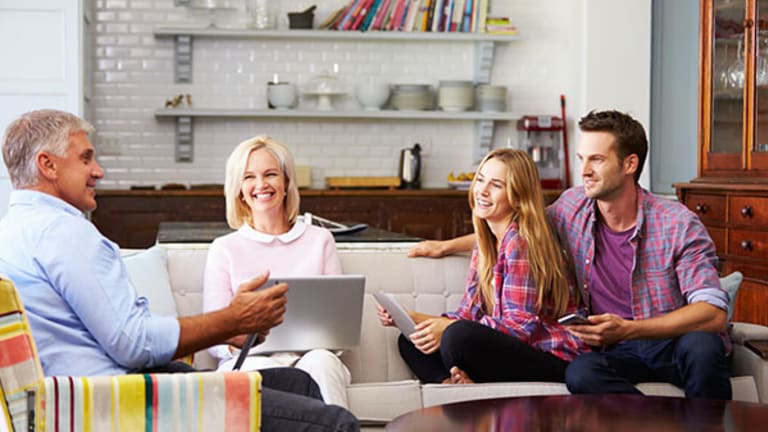 How Adult Children Can Prepare for Their Parents' Retirement
While parents should keep their adult children informed of their plans for later life, those kids may have to coax parents into keeping everyone informed.
Editor's pick: Originally published Dec. 20.
Retirement isn't all vacations, second homes and visits with the kids, and adult children should have at least one family meeting with the parents to discuss their long-term plans.
The unfortunate, but inevitable, truth is that the overwhelming majority of people are going to require help with their finances, medical care and other needs after retirement and beyond. Studies have discovered that financial decision making peaks around age 53 and gradually declines, even among healthy individuals. It's part of the aging process, but Fidelity Investments discovered that 60% of older adults worry about burdening their families with the task of managing the finances.
"The inevitability of losing financial independence is something for which we all need to plan," says Suzanne Schmitt, vice president of family engagement for Fidelity Investments. "That's why it's important for families to be in sync about what needs to happen in the event it's necessary to take the financial keys away from a loved one. By engaging in conversations now and having a strong support system in place, families can help loved ones gracefully transition into that next phase of their lives."
Even among wealthy investors, discussing their future can often be an uncomfortable task. Only a third of wealthy investors (36%) say that they plan to turn to family for support or care, with the vast majority (64%) preferring outside help. Though three quarters (74%) of wealthy investors say their grandparents relied on family for long-term care, and more than half (57%) said their parents did the same, they have one unifying reason for not wanting the same care: They don't want to burden their children.
Get used to hearing that word -- "burden" -- since it sits at the core of nearly any discussion about aging. UBS found that the greatest fear among wealthy investors is that they will be a burden to children. Roughly 42% feel that way, making it a greater fear than surviving on life support (34%) or living in a nursing home (15%). According to a Nationwide Retirement Institute survey, two-thirds of women (66%) are worried they will become a burden to their family as they get older (compared to 50% of men).
"For many families, the job of caregiver typically goes to mom," said Shawn Britt, director of long-term care initiatives, advance consulting group at Nationwide. "After all, being a nurturer is in our DNA. But for many women it is difficult to discuss how the role of caregiver might be reversed when it comes our time to need help."
They're going to have to get over it. The feat of being a burden isn't unfounded -- 47% of those who currently provide care described it to UBS as a heavy burden, 41% described it as a moderate burden and 12% said it was a minimal burden -- but that doesn't mean adult children don't want to bear it. In fact Fidelity discovered that eight out of ten adult children actually want to help their parents manage their finances and care later in life.
Besides, parents should know better. While only 9% of older adults (aged 50-80) surveyed by Fidelity felt they'd never lose the ability to manage their day-to-day finances, 60% admit to having witnessed it happen to a friend or family member—and 40% actually helped manage their own parents' finances. Financial firm Edward Jones found that 43% someone close to them who had or is currently dealing with Alzheimer's disease. That includes 51% of Baby Boomers who've known someone who's struggled with Alzheimer's.
"Health care expenses can be difficult to project, especially when you are decades away from retirement," said Scott Thoma, principal and investment strategist for Edward Jones. "Unexpected conditions and medical expenses that manifest later in life pose a great threat not only to physical and mental health, but also to the financial well-being of both the care receiver and the caregiver. That's why it is critical to start preparing early -- proactive planning can ultimately help individuals protect their assets over the long term, even if health complications emerge during retirement."
That's a discussion you want to have while you can still opt to do so. While Fidelity found that nearly 75% of older Americans surveyed say it's very important to maintain the ability to manage day-to-day finances, there are a number of instances where adult children often need to step in and get more involved whether the parent wants them to or not. When a parent or loved one makes a direct request for financial assistance, when age starts to become a significant factor (like when a parent turns 75 or older) and when there is awareness of a change in circumstances, Fidelity notes that it's best for adult children to step in if there's no plan in place. That puts the burden on parents to formulate a clear strategy for their later years.
"When you get right down to it, we're independent right up to the point we're not," says Fidelity's Schmitt. "Well before a tipping point has been reached, families need to be prepared and make sure they have a strong transition plan in place — and the good news is, there are several benefits to building a strong family financial safety net. Doing so allows parents the ability to maintain their current lifestyle for as long as possible, helps them preserve their assets and may increase the likelihood they won't fall victim to fraud."
However, parents aren't doing a great job of keeping kids in their their plans -- or appraised of them. Just 39% of UBS investors have talked with children about who will take care of them in old age. In terms of housing; 89% would like to stay in their current home, while 54% consider assisted living an appealing option. Only 15% consider living their child's home, which they see as only a slightly better option than a nursing home (12%). In terms of care, 80% of investors want their spouse to care for them and 67% want a home health aide. Just 27% want a child to care for them. Meanwhile, only half (50%) have factored healthcare costs into their overall financial plan, and only 23% have saved for their future care.
The Nationwide poll found that 62% of women aged 50 or older haven't talked to anyone about long-term care costs, with 43% of women with spouses and 62% of women with at least one child saying that they avoid the discussion so their loved ones won't worry. However, those same women are carrying around plenty of worries of their own: 67% would rather die than live in a nursing home, 73% want to receive long-term care in their own home (but only 51%) think they will and 47% are willing to give all their money to their kids just so Medicaid will fund that long-term care.
"Maintaining self reliance is important to the vast majority of investors," says Paula Polito, client strategy officer for UBS Wealth Management Americas. "Having a plan in place for long-term care before they actually need it will help them avoid burdening their children."
The discussion doesn't end with health care, either. A survey of adult children by Caring.com found that just 56% of U.S. parents have a will or living trust document. However, 27% of parents do not have estate documents in place and 16% of adult children are unsure if their parents do. Even when those documents are in place 52% of adult children don't know where they are, 58% don't know what they contain and even 44% of adult children 65 and older don't know that those documents say.
"Wills and estate documents can be a touchy subject, but they are necessary conversations to have," says Andy Cohen, CEO of Caring.com. "Too often the surviving family members are left not knowing where to find the documents, or worse, have to go through a lengthy and expensive legal process because no documents were ever created."
Recent Census Bureau indicates that the population of Americans aged 65 and older will grow to greater than 80 million by 2050, and that the number of people likely to require long-term care is expected to more than double from 12 million today to 27 million over that time span. That's leaving a lot of adult children in a lurch and a lot of questions unanswered.
This is why financial advisors spent the holiday season imploring parents to host family meetings and put all of this information out in the open. A family meeting can touch on estate planning topics like inheritance for adult children, grandchildren and great-grandchildren, but it can also provide a simple discussion of long-term goals. You don't have to have vast wealth or a family business to get everybody together for a discussion, but even keeping everyone abreast of your plans can be cause enough to pause a holiday dinner for a few moments and discuss long-term plans. 
"Talking about money is difficult, and talking about money with family can be especially so," says Anthony D. Criscuolo, certified financial planner with Palisades Hudson Financial Group. "But the consequences of avoiding it are serious and the benefits of doing so are clear. A family meeting will provide family members a forum in which to start these conversations and, in the long run, will lead to more fully considered financial planning choices that will help maximize family wealth and harmony."