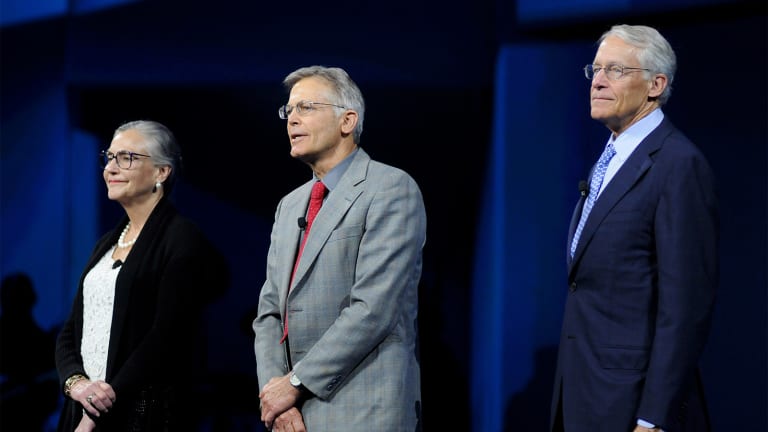 How A Dynasty Trust Can Keep Your Family Wealthy
A dynasty trust's tax-sheltered assets can take care of your family for generations, and keep you in control of their finances and behavior.
A dynasty trust's tax-sheltered assets can take care of your family for generations, and keep you in control of their finances and behavior.
Imagine a future in which you can take the wealth you've accumulated within your lifetime and use it to pave your family's future in perpetuity.
Now imagine that you have control over that future from beyond the grave.
Those, essentially, are the key benefits of a dynasty trust. While its terms vary by state jurisdiction, a dynasty trust allows wealth to grow tax-free across multiple generations, but it also allows the person giving it away to part with it before death and control the terms of its distribution long afterward. That's particularly beneficial with life expectancies on the rise. 
"Our generations are living much longer now, and the average age is much higher," says Masood Vojdani, founder and chief executive of MV Financial in Bethesda, Md. "Some parents are thinking that they have to transfer some assets to their kids because they don't need all of that. How do they do that and what are the strategies?"
With the National Institute on Aging finding that the number of people expected to reach their hundredth birthday is projected to increase ten-fold between 2010 and 2050, some of the more traditional methods of distributing wealth -- including trusts in which a person's descendants would inherit money upon that person's death -- result in some generation getting their inheritance only when they themselves are in retirement.
Sharon Klein, managing director of family offices, services and wealth strategies at Wilmington Trust, a company headquartered in Wilmington, Del., notes that dynasty trusts can not only reduce the size of one's estate and minimize the tax burden for beneficiaries, but can create a tax-free base of wealth spanning decades, if not centuries.
"One of the particular benefits of a dynasty trust is that it can benefit classes of beneficiaries across generations," Klein says. "There can be a receptacle for family wealth that can be looked at as a pot of money from which all families can draw and you can set it up in a jurisdiction like Delaware in perpetuity."

Currently, the federal gift tax exemption sits at $5.43 million. Next year, it jumps to $5.45 million. If you set up the trust with $5 million and allocate your gift tax exemption to it, Klein says it covers the dynasty trust no matter how much the trust grows. That trust will be exempt from not only gift tax and estate tax, but the generation-skipping transfer tax applied when, say, a grandparent gives money to a grandchild. If this trust is opened in Delaware, meanwhile, families avoid similar state taxes and can use a flexibly drafted trust to start businesses, fund education, purchase property or start a family tax-free.
"However, in order to achieve this tax benefit, the grantor has to give up control of the assets he uses to fund the trust," says Shomari Hearn, certified financial planner and vice president for Palisades Hudson Financial Group in its Fort Lauderdale, Fla. "Further, the trust has to be irrevocable, meaning the grantor cannot make changes to the trust after it is created, so giving the trustee more control is not really an option."
Yet, a properly constructed dynasty trust an protect future generations from creditors, future ex-spouses and, in many cases, from themselves. Mela Garber, tax principal and chair of the trust and estate group at Anchin, Block & Anchin LLP in Manhattan, notes that those setting up the trust can name a trustee known to the family (a lawyer, advisor or otherwise) who'll carry out their intention to the letter. The trust can be set up to distribute income and/or principal only at the trustee's discretion, or it can be constructed as a provisional trust that gives beneficiaries money for hitting specific benchmarks. The upside to the latter approach is that it allows the person creating the trust to ensure that beneficiaries graduate college, maintain the family business or meet other goals before receiving payment.
"There's a very useful provision that some people use in jurisdictions like Delaware to create a 'quiet trust' where the beneficiaries don't necessarily know about the trust until they reach a certain age or there's a triggering event," Klein says. "Some people like that quiet trust provision because they don't want beneficiaries to know that there's a huge amount of wealth that's being left to them, because they feel it might still their ambitions or the extent to which they're going to pursue a career."

The downside to provisional trusts is that beneficiaries who aren't so scholarly will lose out, while those who aren't altogether business savvy run the risk of either being shackled to a business they hate or running that business into the ground -- and defeating the purpose of the trust provision. In the worst cases, Garber says such a trust could latch generations of family members to a tyrannical, retrograde ideology -- like that of one client who forbid an inheritance to generations born through artificial insemination.
"Flexibility is the key to a successful trust," Garber says. "Because we can not predict what the future generations will or will not do, we recommend giving the trustee more power to distribute principal after considering the lifestyle and behavior of the beneficiaries at that time."
For this reason, Hearn suggests writing the trust to give the trustee the flexibility and discretion to make distributions to children and grandchildren before those funding the trust have died. Not only would it give current generations access to the trust, but it allows those who put the trust in place a chance to see the trustee in action and to determine what they'd want out of a successor trustee - such as a trust company or corporate trustee. Just keep in mind that the latter trustees tend to be far less flexible than those connected to the family.
"I also suggest giving adult beneficiaries the power to change the trustee, under certain situations," Hearn says. "It's difficult to predict what the future holds with any certainty, whether it's how beneficiaries will mature or changes in tax law, so flexibility is essential with a dynasty trust."
This article is commentary by an independent contributor. At the time of publication, the author held TK positions in the stocks mentioned.