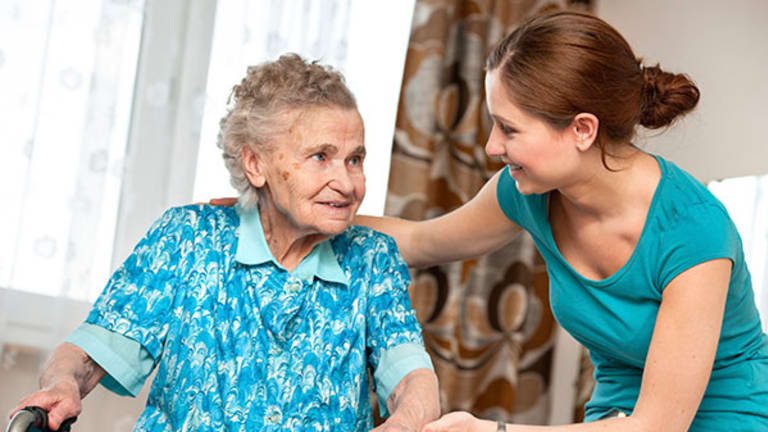 Health Care In Retirement Costs Way More Than You Think
Just about every U.S. worker across every generation underestimates the cost of health care in retirement, but they're frighteningly off-target.
Just about every U.S. worker across every generation underestimates the cost of health care in retirement, but they're frighteningly off-target.
Retirees' biggest fear is becoming their most pressing reality: they may not be able to cover the cost of health care in retirement.
A full spread of Medicare coverage can cost more than $3,900 a year. However a study from the Center for Retirement Research at Boston College found 44% of men over 65 and 58% of women of the same age require some form of long-term care, which is not covered by Medicare. According to the Federal Long Term Care Insurance Program, the average cost for an assisted living facility is $47,064 per year, while around-the-clock care in a semiprivate room at a nursing home runs approximately $91,615.
That isn't great news for the 41% of Americans rank health care as the expense they are most worried about, according to a report from Voya Financial, but it's going to be an unpleasant surprise for the 81% who have not estimated the total amount health care will cost them in retirement. When asked to calculate the cost, most expect retirement health care expenses to be well below national estimates. The majority of Americans (66%) estimate retirement health care expenses would cost $100,000 or less, with 31% guessing $25,000 or less. However, the Employee Benefit Research Institute (EBRI) notes that a 65-year-old man would need $127,000 in savings to cover those expenses. Meanwhile, a 65-year-old woman would need $143,000 to give each of them a 90% chance of having enough savings to cover health care expenses in retirement.
Then again, if you're struggling with health care costs now, why should it surprise you that they'll be a burden later? As Bankrate  notes, one-in-four American families have decided not to seek medical attention when they needed it within the last year because of the cost. Older millennials, ages 27 to 36, were the most likely shy away from medical treatment (32%). They don't exactly see it getting better, with more than half of Americans (56%) worried that they might not have affordable health insurance in the future. Generation X, ages 37 to 52, are most concerned (64%), followed by Baby Boomers (55 and over, 58%) and Millennials (18-36, 56%). Although the current presidential administration promises to bring a better healthcare option to U.S. citizens, Americans say they prefer the Affordable Care Act (introduced by the Obama administration in 2010) to the Republican alternative by a 43% to 25% margin. The results are the same across almost all demographics, though Republicans (54%) favor the new legislation more than Democrats (10%) or Independents (26%).
"It's very concerning that people are foregoing medical attention because of the expense," says Robin Saks Frankel, credit card analyst at Bankrate. "13% of respondents don't have any health insurance at all - a risk that could cost them. Unexpected medical bills can lead to a huge financial burden that could take years to pay off should something go wrong."
So how do Americans see themselves getting through a health care scare in their retirement? Unfortunately, 34% plan to use general retirement savings (pension, 401K, 403B or IRA). Another 25% would use Social Security, while Health Savings Accounts -- a terrible option that nobody likes -- would only be used by 7%. The only less-popular answer was emergency savings (6%).
Meanwhile, each generation has vastly different ideas about what health care costs will look like in retirement. Only 21% of current retirees have estimated their total retirement health care expenses, compared to 14% of Americans overall. A whopping 77% of Baby Boomers haven't tried to figure out their expenses, with 35% relying on Medicare. Generation X, long aware of how big a mess the Boomers were going to leave behind, were the most likely (28%) to estimate that health expenses would top $100,000. Millennials, meanwhile think everything is going to be just fine: With 74% thinking costs will be less than $100,000 and 85% not worrying about health care expenses. Also, despite coming into one of the worst job markets in history, 42% think they'll be able to cover health care expenses with general retirement savings.
This is why people are nervous about this issue. According to a study by financial firm Edward Jones, almost two-thirds (60%) of U.S. workers are worried about how they will pay for healthcare expenses in retirement. That includes 69% of Baby Boomers, the most recent generation to enter retirement age.
"Health care expenses can be difficult to project, especially when you are decades away from retirement," says Scott Thoma, principal and investment strategist for Edward Jones. "Unexpected conditions and medical expenses that manifest later in life pose a great threat not only to physical and mental health, but also to the financial well-being of both the care receiver and the caregiver. That's why it is critical to start preparing early - proactive planning can ultimately help individuals protect their assets over the long term, even if health complications emerge during retirement."
According to a recent report from financial firm HSBC, 76% of people surveyed see illness and health care costs as the biggest obstacles to overcome in retirement. Even if you're healthy, 61% say a partner's illness could also derail retirement plans. The survey of more than 18,000 workers and retirees in 17 countries found that 67% of those currently employed have no ideal what they'll spend on healthcare in retirement.
It's especially worrisome that only 42% of older workers think they're in good health for their age. Worse, they're taking they're time getting in shape, too. Roughly 61% of older workers are eating a healthier diet, 59% have regular medical check-ups, and 33% take medicines to prevent future conditions. That compares to 7%, 84% and 66% of retirees, respectively, who do the same.
"Retirement can often invigorate and remind people of the importance of healthy lifestyle choices, but it is equally as important to consider adopting a healthy lifestyle in advance of retirement," says Michael Schweitzer, global head of sales and distribution at HSBC. "Having a financial plan can help demystify long term saving as well as help provide a stress free outlook for all stages of your retirement, both in sickness and in health."
But implementing that plan has been a problem across the earning spectrum. HSBC found that 63% of those making $80,000 or more have no idea how to prepare for healthcare costs in retirement. Meanwhile, a UBS survey of wealthy investors found that 57% say accounting for future health issues iis important to them), but just 48%think they'll. be able to do so. About half (49%) said they are "highly concerned" about rising healthcare costs, but that 77% haven't set aside money for future medical expenses, and As a result, 33% are worried about medical cutting into a big chunk of their children's inheritance.
"Even for those who have discussed future health and long-term care decisions, there still is a lot that goes unsaid and unasked between parents and their children," says Sameer Aurora, head of client strategy for UBS Wealth Management Americas. "It's a tough conversation, and no one wants to even think about it, let alone talk about it, but it's important to get everyone on the same page before it's too late."
Part of the confusion stems from an ever-changing healthcare landscape. The Census Bureau predicts that the number Americans aged 65 and older will grow to greater than 80 million by 2050. In that time, the number of people likely to require long-term care is expected to more than double from 12 million today to 27 million.
Roughly 88% of wealthy UBS investors say that longer lifespans are making it difficult to budget for future health care. Coupled with the rising cost of modern health care (76% find it troubling) and complicated changes in medical policy (65%), it's obscuring the path forward for many future retirees. However, according to Hartford Funds, 89% of investors between the ages of 45 and 59 plan on paying down debt, reviewing and adjust investments, spending less, saving more and/or downsizing their life.
"Maintaining self reliance is important to the vast majority of investors," said Paula Polito, client strategy officer at UBS Wealth Management Americas. "Having a plan in place for long-term care before they actually need it will help them avoid burdening their children."
It's also just a good idea to know what kind of hit is coming. According to Genworth, the median cost of homemaker services -- which helps with household chores that can no longer be managed alone, including cooking, cleaning and running errands -- is $20 an hour nationwide. That's 2.63% more than it was in 2014 and has jumped 1.61% in each of the last five years. If you have to hire a home health aide for various personal needs that fall just shy of medical care, the media rate charged by a non-Medicare certified, licensed agency is also $20 an hour. Even that's 1.27% more than it was in 2014 after a 1.03% bump in each of the last five years. Adult Day Health Care (ADC) -- which provides social activities and outings, but also may include personal care, transportation, medical management and meals -- clocks in at a median cost of $69 a day. Demand has increased significantly, however, driving up costs 5.94% from 2014 and hiking it 2.79% annually since 2011.
Few actually want to leave their homes, but one of the more popular options -- Assisted Living Facilities (ALF) that providing personal care and health services just short of those offered in a nursing home -- comes at a median cost of $3,600 a month. According to a report from Caring.com, just 53% of people 65 and older would consider an assisted-living facility for their long-term care, 64% of those ages 30 to 64 are mulling the option. That's forced costs up 2.86% from 2014 and 2.48% a year for the last half decade.
"In some cultures, senior living facilities have been seen as taboo, as in: 'I would never put Mom in a home,'" said Dayna Steele, Caring.com's chief caring expert and the author of Surviving Alzheimer's with Friends, Facebook and a Really Big Glass of Wine. "But most of today's assisted living communities are really nice and nothing like the negative stereotypes of the past."
Nursing homes provide personal care assistance, room and board, supervision, medication, therapy, rehabilitation and 24-hour on-site nursing care. They also start at a median cost of $220-a-day for a semi-private room (up 3.7% from 2014 and 3.5% a year from 2011) or $250 a day for a private room (up 4.17% from 2014 and nearly 4% a year over the last five years. That's just over $80,000 a year at its median cheapest and more than $91,000 if you want some personal space.
Yes, Medicare and Medicaid chip in, but even a reduced cost prevents roughly 18% of Caring.com survey respondents from having an overall bad impression of senior living facilities. About 41% of those who wouldn't consider a senior care facility of any kind would rather live on their own. Roughly 29% would choose to live with or be cared for by family. Of the women surveyed by Nationwide, 73% prefer to get long-term care in their own home, but only 51% percent think they will.
Among UBS investors who can't live alone but don't want to go into a nursing home, 15% would opt for their child's home. As for who actually provides the care, 80% of investors want their spouse to care for them and 67% want a home health aide. Just 27% want a child to care for them. However, even though 57% of those wealthy investors say long-term healthcare is important to them, just 48% think they'll be able to find it. About half (49%) said they are "highly concerned" about rising health care costs.
Meanwhile, 64% of women surveyed by Nationwide say they are "terrified" of what health care costs may do to their retirement plans, 47% are willing to give all their money to their children so they could be eligible for Medicaid-funded long-term care. However, while it may seem early for most workers who are covered by insurance to parse out the costs of health care, the health care savings folks are right about one thing: It never hurts to price out health care costs in advance.
"Nearly all major life events have financial implications," said Bill McManus, director of strategic markets for Hartford Funds. "It's easier to plan for and reach those financial goals when we can anticipate events, such as sending a child to college. However, it's just as important to plan for the unexpected."
This article is commentary by an independent contributor. At the time of publication, the author held no positions in the stocks mentioned.