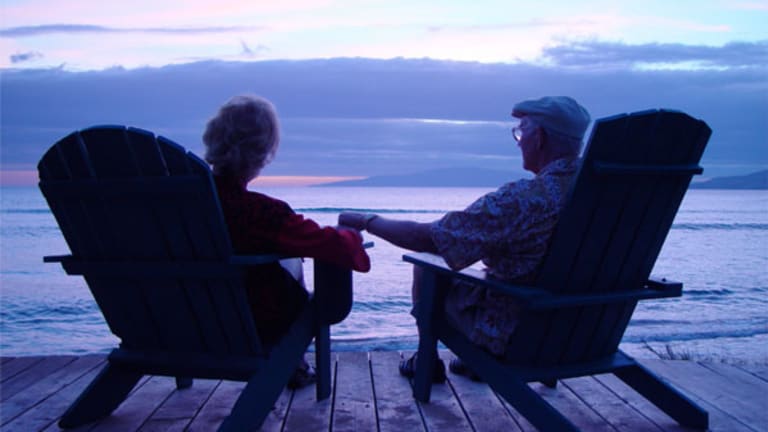 Gen X Must Step Up Its Retirement Savings
Many Gen X-ers are lagging behind their counterparts when it comes to saving enough money for retirement.
NEW YORK (MainStreet) — Many Gen X-ers are lagging behind their counterparts when it comes to saving enough money for retirement.
After paying down their student loans and credit cards and saving money for their first home, building a nest egg is often not a priority for Gen X-ers, who are 33 to 49 years old. Stagnant wages, a lack of employer-paid pensions and companies opting out of 401(k) matching programs means more people need to catch up.
Also See: Why You Can't Borror From Your 401(k) and the Only Way You Should
Also See: Here Are 5 Places Where You Can Retire And Leave Your Car Behind
Also See: Two-Thirds of Gen Y Would Change Jobs for Better Retirement Benefits
"If you wait too long, you might have to delay retirement and keep working a lot longer than you'd like," said Melinda Kibler, a Fort Lauderdale, Fla. certified financial planner with Palisades Hudson Financial Group, which has $1.3 billion under management.
Gen X-ers, who were born between 1966 and 1975, lost the most wealth during the Great Recession compared to other generations – 45% or an average of $33,000 of their funds vanished during the economic downturn between 2007 and 2010, according to a report by Pew Charitable Trusts in 2013.
The majority of Gen X-ers already lacked an adequate amount of savings before the downturn, pushing back their retirement goals even further. The average Gen X-er will be able to likely replace only half of their pre-retirement income, Pew Charitable Trusts said.
The fact that Gen X-ers lost nearly 45% of their wealth is "staggering" and only reinforces how important it is that Gen X-ers rebuild their financial foundation, said Kimberly Clouse, Covestor Advisory Board Chair, an online asset management company based in Boston and founder of Via Global Advisors.
Gen X investors should avoid high fee investment products and invest in lower cost ETFs and mutual funds since management fees one of relatively few factors that an investor can control, she said.
"The less you pay in fees, the more money you keep in your pocket," Clouse said. "For a Gen X-er who is rebuilding her financial life, paying 0% versus 1% over a ten-year period can make a big difference in overall returns."
Covestor recently unveiled Core Portfolios that give investors a more diversified exposure to the markets using ETFs and don't charge any management fees. Investors only pay the expense ratios of the underlying ETFs and trading commissions when the portfolios are initially purchased and periodically rebalanced.
Gen X-ers should focus on maxing out their 401(k) contributions and consider opening up a traditional or Roth IRA if additional cash available. If your employer doesn't offer a retirement plan, it's even more important to save in a traditional or Roth IRA or a SEP IRA or Keogh plan if you're self-employed, Kibler said.
"Since neither employers nor Social Security will fully fund a decent retirement, you have to take the initiative," she said.
Gen X-ers who were hit hard by the market downturn may be afraid to invest in stocks and decide to stick with "safe" investments like CDs and short-term bonds. Being too conservative is as risky as being too aggressive, because safe investments produce very low returns these days, Kibler said.
"Learn from prior mistakes and maintain your target allocation during market downturns instead of bailing on your stock holdings," she said.
Most Gen X-ers should allocate the bulk of their retirement in stock funds that offer growth potential such as dividing equity investments among a U.S. large-cap fund, a U.S. small-cap fund and an international fund, Kibler said. She recommends adding bond and money market funds in the investment portfolio, but said it might be more advantageous to invest in bond funds outside of a retirement plan.
"Make a plan and stick with it instead of trying to time the market," she said. "Saving for retirement takes discipline. There are lots of competing demands on your money, but by the time you get to your mid-30s, it's very important to save, even if you have to start small."
The Gen X-ers who lost ground on saving for retirement were those who panicked at the market bottom and switched their asset allocations from stocks to more conservative investments, said Robert Johnson, a professor of finance for Heider College of Business at Creighton University in Omaha.
"The individuals who stuck with a plan to systematically save each month for retirement found that the tried and true strategy of dollar cost averaging works in building wealth," he said. "Those individuals have not only recovered their paper losses, but have built substantial additional wealth."
The best method to build wealth for retirement is to systematically invest in a tax-advantaged retirement account and make no attempt to "time the market," Johnson said. Since Gen X-ers still have long investment time horizons, their best bet is to allocate a large portion of their portfolio to equity securities.
"Building wealth for retirement is akin to a marathon race, but too often individuals treat it as a series of short sprints," he said.
Investors who try to make up for any losses by purchasing riskier investments such as high yield or "junk" bonds must realize that past decisions are truly "sunk costs," Johnson said.
"There is no magic bullet that allows investors to make up in the present for poor past decisions," he said. "Gen X-ers would be well advised simply to play the investment game – that is to invest consistently in a broad index of large capitalization stocks – and stick to it through thick and thin."
While Gen X-ers are facing unexpected events like divorce, illness or unemployment, it can be difficult to re-prioritize in order to save more, said Mike Greene, senior vice president of financial planning at Ameriprise in Minneapolis.
"It's even more crucial to do so as retirement slowly draws nearer," he said. "Essential financial goals for folks at this stage of life include having a cash reserve emergency fund and to take full advantage of workplace benefits, including appropriate insurance options and tax deferred savings plans."
Also See: Retiring and No Debt Is the New American Dream
Getting into the habit of living on 80% of their take home pay and saving or investing the balance means Gen X-ers will be well positioned for retirement, said Jill Williams, a financial advisor for MetLife in Elmwood Park, N.J. One mistake of many younger investors is being too conservative.
"They are quite skittish about risk," she said. "They risk the fact that their assets not growing enough to provide them with the future they want."
--Written by Ellen Chang for MainStreet
Also See: Live Like a Millennial Now to Retire With Half a Million