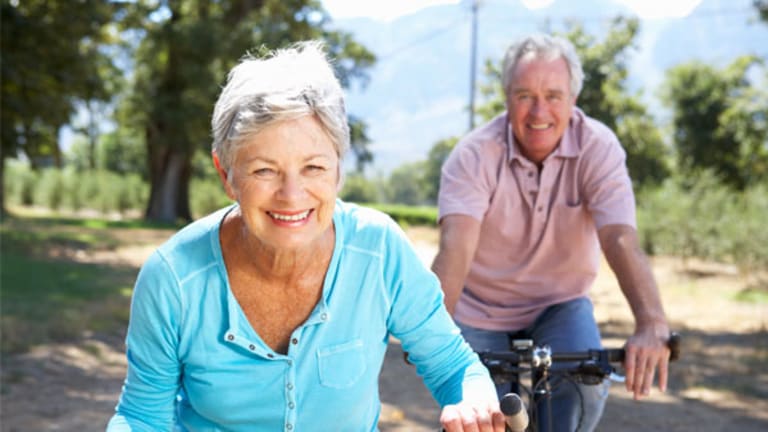 Publish date:
Future of Retirement: Surprisingly Optimistic
Living longer means new changes, challenges and strategies for your retirement.
Living longer means new changes, challenges and strategies for your retirement.
BOSTON (TheStreet) -- Americans' perceptions and desires surrounding retirement planning are evolving rapidly.
In response to the recession, many Americans -- in word, if not deed -- have readjusted their expectations for where retirement income will come from. They are planning to live longer, work longer and have more modest expectations about their quality of life.
A 2010 Gallup survey of nonretired Americans showed more people expect to rely heavily on Social Security and fewer expect 401(k)s or IRAs, home equity and pension plans to be major funding sources. Overall, nonretirees still most commonly say IRAs and 401(k)s will be a major source of retirement income (45%), followed by Social Security (34%), work-sponsored pension plans (23%), saving accounts or CDs (22%), home equity (20%) and individual stock investments (20%).
The 34% of nonretirees who say Social Security will be a major source of income in their retirement is the highest Gallup has measured since 2001. The survey also showed new lows in the percentage of nonretirees saying home equity and pension plans will be major sources of their retirement income.
What's often missing in surveys and reporting about future retirement readiness may come as a surprise. It can be summed up in one word: optimism.
Despite the looming forces of longevity, frugality and economic turbulence, the future may not be so bad after all.
Insurance company The Hartford (HIG) - Get Report (Stock Quote: HIG) and the MIT AgeLab recently released a study, Age of Opportunity, measuring the opinions and concerns of Americans in and approaching retirement. It found most retirees are pleased with their life, and both pre-retirees and retirees have a positive attitude about retirement overall.
Retirees are more likely to say "I am happier now that I am retired" (77% of them agreed); 64% of those who have yet to retire agreed with the statement, "I will be happier after I retire."
(HIG) - Get Report Other than wishing they could retire earlier, or could have retired earlier, many recent and soon-to-be retirees see few negatives about retiring.
Twenty-six percent of those nearing retirement said they feel "hopeful" about retirement, while 27% of those who have recently retired say they feel "peaceful."
(HIG) - Get Report John Diehl, senior vice president of The Hartford's wealth management division, says people are redefining the concept of retirement.
"I think they are getting more realistic," Diehl says of pre-retirees. "They are going to have to work longer and they may work part time once they retire, which means we are redefining what retirement is. Full-time leisure is now actually part time."
(HIG) - Get Report But unlike the dire state of affairs often portrayed, he sees a less frantic view of retirement preparation.
"We didn't ask the tired old questions like, 'Are you afraid you don't have enough money in retirement?' That's like asking somebody who is retired, 'Hey, do you wish you were younger?' or 'Do you with you were better looking?' Of course they are going to say 'I wish I had more money,'" Diehl says of the study conducted with MIT. "We wanted to look, holistically, at lifestyle. To ask, 'Now that you are retired, how is it going?' We found that people were happy. Three out of four people were happier than before they retired."
He says the reason for that bliss has more to do with activities involving family, travel and volunteer -- having a "more balanced life than we had when they were younger" -- than it does with meeting a monetary goal.
(HIG) - Get Report "Where other studies took a wrong turn was where they equated wealth with happiness," Diehl says. "If you look at studies about happiness you see is that wealthy people are happier, but only slightly more so. You can be rich or you can be poor, and that doesn't necessarily determine your happiness. People who are older finally get it."
Accepting that money doesn't necessarily buy happiness doesn't mean that having a smart retirement strategy is something that can be ignored.
(HIG) - Get Report That process is changing, though, as society lives to be older and older. Risks of needing long-term or chronic care are increased, for example.
The plan has always been simple: Save as much as you can during your working years, the "accumulation" phase of life.
(HIG) - Get Report "Yes, of course you need to save all you can, but for most people, unless you are wealthy, you cannot save your way to a secure retirement," Diehl says.
(HIG) - Get Report Instead, there needs to be a more complex strategy that focuses as much on retirement income and "decumulation" as on socking away cash.
Instead of splitting the universe into workers and retirees, new models will need to address sub-brackets of the aging process. Middle age (between the ages of 40-65) will still be the accumulation phase of wealth, but financial planners need to also think about those 65-74, now classified as "Young/Old," a group whose saving and spending habits will increasingly have more in common with their younger cohorts, Diehl says. Different financial strategies will also need to be tailored for ages 75-84, deemed "Old/Old," and 85 and up, "Oldest/Old."
(HIG) - Get Report
Medical care is changing
He uses one of his company's own products as an example of how some might plan for that last demographic: life insurance products with a longevity rider that kick in at age 90.
As we live longer, the risk of someday needing chronic care will increase. As such, how people are cared for later in life is radically changing, with financial implications.
(HIG) - Get Report "In the old days chronic care was typically in nursing homes," Diehl says. "There has been a dramatic shift. If you look at government data, people are leaving nursing homes at a very rapid rate and they are being cared for at home now. In fact, data from AARP shows that if you have 10 people who are receiving chronic care or long-term care, one in 10 are in assisted-living facilities, two in 10 are in nursing homes and seven out of 10 are at home, being cared for primarily by the family."
Financial products, he says, need to do a better job of realizing this trend, but there is often "a disconnect." Many existing insurance policies, for example, will pay only a chronic care benefit for those in a nursing home or who hire professional caregivers for home-based care.
(HIG) - Get Report "But that's not the way care is done in the United States," Diehl says. "Even for Alzheimer's disease, care is being provided by the 'sandwich generation" and grandchildren. Gradually, insurance companies are catching up to this reality, but they are still generally behind and most products do not allow this sort of flexibility."
Retirement plans are changing
(HIG) - Get Report Executives at Lincoln Financial Group (LNC) - Get Report (Stock Quote: LNC) recently looked at what they see as the top retirement trends, many of which will affect 2012.
(HIG) - Get Report (LNC) - Get Report Chuck Cornelio, president of retirement plan services for Lincoln Financial, predicts fee disclosure regulations, in-plan guarantees, target date strategies and retirement planning optimism will be among the significant trends affecting the retirement plan industry in the months, and possibly years, ahead.
"We see greater interest in employer-sponsored retirement plan savings and investment options that offset volatility, include guarantees and offer flexibility," Cornelio says. "In this new era of fee disclosure, plan providers are increasing their emphasis on demonstrating the value of their services."
(HIG) - Get Report (LNC) - Get Report He also thinks that an "optimistic approach" to meeting retirement goals will be more of a focus than the traditional savings push that paints a bleak future of an inadequate nest egg.
(HIG) - Get Report (LNC) - Get Report "People are tired of being scared or berated into saving and many are simply overwhelmed by the thought of even getting started," he says, stressing the importance of "positive encouragement and reinforcement."
Fee disclosure regulation continues to be a topic at the forefront for the industry, Cornelio says.
(HIG) - Get Report (LNC) - Get Report "Transparency is a good thing," he says, and additional information will "lead to better investment and saving decisions."
Market volatility, low interest rates and increased dependency on defined-contribution plans all nudge consumers to seek out financial protection and growth potential. Guaranteed income and downside market protection are among the reasons annuity products, especially those with longevity riders, are becoming more attractive for consumers after decades of well-reasoned reluctance.
(HIG) - Get Report (LNC) - Get Report Lifetime income options and principal protection strategies will continue to command greater attention, Corneilo says.
(HIG) - Get Report (LNC) - Get Report Because target-date funds are likely to remain the preferred qualified default investment alternative in 401(K) plans, investment managers and plan providers will likely step up their efforts to educate plan sponsors and participants about their features and benefits.
(HIG) - Get Report (LNC) - Get Report "To realize the full value of target-date funds, the industry needs to acknowledge that the 'set it and forget it' approach currently associated with target-date funds needs to be supplemented with ongoing efforts to make sure asset allocations adapt to market volatility and provide the right level of diversification," Cornelio says. "People are also beginning to use target-date funds for more than just getting 'to' retirement but also to help them get 'through' retirement. Changing goals often require changing your investment strategy to match." Target-date funds will be one of the fastest-growing asset classes in the retirement plan space, "particularly if the industry champions their evolution."
Employers are changing
(HIG) - Get Report (LNC) - Get Report As for the role of employers, a study released last month by Aon Hewitt, the global human resources consulting and outsourcing business of Aon (AON) - Get Report , found that they are "embracing innovative solutions to help rethink their retirement benefits plan strategies."
Aon Hewitt surveyed more than 500 large U.S. employers, representing more than 12 million employees, to determine their current and future retirement benefits strategy. According to the findings, just 4% of employers are very confident that their workers will retire with adequate retirement assets, down substantially from 30% last year. Fewer than one in five employers believe workers will be able to manage their income during retirement.
(HIG) - Get Report (LNC) - Get Report (AON) - Get Report More than half (52%) of employers say they will focus on encouraging workers to take greater accountability for their retirement savings in the year ahead, with 44% focusing on helping workers retire with enough money and 60% putting greater emphasis on promoting available resources.
(HIG) - Get Report (LNC) - Get Report (AON) - Get Report Employers plan to continue to adding automatic features and expanding savings choices.
(HIG) - Get Report (LNC) - Get Report (AON) - Get Report According to Aon Hewitt, "automatic enrollment has been one of the biggest retirement trends in recent years, and will continue to be in the year ahead, albeit with an enhanced focus on outcomes."
Currently, 55% of plan sponsors enroll workers automatically in their employer-provided defined-contribution plan, up from 24% in 2006. More than a third (34%) of plans are likely to add this feature for new hires in 2012.
(HIG) - Get Report (LNC) - Get Report (AON) - Get Report Nevertheless, Aon Hewitt found that of workers who are subject to automatic enrollment, 63% still aren't saving enough to get the full employer match. In response, nearly one-quarter of employers plan to make changes to their automatic feature in 2012, including an automatic contribution escalation feature and increasing the initial default rate.
Plan sponsors also see the need for improved investment advice, according to the survey.
(HIG) - Get Report (LNC) - Get Report (AON) - Get Report As employers have moved away from offering defined-benefit plans in favor of defined-contribution plans, workers are left with "an annuity gap," Aon Hewitt found. As a result, more plan sponsors are introducing retirement income solutions either outside, within or alongside the plan.
(HIG) - Get Report (LNC) - Get Report (AON) - Get Report Sixteen percent of employers offer an "in plan" income solution -- including either an insurance product, managed account with a drawdown feature or a managed payout fund -- while 9% offer an out-of-plan option. Looking ahead, 22% plan to adopt one of these solutions in 2012. Nearly one-quarter are likely to add an option for employees to elect an automatic payment option from the plan over an extended time.
Nearly three-quarters of plans intend to provide online modeling tools to help with post-retirement spending strategies this year.
(HIG) - Get Report (LNC) - Get Report (AON) - Get Report "Once, workers could count on a steady income stream throughout their retirement years," says Pamela Hess, director of retirement research at Aon Hewitt. "Now, more people are relying exclusively on their DC plan for their retirement savings and that regular 'paycheck' has disappeared, leaving many employees struggling to effectively balance retirement expenses."