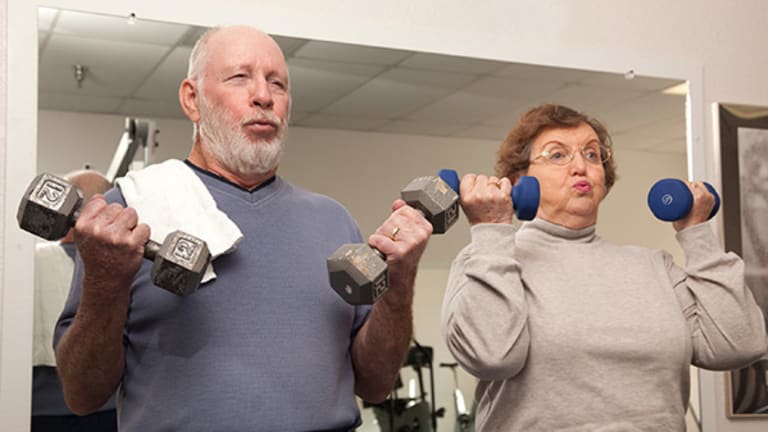 Publish date:
Free Fitness Club Memberships for Seniors - No Strings Attached
Are you in SilverSneakers? You may be but might not know it.
Are you in SilverSneakers? You may be but might not know it.
Retirees have two main concerns: preserving their money while on a fixed income and maintaining their health. SilverSneakers may just allow them to kill two birds with one stone. 
What's the catch? Probably that is your first question about free fitness club access but the answer is none. SilverSneakers, a program offered by Franklin, Tenn. based Healthways, brings absolutely free access to some 13.4 million seniors, according to Sid Stolz, president of network solutions at Healthways.
By Healthways count, one in five seniors over 65 are eligible for SilverSneakers. On average, those members clock around one million health club visits per month, said Stolz.
Some 13,000 fitness locations nationally participate, said Stolz.
Another plus: there's no need for a senior to sign a contract with a health club and, even better, a senior can in fact use multiple locations, no extra charge. Travel a lot? Use clubs wherever you land. That's fine in this program.
The bad news: a lot of seniors who have the benefit don't know it. "I have found that very few people even know about SilverSneakers," said Sara Geber, a senior in Santa Rosa, Calif., who said that in her town a fitness club membership runs about $75 per month (with SilverSneakers she isn't paying a dime). "I am constantly informing people about it." 
Kay Johnson, a 70 year-old in Duluth, Ga., said similar. Within a few miles of her home, she has access to three clubs. "We go two times a week, whenever we want to go," Johnson said. "I'm real happy with it."
The key: many Medicare Supplements plans and some Medicare Advantage plans offer SilverSneakers as a free perk. Included are the AARP Med Sup and Advantage plans. Also Humana, Aetna and UnitedHealthcare offer SilverSneakers. So do many lesser known plans.
Using it is simple. Go to the SilverSneakers website, print out a membership club, find a nearby club, present the card, and you are in. "They didn't bat an eye," said Geber about her experience presenting a SilverSneakers card to access a Sonoma County club.
What clubs participate? In Central Phoenix, the Lincoln Family Y (a large, sparkling facility), Central Park Square Athletic Club (a quiet gym with modern equipment) and EOS Fitness all participate. In Park Slope, Brooklyn Harbor Fitness and New York Sports Club participate. In Venice, Calif., Gold's Gym participates.
Nationally, in fact, some 70 Gold's Gyms participate in SilverSneakers, said Gold's spokesperson Erin Gregory. "We had 11,5000 SilverSneakers visits in the past month," she added.
Most participating clubs offer two or more SilverSneaker classes - aimed at senior adults - per week, but SilverSneakers members also have access to whatever else a club has. That often means a pool, weight machines, steam, sauna and possibly an indoor running track.
What's in it for clubs? Money. "We are compensated by the visits per senior," said Gregory.
Every club has its own deal, said Stolz. Some pay a club around $1 per visit. Many pay much more, said Stolz. Either way, clubs that are in the program insist they welcome the dough from a population that might not in fact belong to a club and many also said that seniors tend not to come in at peak times (say, 6 to 8 a.m. and 4 to 6 p.m.), but rather in the mid-day when many clubs are ghost towns.
Are there any drawbacks to SilverSneakers for seniors? Not really. Some clubs, said multiple sources, aggressively try to sell personal training sessions. But it isn't hard to say no. Also, some seniors - who may be perplexed by all the new training equipment - find it beneficial to buy a training session or two. Johnson, in Georgia, for instance, said she had bought a session with "a super duper trainer. It was worth the money."
If SilverSneakers is so good - for seniors and clubs - the puzzlement is why it's something of a secret. Stolz admitted that last year maybe 20% of SilverSneaker members used the program once. That underlines that a lot of seniors just are not using the benefit. Why?
Partly it may because of lack of senior interest in fitness. That's understandable if short-sighted. Another issue is that in many cases - due to SilverSneakers' agreements with the insurance plans that fund the program - SilverSneakers does not have the ability to directly communicate to eligible seniors. Some insurers apparently do not encourage a lot of direct communication with what they view as their customers.
That's why SilverSneakers now is seeking more contact with seniors, often through the website. "We are striving for more engagement," said Stolz. "We know we need to create more awareness so more access the benefit. That's what we are working on."
This article is commentary by an independent contributor. At the time of publication, the author held TK positions in the stocks mentioned.