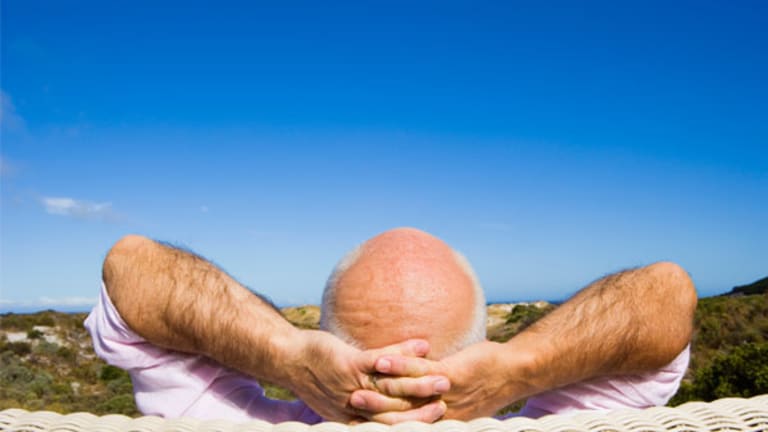 For Seniors, 'D' Day Arrives
The Medicare Part D drug plan went into effect Jan. 1, but few of those eligible have enrolled.
Last November, I asked you to help your parents or grandparents enroll in the new
Medicare Part D prescription drug plan. You'll be paying for the plan through your future tax dollars, so you might as well help your loved ones participate!
Jan. 1 was "D" day for the 43 million senior citizens who qualify for the new prescription drug benefits. But by the end of 2005, only about 6 million or 7 million had actually been enrolled, with most of them joining through the "auto-enrollment" program that primarily took care of seniors who are also on Medicaid.
It's time to check to make sure the seniors in your family have signed up. They have until May 15 to pick a plan. After that, the monthly premiums will rise, and so will the aggravation.
The Jan. 1 launch came with mixed results. Medicare officials held a press conference late last week and faced a barrage of questioning by reporters from across the country, each telling horror stories of seniors who couldn't get their medicines and of pharmacists who waited on telephone lines for hours trying to get confirmations of eligibility.
Officials promised that glitches would be straightened out in a matter of days, and said new resources were being made available to pharmacists to check enrollments.
The entire process has been a difficult one, especially for seniors, who are understandably anxious about the changes. Seniors who enrolled in a plan received a letter of authorization. They must present that letter to the pharmacist, who uses that information to bill the correct plan.
But many low-income seniors were automatically enrolled in one of their state's plans. Some didn't understand the process -- or never received the letter of authorization.
Pharmacists had problems, too. The government is keeping a computerized database of those who have signed up for plans. If the senior doesn't present a card or an acknowledgement letter, pharmacists must make calls to cross-check the database to see which plan the senior is enrolled in before dispensing prescriptions.
With at least 7 million new enrollments, many at the very end of the year, there was bound to be confusion for a few days. That's small consolation to those who were turned away because of lack of coverage and couldn't afford to pay for their drugs.
Many seniors, though, are delighted with the new program. Rose Marie Clark is one of them. At first she was one of those "glitches." She and her husband joined the BlueCross BlueShield of Illinois plan at the same time, but while he received his acknowledgement letter, hers was missing. She contacted Blue Cross customer service, and the problem was quickly resolved.
Clark went to her pharmacy this week and gave me a delighted report: "I normally spend $538 for a three-month supply of my drugs. But this time it cost only $278. And these weren't even generic drugs." Previously, she had no prescription drug coverage. And even with her $27.77-per-month premium, she figures she'll come out far ahead, saving at least $700 this year on the drugs she takes.
Here are a few tips for seniors in your family:
Even if they don't take prescription drugs right now, seniors should sign up for a plan. The odds are that they'll eventually need medicine, and the penalty for a late sign-up is costly.
The only reason not to sign up is if your company or union has a retiree medical plan and has sent a letter saying your coverage is as good as or better than the new Part D plan.
Those who have VA drug coverage can enroll in both plans.
Remind the seniors in your family that it's important to double-check their medicines, dosages and the prices they are charged when they start buying under the new Part D plan. Some seniors on Medicaid found that the government hadn't updated their low-income status to the database. They were asked to pay more than expected for their prescriptions. If this happens, keep the receipts, and the plan will reimburse you when the issues are sorted out.
By now, most of the immediate issues at the pharmacists' counter have been resolved with 24-hour support service to the Medicare database. But if you are a senior, or know a senior, who is still confused or unable to get prescriptions at the promised prices, you should call 800-MEDICARE. They promise to resolve all issues quickly -- and we'll see if that's the Savage Truth.
Terry Savage is an expert on personal finance and also appears as a commentator on national television on issues related to investing and the financial markets. Savage's personal finance column by the Chicago Sun-Times is nationally syndicated, and she released her fourth book, The Savage Number: How Much Money Do You Need? in June 2005. Savage also was the first woman trader on the Chicago Board Options Exchange and is a registered investment adviser for stocks and futures. A Phi Beta Kappa graduate of the University of Michigan, Savage currently serves as a director of the Chicago Mercantile Exchange Corp. She also has served on the boards of the McDonald's and Pennzoil corporations.