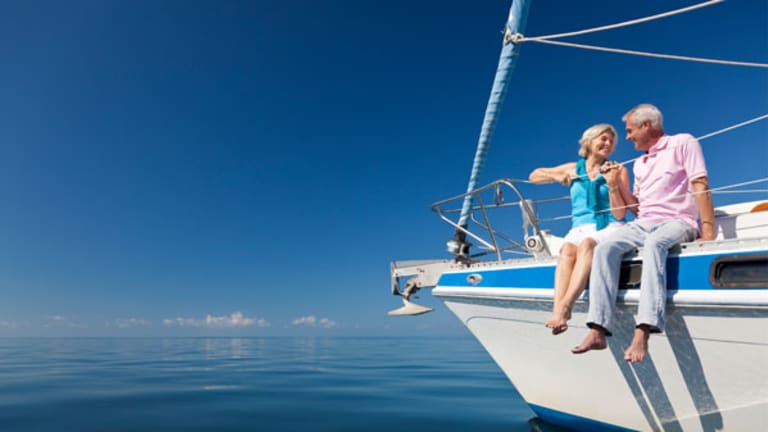 Even Pro Athletes Worry About Retirement
The pensions and 401(k) plans of sports leagues may be only part of an athlete's retirement picture.
BOSTON (TheStreet) -- Another football season is drawing to a close and, yet again, quarterback Bret Favre has filed for retirement.
The paperwork doesn't guarantee the "gold watch" treatment. Just as he did last month as a member of the Minnesota Vikings, Favre previously declared his retirement from the New York Jets.
What can a player such as Favre expect to collect as a retiree? While he may have personal investments, his safest bet is an NFL pension.
Nearly every major sports league has a pension plan for retired players. NASCAR is the exception -- its drivers, lacking a union, are classified as independent contractors and have no official retirement or health plan.
Major League Baseball's plan is widely considered to be the best run. A mere 43 days playing in the "bigs" earns a minimum pension of roughly $34,000 a year, and even a single day playing major league ball earns full, lifetime health care coverage. After 10 years of service, the benefit grows to about $100,000 a year.
The NHL uses 160 games as its qualification standard and its pension plan, operated under Canadian law, is fairly modest: a $45,000 annual benefit.
NBA players are vested after playing three seasons and, upon reaching the age of 62, are eligible to collect, at a minimum, nearly $57,000 a year. After playing 11 seasons, the benefit caps out at $1,965,000. Players who take part in a 401(k) plan earn matching contributions of up to 140%.
In the NFL plan, players are vested after three seasons and earn a $470 monthly credit for each year they played (meaning a 20-year veteran such as Favre would net about $112,000 a year, barring future adjustments) once they reach age 55. An additional 401(k) plan, the NFL Player Second Career Savings Plan, offers a matching contribution of up to 200%. For players with four seasons or more of service, there is also a $65,000 annuity bonus.
The NFL's pension plan has drawn its fair share of controversy over the years.
This past summer, retired players got a dire-sounding "Notice of Endangered Status" for their plan. The form, required by federal law, was issued because the plan's funding status fell to 75%. Anything less than 80% requires the notice, as well as an action plan for making up the gap, and such notices are not uncommon in the pension world.
The letters surely caused anxiety among former players already concerned as to what impact the league's soon-to-expire collective bargaining agreement will have. Though it is unlikely, and likely illegal, that owners could reduce benefits for retirees, they could move to close the plan to current, nonvested players.
Owners have already been trimming personnel from pension participation. In 2008, the NFL allowed owners greater control of pension plan participation for nonplayers, and 15 teams have since cut off front-office staff, coaches and other nonathletes.
Critics including former players and coaches -- among them Chicago Bears great Mike Ditka, one of the cofounders of the nonprofit Gridiron Greats Assistance Fund -- say the league's retirement benefits don't pay enough for disabilities incurred while playing, that claims are often dismissed and that, in general, older retirees are financially underserved. These complaints prompted a Congressional hearing back in 2007. League officials countered the characterization by pointing to additional funds designed to help retirees in need of bone and joint surgery, nursing home care (for players suffering from dementia) and in-home health care services.
For Steve Piascik, president of Virginia-based Piascik & Associates, a successful retirement plan for pro athletes has to go beyond merely being assured pension benefits. They need to have a complete financial plan that carefully manages today's money with an eye to the future.
"Most people think athletes are set for life," he says. "But if they don't have a plan, they are going to wake up one day, when the contract is over, and realize they are broke. Eighty percent of athletes are broke at the end of their contract. They are not going in with a plan. I tell my guys, 'You have been given a gift here with your skill, and your skills are being rewarded, but it is short term.' A lot of NFL players are only playing three years. That's their average contract."
Piascik -- among the few CPAs who carry Registered Financial Advisor status with the NFL Players Association -- is a tax adviser to more than 65 athletes in the NFL, NBA and MLB, and his financial advice stresses budgeting and long-term investment planning.
Developing a financial plan, given the unique nature of professional sports, means assembling a team that can bring together various specialties for their client, he says. Agents, money managers, accountants and tax advisers all need to work in concert.
Working with athletes, many of whom were drafted directly from college or even high school, means youth, lack of financial literacy and bad instincts need to be addressed.
"We have to acknowledge that they are 21 years old," Piascik says. "We need to have the patience to bring things to them at a level they are going to understand."
The biggest problem is often overspending, he says, recalling an NBA player he met with recently.
"He just bought a $450,000 car," Piascik says. "He spent all of his $2 million bonus between cars, taxes and living expenses. What does a gentleman who is 21 years old need a $450,000 car for? That's where we would get involved and say, 'You only have X amount of money and X amount of years to earn more, so we have to spend it wisely."
Family and friends and entourage -- all looking for loans, gifts or business partners -- also threaten the financial security of athletes.
"They get this entourage around them and we need to help them sift through things," Piascik says. "We'll tell them, 'Let's have this individual who is bringing an opportunity to you show us a business plan.' They need to do the steps any businessperson would do, and don't just give them $200,000 to start a business. I've seen mothers take athletes with a 780 credit score down to 500. The athletes are co-signing loans, and it is the immediate family members who hurt them. It's a shame."
—For the best rates on loans, bank accounts and credit cards, enter your ZIP code at BankingMyWay.com.