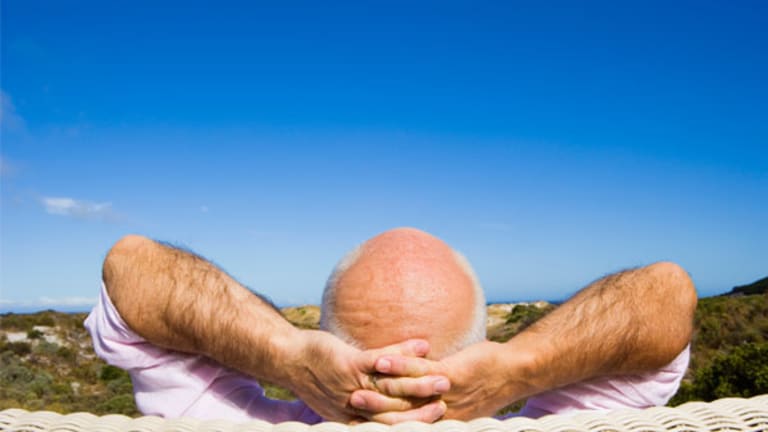 Editor's note: Don't miss part five of TheStreet's Small Business Success Webinar Series, featuring tips and insights from successful entrepreneurs, on Thursday, Nov. 18, at 2 p.m. ET. Click here to register.
BOSTON (TheStreet) -- For decades, investment strategy typically fell into two camps: passive or actively managed funds. The pros and cons of each will probably always be debated.
In the past 20 years, the instruments that embodied these approaches have been Exchange Traded Funds and traditional mutual funds. Investors looking to build a portfolio, IRA or 401(k) asset allocation, however, are finding that products frequently blur those traditional lines. In addition to innovations within the burgeoning, evolving ETF space, closed-end funds, first developed more than a century ago in the 1890s, are also once again primed for consideration.
There is no denying the impact ETFs have had on investors since they were introduced two decades ago. Last year ended with 938 such funds in existence, an increase of 134 over the previous year, a 14% hike accounting for $785 billion in assets. In January of this year, assets surpassed the $1 trillion mark.
What were once relatively straightforward "baskets" of securities tied together thematically (small-cap, energy, precious metals,
S&P 500
, etc.) have become more complex as they became more popular. No longer limited to passive strategies, there are even actively managed varieties and ETFs that approximate hedge fund and endowment strategies.
Among the primary advantages touted for ETFs is that they typically have lower costs and greater transparency compared with mutual funds. Unlike their asset share rival, they trade throughout the day.
ETFs may be the new, popular kid on the block, but closed-end funds -- which superficially resemble them -- may be worthy of equal consideration.
Despite being far older a concept than ETFs, CEFs command a much smaller market share. According to the
, combined assets were $227 billion at the end of June. There were 624 closed-end funds at the end of the second quarter; 420 bond funds and 204 equity funds.
Popular CEFs, according to the
, include the
Morgan Stanley China A Share Fund
(CAF) - Get Morgan Stanley China A Share Fund Inc Report
(with a one-year Lipper average of 26.05%), the
John Hancock Bank & Thrift Opportunity Fund
(BTO) - Get John Hancock Financial Opportunities Fund Report
(a 21.25% one-year Lipper average),
MLP & Strategic Equity Fund
(MTP) - Get Midatech Pharma Plc Sponsored ADR Report
(with a 21.25% Lipper average) and the
Morgan Stanley Frontier Emerging Markets Fund
( FFD) (with a 24.19% one-year Lipper average).
Closed-end funds, unlike ETFs, launch as an IPO with a fixed number of shares and trade on an exchange. Like ETFs, they typically focus on a particular theme or strategy, using the full range of securities, and trade like stocks. A big difference: if you don't get in at the ground floor of the IPO, buying shares needs to be done on the secondary market or by waiting for a secondary offering. To prevent dilution, existing shareholders are offered first dibs on issues, a benefit traditional mutual funds fail to offer and the fluid nature of ETFs makes unnecessary.
Although the majority of ETFs are still passively managed, closed-end funds are always actively managed.
Which is a better idea for your portfolio or retirement plan?
If knowing your exact holdings is important, ETFs provide unparalleled transparency. Closed-end funds will only provide the broadest of peeks into their holdings and the moves of their managers are almost always shrouded in secrecy, so they don't tip off rival funds to their strategy.
Another choice is which side of the active vs. passive debate you align with. If you are more inclined to go with the flow of market forces, the index approach of most ETFs is probably more to your liking. If you trust the (hopefully) skilled hand of a manager able to bob and weave with fluctuations, a CEF is more in line with your approach.
There is a tradeoff in terms of returns and expenses, however. Opting for a CEF means you will front IPO-related expenses as well as a heftier fee for professional management. ETFs and CEFs, however, are free of return-eroding costs, such as the ubiquitous 12b-1 fees that mutual funds carve off returns.
Closed-end funds, however, as they are actively managed, will still incur related fees passive ETFs won't. CEFs save money because they rarely have ongoing marketing and outreach expenses. Most ETFs are even cheaper if they deploy the traditional passive strategy. Be aware that CEFs frequently offer share prices below their net asset value. This is one area where open-ended funds, with NAV parity, offer an edge.
Both also offer investors a degree of diversification that would be otherwise be cost prohibitive. Pricey plays such as commodities and currency are within the reach of mainstream investors using both types of funds.
The biggest factor for investors may be the availability of either fund within their retirement plan. ETFs are increasingly commonplace in 401(k) plans, but not CEFs, though qualified. Self-directed IRAs, however, provide a means to invest in either as you see fit.
If you are still undecided, there is even a hybrid. In February,
Invesco PowerShares
launched the first ETF to invest in closed-end funds.
The
PowerShares CEF Income Composite Portfolio
(PCEF) - Get Invesco CEF Income Composite ETF Report
seeks out-income and option-related CEFs in its pursuit of returns.
-- Written by Joe Mont in Boston.
>To contact the writer of this article, click here:
Joe Mont
.
>To follow the writer on Twitter, go to
.
>To submit a news tip, send an email to:
.
RELATED STORIES:
>>Retirement 'Deficit' Measured in Trillions
>>3 Retirement Funds Prep for Harder Times
>>ETF in Focus: SPY
>>Dion's Tuesday ETF Winners and Losers
Get more stock ideas and investing advice on our sister site,