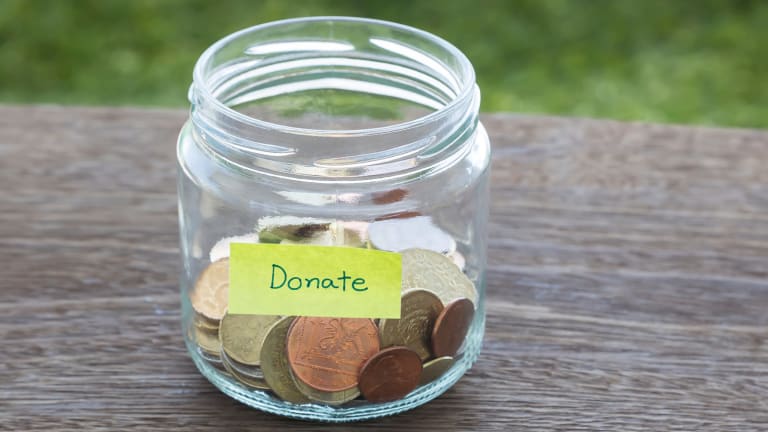 Why Charitable Donations Are Great for Your Retirement and Estate Planning
Charitable donations help offset your tax burden, sure, but they can protect your family's wealth and enhance its legacy if you do them right.
NEW YORK (MainStreet) – At its core, estate planning is an existential question.
It digs to the root of humanity and addresses directly what someone wants their impact on the world to be once they're gone. Property and wealth can be distributed to the benefit of future generations, but financial advisors note that heirs and greater society alike can benefit from considerable investment in charitable causes and contributions.
"What difference do we make in the world, how do we leave our mark in this world and how do we leave this world a better place?" says Masood Vojdani, founder of MV Financial in Bethesda, Md. "It sounds cliched, but a man could make a change by giving back to a world that allowed him to be successful enough to make $20 million, $30 million or $40 million. You could give that money and make a difference to causes that you care about, and you avoid taxes and get the government to pay for it."
The immediate personal benefits of charitable donation are fairly simple. The Internal Revenue Service allows taxpayers to deduct donations up to 50% of their adjusted gross income when those gifts are given to public charities or certain private foundations. Even for gifts to family or other non-qualifying foundations, the deduction can be as large as 30% of all adjusted gross income.
"If a taxpayer itemizes her deductions, the charitable donations she makes will lower her taxable income," says Shomari Hearn, certified financial planner and vice president of Palisades Hudson Financial Group in Fort Lauderdale, Fla. "However, the tax benefit she derives is secondary to her intention to help others. This is because the tax savings received will be less than the value of the contribution."
Of course, the more you have to give, the greater the tax benefit. For example, an individual in the 28% federal income tax bracket that makes a $500 charitable donation will see their tax liability decline by $140 (28% of their tax bill).
For wealthy individuals subject to either federal or state estate tax, the assets they give to qualified charities will escape the tax. With a top federal tax rate of 40%, $4 out of every $10 in assets subject to the tax will go to the government instead of to family members and other loved ones. Not only is the family losing that money, but it's losing a valuable opportunity to learn how to manage whatever wealth remains.
"For those individuals with donative intent, donating assets to charity may not only reduce their estate tax exposure, it can also be used as an opportunity to teach their beneficiaries about thinking less about themselves and doing more for those less fortunate," Hearn says. "In fact, by informing loved ones of their philanthropic objectives, donors can get their family involved in the process by holding family meetings to discuss giving goals, selecting the charitable organizations that will receive their donations, establishing a vehicle – like a donor-advised-fund – through which to donate and evaluating the impact of the donations that have been made. This is an effective way to pass core values on to younger generations."
James Revels, a partner at Citrin Cooperman, says that commitment to philanthropy should begin when benefactors are still alive to see the results. Revels' firm uses various types of trust structures to fund family foundations while these individuals are alive and educate later generations about the wealth they'll be working with and the charities that will fulfill the family goals. If a wealthy individual has wealth to pass along but faces a $5.434 million gift tax cap, Revels notes that they can place money into a special type of trust that is viable for a specific number years. Assets including stocks, bonds and cash are added to the trust, which has to pay a certain sum to a family foundation created at the same time.
The family foundation can use family members as members or directors, depending on how you structure the foundation. Over a five-, seven- or 10-year period, this trust will pay an annuity to the foundation, which is required to pass out 5% of the value of the foundation to various charities.
"The generations get to see the money come into the foundation," Revels says. "They don't have anything to do with the trust, but you can have family meetings each year to discuss what charities you're going to give to. They can take field trips to various organizations so that second and third generations and even further can get an idea of the charitable concept and when it's good to give money to some places and when it's not so good to give to places – to teach them proper philanthropy, so they're not just throwing it away to who knows where."
At the end of that trust term, the assets distributed stay within the foundation. But if the trust was built correctly and there are assets left, those assets are distributed to the beneficiaries (usually family members) free of gift, estate and income tax.
"It's a win-win," Vojdani says. "It's a win for the family and a win for the charitable association the family believes in."
Granted, the trust could just as easily be drained by the end of that term – at which point it would simply dissolve. But it gives benefactors control of their assets while establishing a charitable legacy and a commitment to charitable giving among heirs. It helps families weed out charitable organizations with high administrative costs that bite into the overall donation and helps families give to their favorite educational or cultural institutions in a way that allows others to enjoy them as the family has. Most importantly, it does more than slap the family name onto a building or plaque: It helps the family members themselves grow and mature to the benefit of others. Ideally, that's a legacy far more indelible than anything carved into stone.
"The name is most typically, if not 100% of the time, ancillary: That's not what they're looking for," Revels says. "Families who establish family or private foundations want to teach generations about money, finances and management. Those are three very key things to be successful in life, especially if you come from a family with money, because money can be squandered so easily today."
— Written by Jason Notte in Portland, Ore.
To follow the writer on Twitter, go to http://twitter.com/notteham.
This article is commentary by an independent contributor. At the time of publication, the author held TK positions in the stocks mentioned.