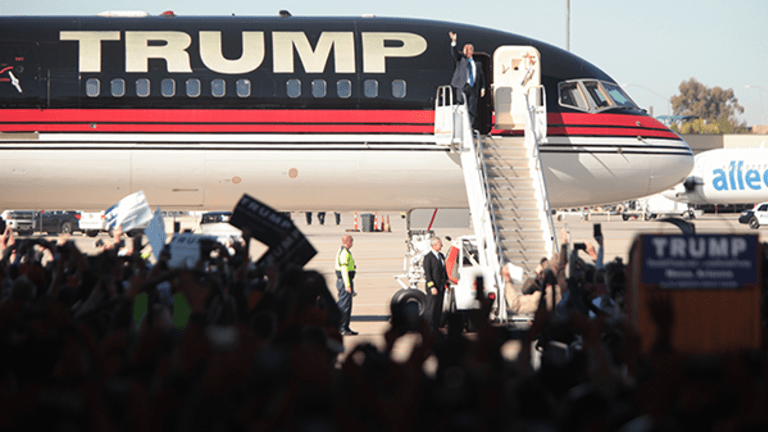 Estate Tax Planning in the Trump Presidency
'Stay healthy' - key advice for wealthy seniors until the estate tax dust settles in D.C.
Editors' pick: Originally published Nov. 15.
Fast repeal. That is what candidate Donald Trump repeatedly promised in regard to the federal estate tax aka the death tax. On his website, Trump minced no words: "The Trump Plan will repeal the death tax."
That means both estate planners and their wealthy clients are now aflutter, trying to decide what their best steps are.
Ending the federal estate tax in fact changes a lot. Right now, the federal estate tax collects 40% of an estate bigger than $5.45 million, or $10.9 million for a married couple. Trump has promised to cut the estate tax to zero, although he does also speak of a capital gains tax - perhaps at 20% - applied to estates above $10 million.
Can he? It will require Congressional approval. Will both the House and Senate agree?
First, understand that maybe 5,400 estates a year are touched by the estate tax. That, said attorney Jay Freireich, a member in the Tax and Trusts & Estates practices at Brach Eichler based in Roseland, N.J., is "approximately only one-fifth of 1% of all deaths." He added that if it stays in place it is projected to collect around $269 billion in taxes over the next ten years, "approximately 1% of all tax revenue to be collected over that period."
A reality: the estate tax may not generate a lot of revenue but people hate it. That includes tens of millions of people whose estates are too small to be taxed. It doesn't matter: they still hate the estate tax.
The wealthy of course hate it more because it shrinks their monies at death.
One word of advice especially for those with estates large enough to feel the federal tax bite is stay healthy, said Maryland lawyer Brian Pendergraft who specializes in estate planning. Amid the uncertainties about the future of the estate tax, the smart move for many is to do nothing.  Wait for more clarity - and, definitely, wait for repeal if it is in fact coming. 
Eido Walny, an estate planner lawyer in Milwaukee, offered similar cautions: "My primary advice for my biggest clients would be to stay patient and do everything they can to not die in the near term. Drive a little slower. Look both ways when crossing the street. The worst outcome would be to die before changes have arrived."
Will repeal in fact be enacted by Congress? Personal finance journalist Jennifer Barrett, chief education officer at Acorns & editor-in-chief of Grow, said that "estate tax repeal has a high likelihood of passing."
She cautioned that it is not a sure thing. That's because with a probable 52 GOP Senators, they lack the votes (60) to shut off a filibuster than can derail legislation and the Democrats just may attempt to use that weapon.
In a like vein, attorney Samuel Ledwitz, president of Bezaire, Ledwitz & Associates, said that he believed the repeal will pass - "but it will take two to three years. There has to be a lot of horsetrading."
There also are crucial details that need to be fleshed out. For instance, just what would that capital gains tax involving estates entail?  Nobody knows and, probably, before Congress acts there will have to be specifics.
But most experts say they expect the repeal to pass - they just don't know when. What they do know, though, is that if there is repeal, "it would significantly change what we tell clients," said estate planning attorney Robert Wittes of Warshaw Burstein.
"Right now I would not tell anyone to make a gift to save tax," added Wittes. Gifts such as fractional interests in businesses have been very important in estate tax planning, said Wittes, but he indicated that he would put a hold on such actions until there's clarity about the status of the repeal effort.
Multiple sources also said there may be a slowdown in charitable giving - some of it is driven by a preference to give the money to a charity instead of in tax to the US government.
Another impact, said Wittes, is that a federal repeal if it happened would significantly impact state estates - and, presently, 15 states and the District of Columbia have estate taxes. Another six have inheritance taxes, according to the Tax Foundation. The problem is that in many states the tax hinges on a federal estate tax return - which would no longer exist.
Couldn't states just rewrite their laws? Of course but nothing usually is simple when it comes to tax laws. There may also be pressures to repeal state estate taxes, which range up to 20% in Washington State.
Bottomline: right now is a good time for high net worth seniors to look at best strategies for tax minimization - but most experts agree that, individual health allowing. now probably is not the time to take complex actions aimed at avoiding a tax that may well be killed off in the near future. In a year, maybe three, the estate tax's future will be known. Until then, it just is very difficult to know what the smart moves are.