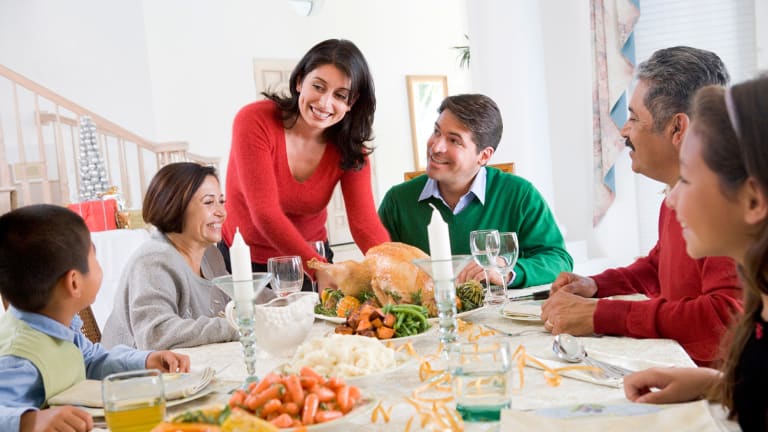 Estate Planning Over Thanksgiving? Time to Talk Turkey
Talking about estate planning during a joyous holiday season can be uncomfortable, but it's a huge opportunity to avoid surprises and get everyone on the same page.
With Thanksgiving and the winter holidays coming up, there are at least two prime opportunities to get families all under one roof and talking. Estate planning should be part of that conversation.
No, it probably won't be comfortable, but estate planning rarely is.
"We have clients, and there are certain individuals, that keep things closer to the vest, have a lot of pride and aren't as open with their family in sharing their wishes, estate information and investment/asset information," says Margaret Paddock, Twin Cities market leader for U.S. Bank's The Private Client Reserve. "It's an uncomfortable situation to be in, but it's also uncomfortable for the child who has to somewhat push themselves into the parent role. It can ruin a Thanksgiving or Christmas dinner pretty quickly."
Paddock knows this all too well. Some 15 years ago, she watched her 53-year-old mother struggle with early onset dementia. She would get lost driving to familiar places and forget to bathe or wash her clothes. Then she lost her job as a result and was even scammed out of her life savings by a caller who'd told her she won the Mexican lottery and only had to wire $30,000 to pay off the taxes on her "winnings." By the time Paddock and her family thought to address estate planning, she says it was far too late and -- thanks to an early misdiagnosis -- her mother was not able to make many of those estate planning decisions for herself.
Kim Dula, a partner at Friedman LLP, says that she is a strong proponent of holiday estate planning for exactly this reason. She notes that, with families scattered across the country or around the world, the holidays are typically a family's best shot at addressing important issues with everybody in the same room. However, she points out that though she's held successful holiday estate planning meetings in the past, families need to make sure that they treat it like a family meeting, ban cell phones from the room, get someone to watch the kids, make sure any stragglers are included through a conference call or videoconferencing and, of course, that everyone is in on the plan.

"The key to it, quite frankly, is not having the element of surprise," Dula says. "If Mom and Dad are serious about having a discussion with their family about their estate planning intentions, they have to let the family members know that this is going to occur while the family is together. It can't be the family just sitting down to Thanksgiving dinner and an estate planning issue comes up."
Masood Vojdani, founder and chief executive of MV Financial in Bethesda, Md., has found that some families and cultures are averse to bringing up these topics around the holidays and would rather keep spirits light. In that case, however, he agrees with Dula that estate planning should be discussed sooner rather than later to avoid an unpleasant situation. Even if an estate plan is already in place, it should be updated and family members should have at least a vague idea of how assets are distributed. Vojdani says that even if this discussion doesn't take place around the holidays, there should be an annual meeting to let family members know where an estate plan stands.
"Do not let another day go by: let's call them, let's get together with your children, let's review," Vojdani says. "Sometimes, parents are reluctant to tell their kids what assets they're going to get, but I think what's most important is that they know what's coming to them, even if they don't know the exact detail today."
Also, when combing through assets, remember that no item is too small for discussion. Benjamin Sullivan, certified financial planner and portfolio manager with Palisades Hudson Financial Group in Scarsdale, N.Y., notes that the holiday season ratchets up the sentiment, which may make it a great time to discuss with family members what items of seemingly insignificant value take on added significance for each potential heir.

"If you want specific individuals to receive certain sentimental items, be sure to list them in your will or a separate document," Sullivan says. "Sometimes the biggest fights are over items of little economic value. With everyone together during the holidays, you can discuss what sentimental items each person values most. This can give you insight about priorities for estate planning purposes while keeping the conversation focused on positive memories."
Granted, there are some fairly weighty topics that still merit discussion: overall estate planning intentions, the location of estate planning documents, funeral arrangements, costs, living wills, medical directives, the will, distribution of assets. However, Dula notes that -- as Vodjani mentioned earlier -- a family meeting about estate planning should be considered just the first meeting of many.
"Mom and Dad can't go into these meetings thinking that everything can be handled appropriately or resolved during Meeting 1," Dula says. "For Meeting 1, I think the overall goal should be to prompt discussion. When everyone leaves that meeting, because it could be an hour, it should make people think and spark future discussions."
Yes, even these discussions are going to make people uncomfortable. However, as Dula notes, even though you can't compel family members to participate against their will, you can learn about those family members through their reactions. For example, Dula notes that if a family member opts out of these meetings because of the emotional toll involved, perhaps they aren't the right person to take on power of attorney or to serve as executor of the will. In fact, Paddock notes that the first meeting might be a great time to address that discomfort and see if it's worth bringing in a family attorney or advisor to serve in that capacity.
"If I'm a parent, I would make sure I offer that out and say, 'If none of you are up for this responsibility,' because it can be litigious and it is time consuming," Paddock says. "It's a lot of work and everybody's busy and has families. If I'm a parent, I would offer that backdoor option for my children and lean on a trusted advisor or fiduciary to take that responsibility for my child."
While there isn't a consensus on whether or not the holidays are the best time to set an estate plan in motion, they do offer at least a broad opportunity to address concerns and answer questions about the future. As the family grows and changes, such meetings can answer questions about why parents may want a child's name added to their bank account to help ward off fraud, what elements of one's life and finances should be discussed if they become incapacitated and what provisions are being made for your family's future.
"Things change, situations change and often estate planning is something they did five or ten years ago," Vodjani says. "Tax law could change, family dynamic changes and if nothing is done to the estate plan it creates problems. If they look at that at least once a year and have a roundtable with family members, it takes the unpleasant situation away."
This article is commentary by an independent contributor. At the time of publication, the author held TK positions in the stocks mentioned.