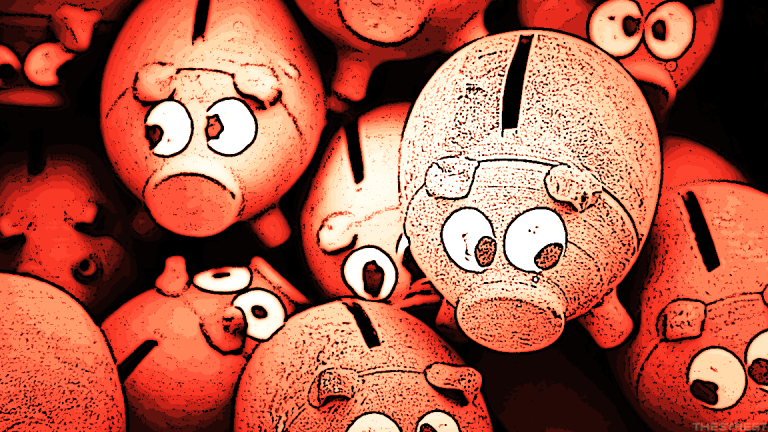 Don't Worry About Money So Much: 4 Ways to Fix Your Finances
If things are going so well, why are people so worried about their money? Here's how to worry less and save more.
The stock market is at an all-time high. The U.S. economy is humming along. U.S. corporate profits are on track for a near-record of $2.2 trillion this year. Consumer confidence has hit a new 17-year high. New home sales are up. Unemployment and inflation are low.
Everything's great, right?
But it's not.
Yes, there's been a large increase in the number of workers who say their financial woes are negatively affecting their lives and who are worried about their future financial situation, according to a just-published Willis Towers Watson survey.
In fact, barely a third of U.S. workers (35%) were satisfied with their financial situation this year -- a sharp decline from nearly one-half of U.S. workers (48%) just two years ago, according to the 2017 Global Benefits Attitudes Survey. Willis Towers Watson said the number of employees who were satisfied with their financial situation had been improving steadily since 2009 when just 25% were satisfied.
Source: Willis Towers Watson
The survey also uncovered more bad news about the financial well-being of U.S. workers.
Consider: More than a third of U.S. workers (34%) now believe their current financial concerns are negatively affecting their lives, compared with just 21% two years ago. And nearly half of U.S. workers (48%) often worry about their current financial state.
And if that wasn't bad enough, nearly six in 10 employees (59%) worry about their future financial state. Two years ago, just under a half (49%) were worried about their future finances.
"The ongoing financial worries that are plaguing so many employees are taking a toll on their financial confidence," Vincent Antonelli, senior consultant at Willis Towers Watson, said in a release.
Setbacks Are to Blame
What's to blame for the financial worries? The Willis Towers Watson research shows that more than half of all workers have experienced a major financial event in the past two years, such as divorce; a significant medical experience; or borrowing money from a friend, family member or payday loan. And these factors, combined with growing debt and low wage growth, are leading to heightened worker angst, Antonelli noted.
Source: Willis Towers Watson 
So, what are some things you can do to improve your financial well-being?
Don't Dwell on the Past
Forget the mistakes of the past, said Marty Kurtz, the founder of The Planning Center. "Have an open conversation with yourself and others around you," he said. "Learn to control what you can control: your behavior and your decisions."
Start a Budget
Only 31% of employees do budgeting on a regular basis, according to Willis Towers Watson survey. So, if you're among the 69% who don't budget now might be a good time to consider one.
Before setting a budget, however, Kimmie Greene, a consumer finance expert with Mint, recommends that you start by setting your financial goals -- whether they are buying your own home, taking a great vacation or paying off debt. "Knowing what you are working towards will help keep your priorities straight. And be reasonable with yourself, don't expect overnight changes," said Greene. "Remember, this is a marathon, not a sprint."
Greene also recommends working backwards to figure out your budget. "Knowing where you're spending is just as important as saving money," she said. "Determine your reoccurring expenses such as rent, car payments and utilities. Add up these expenses, and subtract the total from your monthly income. Then don't forget your savings."
As a role of thumb, Greene recommends that you try sticking to the 50/20/30 rule: Spend 50% on essentials, 20% on savings and 30% on personal. "The remaining amount is what's available for discretionary spending like entertainment, shopping, travel and dining out," she said.

For his part, Kurtz recommends learning what your fixed costs are every month and setting that money aside every month. In addition, he recommends living on the same weekly amount every week. "Like an allowance," he said.
Remember too that budgeting is flexible, said Greene. So, it's key to keep track of the ups and downs.
Consider using such as App such as Mint.com, You Need a Budget, Wally, and Acorn to help you make and stick to a budget.
Greene also said budgets are fluid. That means you should set regular check-ins at least once a month to see where your money is going and if you are on track with your goals. "If you are just getting started, weekly or even daily budget check-ins can be helpful until you have a clear sense of where your money is going through the month," she said.
And, as you uncover extra money thanks to having a budget, Kurtz recommends that you set new and attainable savings goals.
Plan for Hardships and the Unexpected
According to the Willis Towers Watson survey, 81% of struggling employees are living paycheck-to-paycheck. And only 20% of struggling employees pay their credit card in full each month.
More than a third of U.S. workers experienced a moderate (24%) or severe (13%) financial hardship. Ten percent have taken a loan from their 401(k) plan while 6% have made a permanent hardship withdrawal from their plan.
What advice does Antonelli have for workers who want to plan for hardships?
Build an emergency fund. Even contributing a small amount each pay period to a rainy-day fund each pay period could help workers prepare for future emergencies and avoid loans and borrowing from family and friends.
Look for opportunities to refinance debt, especially student loan debt.
Take time to understand monthly spending habits.
Greene concurs with this advice. "Sometimes life gets in the way of your budget and adds unexpected expenses," she said. "To make sure you're able to get back on course without getting into debt, regularly contribute to an emergency fund. You never know when your car might break down, when you'll need to take time off from work for family issues or when your dog decides to chew up your couch. It's important to be prepared for life's unexpected turns by having an emergency fund to tap."
And, no matter what, don't acquire any new debt. "Learn that debt is really other people's money," said Kurtz. "More debt means less freedom."
Measure Your Retirement Readiness
Less than half (47%) of U.S. workers are confident they'll have sufficient resources 25 years into retirement while 57% are confident they'll have enough resources 15 years in retirement, according to the Willis Towers Watson. Both figures are down from 2015.
So, if you're among the more than half (53%) of U.S. workers are not confident that you have sufficient resources to cover 25 years of retirement, here's what you should do/consider. Check your retirement readiness each and every year. There are plenty of online calculators that you can use. The Ballpark E$timate is one such calculator. Your employer likely offers such tools.
You could also use a simple ratio: How much has your household saved for retirement divided by your household's income.
Fidelity Investments, for instance, suggests that you aim to have saved at least 1x your income at age 30, 3x at 40, 7x at 55, and 10x at 67.
So, if you're 67 and earn $100,000 you should have saved $1 million. If you're 40 and you earn $50,000 you should have saved $150,000.
Knowing that you're on track to fund your retirement for 25 or more years will go a long way toward improving your financial well-being. And knowing that you're not on track for retirement might give you the incentive make the necessary adjustments to reach your savings goals and improve your financial well-being.
Got questions about money, retirement and/or investments? Email Robert.Powell@TheStreet.com
More of What's Trending on TheStreet: