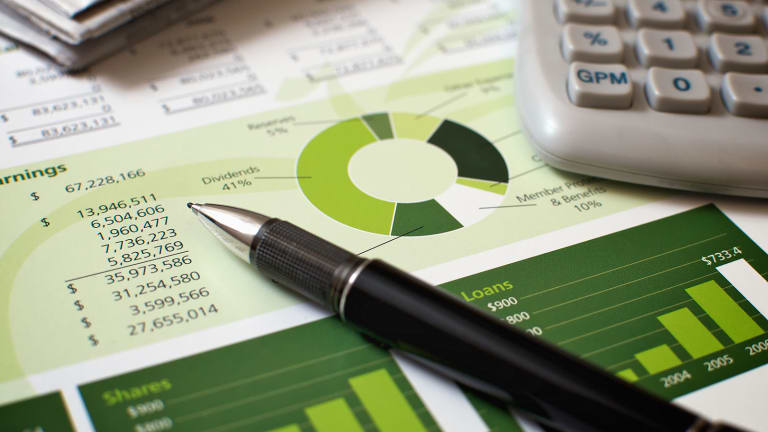 Diversifying Is The Best Way To Weather A Murky Market
Instead of freaking out about world events, make sure they aren't throwing your portfolio out of whack or derailing your investment strategy.
The market's been incredibly volatile in 2016, which makes a balanced portfolio moe important than ever.
You have investors stopping everything each time Janet Yellen clears her throat as they await word from the Federal Reserve about rising interest rates. Brexit, soaring U.S. stocks, unstable oil prices, the presidential election, the economic slowdown in China and global unrest are all playing havoc with the market right now.
Nigel Green, founder and chief executive of U.K.-based deVere Group, which advises clients on has more than $10 billion in investments, notes that there is one really easy way to shield yourself against that volatility. It shouldn't need to be said, especially after the last economic collapse, but diversifying your portfolio is the best way to keep yourself and your assets safe.
"No one asset class, sector or region wins all the time, therefore in order to mitigate risk and benefit from opportunities, investors need to spread their funds around," he says. "Markets work in cycles and when one asset class, sector or region is up, others are going down. The aim is to minimize exposure to one class, so that if that class is not performing well, the others are holding up the portfolio and keeping your investment objectives on track."
Paul Jacobs, chief investment officer of Palisades Hudson Financial Group in Scarsdale, N.Y., notes that the proper response to soaring U.S. stocks and simmering post-Brexit equities isn't to jump on the winners, but to go where the losses have been heaviest. He suggests investing about 15% of your equity portfolio in Europe, with exposure to both the U.K. and the rest of Western Europe. That's actually fairly light compared to Europe's share of global capitalization but that offers some protection amid its long-term economic struggles and political gridlock.
"There are many strong global companies based in Europe, so it still makes sense to have a significant stake in them," Jacobs says. "Companies like Nestle, Royal Dutch Shell, and GlaxoSmithKline are titans with worldwide operations."
He further recommends investing in large-cap European stocks through low-cost index funds such as the Vanguard European Stock Index Fund, but selling some of your losing investments to cut your tax bill. If you have some gains, you can used the losses to match them dollar for dollar. Even if you don't have gains, you can deduct up to $3,000 of capital losses per year.
Joe Correnti, senior vice president of brokerage product at Scottrade, notes that any jolt in the market provides a fine opportunity to look at your portfolio and sort out any imbalances. If, say, your portfolio is targeted for 60% equities and 40% bonds, a huge drop in equities could leave you with a whole lot of fixed income investments. If you want to get back to your target ratio, you can either rebalance your portfolio yourself or see if it rebalances on its own. Just don't take too much time with that decision.
"When owning equities, it's important for long-term investors to maintain variety," Correnti says. "By maintaining a diversified portfolio, you should be better equipped to handle the ups and downs of the markets rather than if you place all of your eggs in one basket."
Lastly, there is one other strategy that deVere's Green suggests for investors trying to make the best of a bad market: Drip-feeding new money into markets at a predetermined pace. In the long term, stock values overwhelmingly tend to rise. If investors want to create wealth over the next decade, short-term be damned, they'll have to put their new money into the market and not sit on the sidelines.
"By contributing extra money to portfolios now, rather than putting it off, investors are able to capitalize on the potential gains of the longer-term stock market projections sooner rather than later," he says. "Putting off investing means the exact opposite, of course."
"Despite the general sense of unease in the markets, by drip-feeding new money into the markets at a steady pace and ensuring portfolios are truly diversified, investors can still build wealth -- it is a matter of proceeding with caution and being highly selective," Correnti added.
This article is commentary by an independent contributor. At the time of publication, the author held no positions in the stocks mentioned.