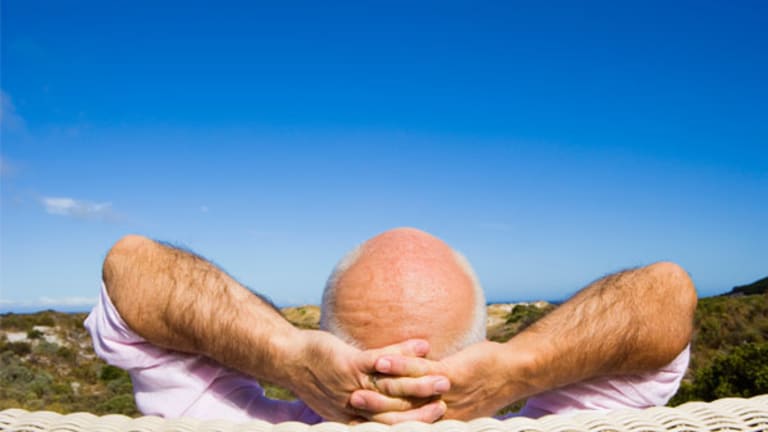 Despite Chaos, 401(k) Participants Don't Panic
The volatility spikes of recent days shouldn't lead to rash 401(k) moves, experts say.
BOSTON (
) -- Stay the course and don't panic.
That's the advice Michael Falcon, head of retirement for the U.S. and Canada at
J.P. Morgan
(JPM) - Get JPMorgan Chase & Co. (JPM) Report
Asset Management, has for 401(k) plan participants amid the recent market volatility. Instead of panicking, he suggests that current conditions should reinforce the "good" behaviors vital to long-term success, among them diversification and rebalancing.
The volatility spikes of recent days shouldn't lead to rash 401(k) moves by investors, experts say.
Plan participants may already be heeding that message.
While this month's tumultuous market has temporarily led to record call center volumes (Fidelity Investments also reported that call volumes spiked 50% above expected levels over the past two weeks), day by day the number of calls dropped back to average.
"Things really settled down quickly, and we think that's a good thing," Falcon says. "I don't think anyone was panicking. There was a lot of activity, but when we looked at what people were doing when they called, it was generally still a lot of the same things that they were doing when volumes were lower. The exception to that was that we did see significant increases, on a comparative basis, with fund transfers and rebalancing activity. The rebalancing activity was twice what we would normally see, but we wouldn't consider those necessarily bad or panic behaviors."
Falcon credits the stability, in part, to the impact of target date funds and other managed solutions. He adds, regarding those who have sat pat, that "inertia is our frenemy."
While inaction can keep some 401(k) investors from engaging in their plan -- saving appropriately being diversified, rebalancing and so forth -- the upside to inertia is that it can also mean those with a solid approach may not deviate from their game plan.
The level of participant direction out of stocks and allocation products was "at the margin and very small," less than 1% of total assets.
"It's a very small shift at the margin, but it does indicate that there are still people out there who may be adversely selecting a lower-risk category as opposed to a reaction to this volatility," Falcon says.
Falcon sees hope in the lack of panic seen among 401(k) participants. Many, he says, seem to have been taking lessons learned during the recession to heart.
"The movement in the S&P 500 does not equal your retirement success," he says. "It does not equal your retirement preparedness and, whether it's 400- or 500-point swings up or down, it actually has very little to do in terms of where individuals are going to wind up in the long term. Volatility is a fact of investing. That's not to say that there isn't an emotional toll. The challenge is to separate that emotion out of what really is a long-term investment horizon and just stay focused."
"It is all about consistent behaviors over long periods," he adds. "In evaluating whether your allocation and diversity strategy is correct or not, I don't think that you want to make that decision to do that in the middle of a volatility crisis. You want to look at how it is is behaving though this cycle, through past cycles and with great laboratory examples over the past two or three years of how products and allocation strategies reacted through a variety of down, up and sideways markets and a challenged global economic situation. You can make those judgments, but I don't think they have to be made on a Monday afternoon when there is a lot of information that professional investors and traders are having difficulty digesting."
Falcon says the recent spate of volatility is a call to broad diversification and rebalancing.
"If you are not pleased with the levels of accumulation that your strategy is giving you over a period of time, you have to look who is providing that strategy to you, see if there a better provider and also determine whether you need to save more money," he says. "I don't think people can get ahead by either risking themselves up or trying to get into the market timing business."
Data released this week by Fidelity echo the advice that 401(k) investors should try to weather the storm.
On Thursday, Fidelity released its second-quarter 2011 review of 401(k) accounts as well as an analysis of participant actions since the market decline of 2008-09. The analysis, it says, confirmed that even during the most volatile market activity, investors who maintain a diversified asset allocation strategy and do not pull out of equities, or make sudden contribution reductions, are rewarded when the equity markets rebound.
"Our analysis reinforces that during extreme market swings, it's essential for investors not to overreact and remember that investing for retirement requires a long-term view, regardless of their investment horizons," says James MacDonald, president of workplace investing for Fidelity.
To gauge the impact of making investment decisions based on market volatility, such as moving assets out of equities or stopping contributions, Fidelity analyzed participant actions during the market decline of 2008-09 through the second quarter of this year.
For participants who changed their equity allocations to zero percent between Oct. 1, 2008, and Mar. 31, 2009, the lowest months of the market downturn, and maintained this allocation through June 30 of this year, the cost to their account balance was significant -- an average increase in account balance of only 2%.
Participants who dropped to zero percent equity but returned to some level of equity allocation after that market decline saw an average account balance increase of 25%, a sharp contrast to those who stayed with an asset allocation strategy inclusive of equities. These participants realized an average account balance increase of 50% during the same period.
Fidelity also looked at participants who stopped contributing to their 401(k)s during the same market decline of 2008-09. They experienced an average increase in their account balances of 26% through the end of the second quarter, compared with 64% for participants who continued making regular contributions.
-- Written by Joe Mont in Boston.
>To contact the writer of this article, click here:
Joe Mont
.
>To follow the writer on Twitter, go to
.
>To submit a news tip, send an email to:
.
Get more stock ideas and investing advice on our sister site,