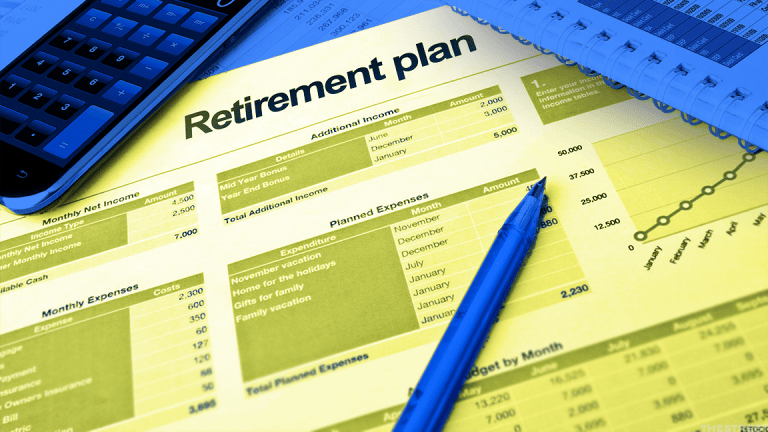 Capping 401(k) Savings Would Worsen the U.S. Retirement Crisis
It's time for Congress to examine and fix the U.S. retirement system, and improve how we promote retirement security -- not make it worse.
Call it a case of the left hand not knowing what the right hand is doing.
House Republicans are cooking up plans to slash the amount workers can save in their 401(k) to $2,400, from its current level of $18,000, or $24,000 for those age 50 and older.
And on Monday, President Trump tweeted, "There will be NO change to your 401(k). This has always been a great and popular middle-class tax break that works, and it stays!"
This all comes just days after the Government Accountability Office (GAO) released a report stating that the U.S. retirement system faces major challenges and that Congress should consider establishing an independent commission to examine the U.S. retirement system comprehensively and make recommendations to clarify key policy goals and improve how the nation promotes retirement security.
Not surprisingly, some -- though not all -- experts praised the GAO's efforts to solve this nation's retirement crisis, and blasted the House Republicans for contemplating a change that would make the retirement crisis worse.
Over on Real Money, Jim Cramer weighs in: "So now you want to take away most of our 401(k) benefits, do you? That's some way to help out the middle class." Get more on his insights with a free trial subscription to Real Money.
"Our nation's independent auditor, the GAO, has rightly called for a National Commission to help find ways to prevent the economic disaster and human suffering caused by the widespread lack of retirement accounts and failure of our pension system," said Teresa Ghilarducci, a professor at the New School for Social Research and co-author of Untangling the Determinants of Retirement Savings Balances. "Almost half of middle class near retirees will be poor or near poor retirees and surviving only on Social Security in the very near future."
In its report, GAO drew insights from a panel of retirement experts, including Ghilarducci, "on how to better ensure a secure and adequate retirement, with dignity, for all."
Landscape of U.S. Retirement System Has Shifted
The GAO noted in its report that fundamental changes have occurred over the past 40 years to the nation's current retirement system, made up of three main pillars: Social Security, employer-sponsored pensions or retirement savings plans, and individual savings.
These changes, the GAO wrote, have made it increasingly difficult for individuals to plan for and effectively manage retirement. "In particular, there has been a marked shift away from employers offering traditional defined benefit (DB) pension plans to defined contribution (DC) plans, such as 401(k)s, as the primary type of retirement plan," the GAO wrote. "This shift to DC plans has increased the risks and responsibilities for individuals in planning and managing their retirement. In addition, economic and societal trends-such as increases in debt and health care costs-can impede individuals' ability to save for retirement."
Individuals Face Three Key Challenges 
The GAO found in previous work that many individuals face the following challenges in their efforts to provide for a financially secure retirement at a time when increases in longevity further raise the risk of outliving their savings:
Access: Accessing retirement plans through their employers
Saving: Accumulating sufficient retirement savings
Retirement: Ensuring accrued savings and benefits last through retirement
Fiscal Risks and Benefit Adequacy Concerns
According to the GAO report, the three pillars of the current retirement system in the U.S. are anticipated to be unable to ensure adequate benefits for a growing number of Americans due, in part, to the financial risks associated with certain federal programs.
Social Security's retirement program (Old-Age and Survivors Insurance): Beginning in 2035, this program is projected to be unable to pay full benefits. Long-term fiscal projections show that, absent fiscal policy changes, the federal government is on an unsustainable path, largely due to spending increases driven by the growing gap between federal revenues and health care programs, demographic changes, and net interest on the public debt.
Defined benefit (DB) plans: On the decline; also, the Pension Benefit Guaranty Corporation (PBGC) which insures most DB plans, is at risk due to substantial liabilities, especially in its multi-employer program.
Defined contribution plans: On the rise, but with more risk and responsibility for individuals; many individuals are not saving enough in these plans to provide an adequate retirement.
Individual savings: Outside of employer-sponsored plans, individuals' retirement savings are often low or nonexistent, which may increase their reliance on various federal and state safety net programs.
Need to Re-evaluate the Approach to Financing Retirement
Over the past 40 years, the GAO noted in its report that the nation has sought to address the issues facing the U.S. retirement system in a piecemeal fashion. "This approach may not be able to effectively address the interrelated nature of the challenges facing the system today," the GAO wrote. "Fundamental economic changes have occurred, as well as the shift from DB to DC plans, with important consequences for the system. Further, it has been nearly 40 years since a federal commission has conducted a comprehensive evaluation of the nation's approach to financing retirement."
According to the report, a panel of retirement experts convened by GAO in November 2016 agreed that there is a need for a new comprehensive evaluation. "The experiences of other countries can also provide useful insights for ways to improve the system," the GAO noted.
Also of note, the GAO has also added a "collection website," which makes it easier to access GAO work on retirement security topics.
Americans Don't Face a Retirement Crisis
To be fair, not all experts agree with the GAO's findings. "The GAO study presents a range of reasons why Americans might not be prepared for retirement, such as the switch from traditional pensions to 401(k)s or the rise in retiree health care costs, but the agency doesn't present strong evidence that Americans actually are under-prepared for retirement," said Andrew Biggs, a resident scholar at the American Enterprise Institute (AEI) and co-author of Why Americans Don't Face a Retirement Crisis.
Are more Americans saving for retirement today than in past decades? Yes, said Biggs. Are they putting aside a bigger share of their paychecks into retirement plans? Also, yes, said Biggs. Are total retirement savings rising? "Definitely so -- total retirement savings today are far higher than in the past, even when accounting for the growth of the pre-retirement earnings that those savings must replace once people stop working," he said.
So, said Biggs, if you take into account that a) there is simply no crisis among today's retirees, as both income data and opinion polls show; and b) that retirement savings today are both higher and more widespread than in the past, it's hard to see how retirement for Americans won't be getting better rather than worse.
"Our system isn't perfect and there are things we can do to improve it," said Biggs. "But the GAO report strikes me as too ready to hype negative findings and too unwilling to acknowledge all the things that are going right. As a result, I don't agree that the U.S. needs a fundamental rethinking of how it prepares for retirement. Instead, we need tweaks and continued improvement of the private sector savings system, as well as reforms to keep Social Security solvent and improve the safety net."
Other experts are also unsure whether a commission is needed to study the issue. Aren't we all wary of commissions, asked Olivia Mitchell, a professor at the Wharton School of the University of Pennsylvania and executive Director of the Pension Research Council.
No to Capping 401(k) Contribution
Meanwhile, experts and lobbying want Congress to retain the tax benefits that promote retirement security, and that -- as stated in the Republicans' Unified Framework for Fixing Our Broken Tax Code -- "[t]ax reform will aim to maintain or raise retirement plan participation of workers and the resources available for retirement."
"We support the tax reform goal of economic growth," Brian Graff, the CEO of the American Retirement Association, said in a news release. "However, the retirement security of American workers is just as important."
Graff cautioned that, as the White House and Congress continue their important work on tax reform, "we strongly suggest they abide by the following principles, which are consistent with the language articulated in their own framework." 
He specified that any changes to current retirement savings incentives must be primarily aimed at promoting retirement plan participation of workers and encouraging retirement savings, rather than solely for the purpose of raising revenue for other tax objectives.
Limiting employees' tax deductions for 401(k) savings in the absence of other meaningful changes to promote retirement savings by middle class families would be inconsistent with the framework and would in fact be a middle-class tax increase that directly and immediately threatens workers' retirement security.
For her part, Ghilarducci suggested that Republicans seem intent on weakening retirement security. "Limiting the tax deductions for 401(k) contributions is the fourth attack on retirement plans by Republicans since President Trump took office," she said.
The first strike, she said, was the on fiduciary rule, the second was on trying to prevent states from offering state-run retirement savings program, the third was ending the MyRA program.
Worth Noting
Of note, the IRS last week announced its 2018 pension plan limitations, which included an increase in the 401(k) contribution limit to $18,500 for 2018. Read more here.
Also of note, the Congressional Budget Office (CBO) has just published a report, Measuring the Adequacy of Retirement Income: A Primer.
The CBO report noted, among other things, that over the next 30 years, the share of the U.S. population age 65 and older will increase from about 15% to almost 22%. And that trend is spurring growing interest in understanding whether people will have adequate income in retirement.
The CBO noted that researchers have developed diverse approaches for quantifying the adequacy of retirement income, focusing on different groups of retirees and employing different definitions of income and adequacy. The CBO report explains the various measures and approaches, and provides a framework for further analysis of retirement income.
Here's another problem facing retiring Americans: 
More of What's Trending on TheStreet: