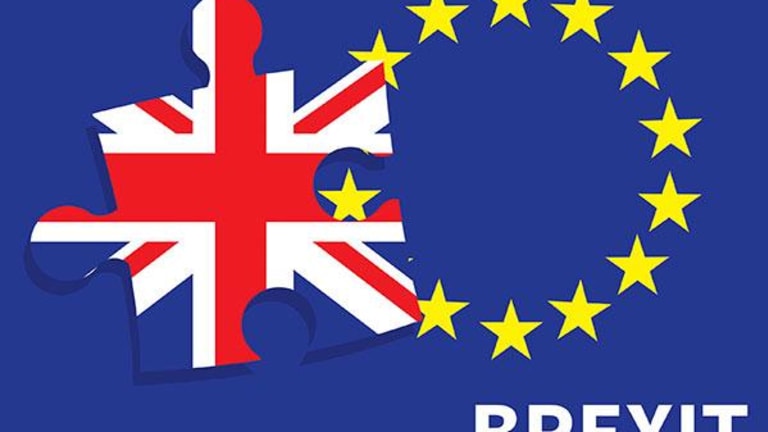 Brexit Vote Will Not Impact Retirement Portfolios Long-Term
The uncertainty surrounding the outcome of the Brexit vote this week has spooked anxious investors, but refraining from overreacting will prevent the sale of stocks at the wrong time.
The uncertainty surrounding the outcome of the Brexit vote this week has spooked anxious investors, but refraining from overreacting will prevent the sale of stocks at the wrong time.
Long-term investors should expect volatility in the markets to occur ahead of the Brexit vote and avoid trying to time the market even if they own international stocks.
"It's important to understand what's at stake with the U.K., but it's also important to keep a level head and not overreact," said Paul Jacobs, chief investment officer of Palisades Hudson Financial Group, a Scarsdale, N.Y. financial planning firm. "We don't expect Thursday's vote to have a dramatic impact on a diversified portfolio over the long term, and we're not seriously considering making long-term changes to client portfolios due to the vote's outcome either."
If the Brexit Occurs
Ignoring market volatility after the vote helps investors avoid the "emotional temptation of trying to time the market," said Mike Loewengart, vice president of investment strategy of E-Trade Financial, a New York-based online brokerage firm.
"While polls indicate a 'leave' vote is unlikely, investors should remember that stranger things have happened, and even if Britain does leave, it's possible that markets could rebound soon thereafter," he said. "While most diversified portfolios already have some market exposure that the Brexit could negatively impact. Many also have assets that could benefit. It's far too early to make sense of the longer-term implications of this historic event and how markets will react over time."
If the Brexit occurs, the impact to financial stability could be severe and result in a "substantial upheaval for global markets, financial firms and businesses that would likely leave London," wrote Aaron Klein and D.J. Nordquist of economic studies at the Brookings Institution, a Washington, D.C. non-profit public policy organization.
The relationships with the EU and other countries will be affected, altering rates of return and asset prices, they wrote. The markets are already nervous as U.S. and global stocks are "slumping, and money is pouring into safe haven sovereign debt: the yield on the 10-year U.S. Treasury note is approaching record lows, while Germany's 10-year note broke a new record low - a negative yield," said Klein, a fellow, and Nordquist, chief of staff. "Brexit would lead to a global fall in equity prices as investors fear the impact the vote could have on Britain's economy and could spell the first falling domino of European Union disintegration."
The immediate result of a Brexit is the additional volatility that will impact international currency and debt markets, said Charlie Smith, chief investment officer of Fort Pitt Capital Group, a Pittsburgh-based investment management firm.
"Longer term, the effects on the U.S. economy are not likely to be material," he said.
Even if the U.K. votes to leave the European Union and the market reacts resoundingly, the risks could remain minimal over a longer duration, said Jacobs.
"No one knows exactly what an exit would look like or how it would work," he said. "We're not overly concerned with the risks and cooler heads should prevail over the long term. There's no reason to expect a mass exodus of wealth or talent from the U.K. if it leaves the EU."
Short-term losses might be painful for investors who own equities in the U.K. and Europe, but people saving for retirement should view this as a "non-event," said Robert Johnson, president of The American College of Financial Services in Bryn Mawr, Pa.
"Retirement investors should do nothing in anticipation or as a result of the Brexit vote," he said. "The only market participants it really affects are speculators - those investors making short term bets on market moves. Long-term investing is about committing to a disciplined strategy no matter what headwinds or tailwinds may be present in the market."
What To Skip
Investors should avoid mutual funds and ETFs that are primarily invested in Europe, said Bill DeShurko, a portfolio manager for Covestor, an online investment marketplace based in Boston and London, and founder of 401 Advisor, a registered investment advisor in Centerville, Ohio.
Less risk averse investors could purchase any U.K. specific investments because of the short-term benefits if they remain in the EU and long-term benefits if they leave, he said.
"Otherwise, hold the course," DeShurko said. "Moms will continue to buy diapers for their babies whether the U.K. stays or leaves. The same can be said for about 99% of the products and services made and provided by domestic companies."
The sale of European fixed income or equities should occur before the vote, not afterwards when the market has already reacted, said Scott Hanson, a senior partner of Hanson McClain Advisors, a Sacramento based financial advising firm.
How Volatility Can Help Investors
After the vote on Thursday, the volatility in the market can give investors an opportunity to take advantage of purchasing less expensive European equities if the British decide to exit the EU.
"A vote to leave the EU could lead to short-term declines in British stocks, the pound and the euro and investors can take advantage of this by harvesting capital losses in taxable accounts that hold European equities," Jacobs said. "Investors should also be prepared to rebalance their portfolios and add to European stock exposure in order to take advantage of lower prices."
If voters chose to remain in the EU, a short-term rally in the markets could arise, and investors should be prepared to rebalance and "sell European equities if they appreciate significantly," he said. "For investors who remained disciplined throughout the 2008-2009 bear market and fears of contagion in Europe due to Greece's fiscal issues, Thursday's vote should look more like an opportunity than a threat."
Sell-offs in the market and certain sectors will occur if voters approve leaving the EU, said Hanson. Long-term investors should not react to the declines in the market by selling their assets.
"I've watched people make poor decisions in response to fear," he said. "People typically sell at the exact wrong times. There will be some fear in the European markets, but this will not be the time to react to that fear."
Analyze the investments in your portfolio to determine which ones are risky ones and take the opportunity to purchase cheaper stocks, Hanson said.
"Most investors don't have their entire portfolio in risky assets," he said. "The best time to purchase things on sale is when nobody else wants them. This may represent a fantastic buying opportunity."
In the long-term, the U.K. leaving the EU could produce a positive effect, because the county would have more independence concerning its regulations and governance, said Jacobs.
"The EU is far from a perfect union and being a member of the EU means having to deal with the baggage that comes with it," he said.
Volatility in the European stock markets could persist for years because a successful Brexit will not be determined for awhile, DeShurko said.
"While markets may be volatile in the short term, there is some real long term risk," he said. "Most European economies have been a mess since the financial crisis."