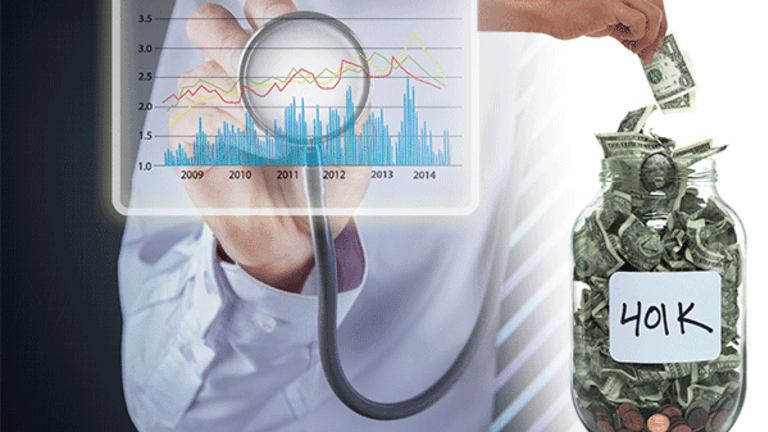 Biotech Leads the Way in Health Care Stocks to Boost 401(k) Returns
Your retirement portfolio could get a salutary boost from biotech stocks along with ETFs in the sector that have generated large returns in 2016, producing double digit-gains.
Your Money, Your Retirement, and the 2016 Presidential Election - What changes will you need to make to your portfolio should Hillary R. Clinton become president? What happens to your investments should Donald Trump become president? Join us on September 12 as our panel of the world's top financial experts provide trusted information on the investment risks and opportunities that arise with the upcoming presidential election in November. [Learn more about the event and RSVP.]
Biotech stocks along with ETFs in the sector have generated large returns in 2016, producing double-digit gains which could help boost the returns of 401(k)s and IRAs.
Investors seeking to get greater yields or to increase diversification in their retirement portfolios should examine the health care sector as a hedge against recessions, said K.C. Ma, a CFA and director of the Roland George investments program at Stetson University in Deland, Fla. Consumer staples, utilities and other defensive sectors such as health care continue to be the "shining stars even after Brexit," he said.
Biotech and Pharma Immune to Recessions
The biotechnology and pharmaceuticals industries are the most immune to a potential market pullback or recession, Ma said. These ETFs have performed well this year with Arca Biotech ETF (FBT) up by 22% since February, Vectors Biotech ETF (BBH)  up 20%, Dynamic Pharmaceuticals ETF (PJP)  up 14% and U.S. Pharmaceuticals ETF (IHE)  up 15%.
The returns have been strong, because major pharmaceutical companies have acquired drugs in various areas and diseases such as cancer have been great acquisition targets, said Patrick Morris, CEO of NY-based HAGIN Investment Management. Other popular drugs which have yielded gains include cardiovascular medicine and pharmaceuticals targeting heart and vascular health.
"Anything in diabetes is worth a shot and anti-depressants are always worth looking at," he said. "Think about how many people suffer from a disease and who is working on novel compounds for treatment."
Diversified biotech ETFs are a solid option for retail investors. While Fidelity, Janus and T. Rowe Price all have "some good funds, they lack the ability to be nimble," Morris said. "Eventide, Highland and Alger have mutual funds which performed well in the first quarter and might be worth a look."
One of the variables is that the biotech the sector experienced many declines in 2015, so there is a "dogs of the Dow" concept at work, he said. Biotech stocks could be due for a rebound, but the industry tends to either produce either large successes or complete failures such as not receiving FDA approval.
What to Avoid
Investors whose portfolios which are highly concentrated in 10 to 30 biotech stocks will experience more volatility and a smaller concentrated exposure would result in both high risk and returns, Morris said.
Avoid purchasing biotech funds which have large positions or 20% or more in big pharma, because that exposure probably already exists in your portfolio, he said.
Accessing small cap biotech stocks is more difficult for investors because the majority of health care ETFs consist of mid and large cap stocks.
A smart beta ETF launched by Principal Financial Group (PFG) , a Des Moines, Iowa-based financial services company, the Principal Healthcare Innovators Index ETF (BTEC) , invests in early stage small cap health care companies with a focus on biotech and life science and tracks the Nasdaq U.S. Healthcare Innovators Index. These small cap companies are aiming to create cures for cancer or develop new medical technologies and adding them can provide a "greater upside and downside versus broader, larger cap health care benchmarks," said Paul Kim, managing director of ETF strategy.
Retail investors should shy away from high dividend paying healthcare stocks because their prices have risen as people are pursuing equity income, he said.
"Getting exposure to earlier stage companies is a bet on innovation and continued importance of healthcare," he said. "It's hard to pick winners in the FDA approval process and BTEC can provide efficient exposure to the trends benefiting this group of companies."
Although health care represents a $3 trillion industry annually, investors need to be cautious of healthcare ETFs and funds which are overweight in biotech for the short term, said Jon Ulin, a managing principal of Ulin & Co. Wealth Management in Boca Raton, Fla.
The biotech industry is still down 30% from last summer since the infamous tweet "heard around the world" by Hillary Clinton about Martin Shkreli hiking the price of AIDS drug Daraprim from $13 to $750, he said. When Clinton drew attention by tweeting about Mylan "jacking up the price of lifesaving EpiPens, it caused the iShares Nasdaq Biotechnology ETF (IBB) to drop 4%, pulling down major health care indices with it."
Health Care Providers and Device Makers Riskier
Companies in the sector which are providers of healthcare or health insurance, device makers and biologics are riskier because the variables are greater, said Morris.
"Although cancer research is increasingly looking toward a future of bespoke immunological solutions such as teaching the body to kill cancer, the side effects of these can end a clinical trial pretty quickly," he said.
The health care sector in the S&P 500 has produced a "great run" this year since it is one of the only two S&P sectors which have produced double-digit returns year to date, said Ma. The performance is the result that over 90% of healthcare companies have reported better than street estimated financials.
"In the long run, the entire sector has been mainly benefited from the increasing coverage from the Affordable Care Act and an aging population with increased longevity, which create a growing and sustainable demand for medical care," he said.
Since the passage of the ACA, the health sector has produced returns of over 27% during the last three years and 130% for the last five years, Ma said. The health care facilities industries including hospitals such as Universal Health Services (UHS) have benefited the most because they are "less exposed to uninsured patients," he said. "Investors interested in these segments of the sector may want to look at ETFs like SPDR Health Care Services (XHS) , up 13% since February and U.S. Healthcare Providers (IHF) up 15%."
Investors who are bullish on the ACA's future could consider overweighting health care stocks in their portfolios before the presidential election, because a Hillary Clinton victory would benefit the industry overall and continue giving all consumers access to health care while a Donald Trump win would add a large amount of uncertainty, said Robert Johnson, president of The American College of Financial Services in Bryn Mawr, Pa.
Investors could add businesses which operate hospitals such as HCA Holdings (HCA) , Community Health Systems (CYH) and Tenet Healthcare (THC) , he said.
Other Industries
Some of the overlooked industries in the sector include companies involved in hospital waste management such as Stericycle (SRCL) and health REITs such as Health Care REIT (HCN) and Ventas (VTR) , said Ma.
As demand for health care services and facilities increases, another option for investors is AmSurg (AMSG) , which owns and operates ambulatory surgery centers and provides outsourced physician services to hospitals and other healthcare facilities. The company is the "direct beneficiary of the increasing number of insured Americans under the ACA," he said.
Another potential good stock buy is Second Sight Medical Products (EYES) , which manufactures implantable prosthetic devices to restore vision to blind patients.
"Their pricey products are paid for by Medicare and if you believe in their business model, the stock is at $3.41 from a 52-week high of $15 and seems to be a good buy."