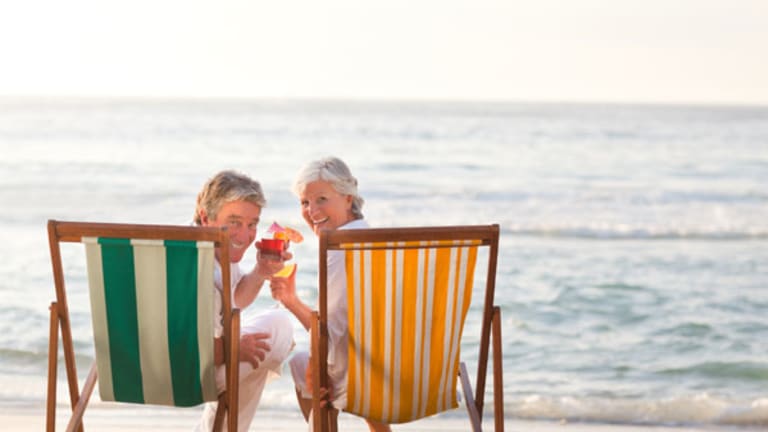 Beware Excessive Fees on Target-Date Funds
Some older fund families have started trimming expenses.
Target-date funds can make it easy to save for retirement. They shift their asset allocation, becoming more conservative over time, so your portfolio is essentially on autopilot. But this convenience comes at a price.
Many target-date funds are funds of mutual funds, and investors typically pay two layers of fees: one for the target-date fund itself, and another that is an asset-weighted average of the management fees of the underlying funds.
These products have soared in popularity even as sales of other kinds of domestic mutual funds have flagged. At the end of 2000, there were just 23 target-date funds with a little over $8 billion in assets; there are now more than 205 with total assets of over $160 billion, according to Lipper. Assets have been growing at a clip of 60% to 70% a year since 2002.
Since most invest in a mix of funds from the same fund complex, some people question just how much additional expense these firms actually incur for essentially repacking their existing products.
Target date funds "are loaded with excessive fees," says David Loeper, CEO of Financeware and author of
Stop the 401(k) Rip-off!: Eliminate Costly Hidden Fees to Improve Your Life.
"For just about every vendor, they tack on
additional basis points to have somebody move your equity allocation on a systematic calendar," he says. (A basis point is a hundredth of a percentage point.)
Joe Nagengast, president of Turnstone Advisory Group and the co-author of several studies of target-date funds, agrees. "If you go to a paint store, and they've got software that helps you choose your paints, they're not going to charge you to use that," he says. "That's just an extra service they provide. I don't see why a fund should be any different."
How high are the fees? According to Morningstar, the average expense ratio for a target-date fund is 0.73%. While that may not sound excessive, it doesn't include any expenses charged by the underlying funds. Meanwhile, the average diversified U.S. equity fund tracked by Morningstar carries an expense ratio of 1.37%. That means the total management fees on a target-date fund can easily run north of 2.0%.
And some target-date funds charge fees that are much higher. The
(HWKAX)
SunAmerica High Watermark funds carry the highest expense ratio, at 2.30%, according to Morningstar. (Again, this figure doesn't include any expenses charged by the underlying funds.)
Firms generally keep expense ratios consistent across a group of target-date offerings, so they are set by fund family rather than by the asset allocation of a particular product, Morningstar says.
Not everyone believes fees are a problem. A recent Lipper study of target-date funds designed for people retiring in 2030 found that expense ratios may not be a significant predictor of future performance. In some instances, fees had an impact on Lipper's ranking of fund performance. In other cases, expenses had no factor. The number and type of funds underlying funds in these products had far greater significance.
Nevertheless, fees on target-date funds are likely to get more scrutiny as the result of pension reform that took effect last year, making it easier for employers to use these products as default options in retirement plans. While the process simplifies retirement saving, it can cause complacency about expenses.
According to the Investment Company Institute, a trade group, investors sank $114 billion into target-date funds in 2006, up from $71 billion in 2005 and $44 billion in 2004. Ninety-one percent of target-date fund assets are from retirement plans.
David Certner, legislative policy director for the American Association of Retired Persons, says investors are concerned about fees but feel they lack the sufficient knowledge about them, Certner says. "One of the things we're working on now is to improve disclosure, to make fiduciaries more aware of their own responsibilities to take fees into account when they're choosing these kinds of funds."
New pension law requires fund companies to disclose their "acquired funds' fees and expenses" in filings with the
Securities and Exchange Commision
. These numbers can also be found on fund company Web sites as well as third-party financial information sites.
"You need to be aware of what the manager is charging at one level to just the asset allocation," says Jeff Elvander, chief investment advisor at 401(k) Advisers, "and then the underlying fees of all the sub-funds that are a component of that total fee."
(Elvander's company advises TheStreet.com's 401(k) program.)
Most people who invest in target-date funds do so through retirement plans and so probably have only one option. But if you have the opportunity to shop around, here are some tips. Many older target-date funds, such as
Fidelity Investments'
Freedom Funds, have stopped charging overlay fees.
Nagengast's first study of target-date funds aimed at institutional investors, based on data from six big companies through June 2005, found that the average expense rate was 71 basis points. By December 2006, the average was down to 60 basis points. "Almost all of the newer entrants come with an overlay fee," Nagengast says.
(Institutional funds typically have steep investment minimums and charge commensurately lower fees.)
In a July study, Morningstar analysts selected
(TRRGX) - Get T. Rowe Price Retirement 2015 Report
T. Rowe Price Retirement 2015,
(TRRBX) - Get T. Rowe Price Retirement 2020 Report
2020 and
(TRRHX) - Get T. Rowe Price Retirement 2025 Report
T. Rowe Price Retirement 2025 as well-diversified and offering some of the largest high-yield allocations available. Those funds have an expense ratio of 0.69%, 0.72% and 0.74%, respectively.
The funds at the backbone of these target date funds are among T. Rowe Price's strongest, Carlson says, and include
(RPMGX) - Get T. Rowe Price Mid-Cap Growth Fd Report
T. Rowe Price Mid-Cap Growth,
(PRGFX) - Get T. Rowe Price Growth Stock Fd Report
T. Rowe Price Growth Stock and
(PRHYX) - Get T. Rowe Price High Yield Fd Report
T. Rowe Price High-Yield. Getting these funds, which are helmed by some of the company's top managers, for relatively affordable fees make them stand out. Additionally, the underlying funds have few holdings in common, so returns aren't diluted by repetition.
Morningstar also points to
(VTXVX) - Get Vanguard Target Retiremt 2015 Inv Report
Vanguard Target Retirement 2015,
(VTWNX) - Get Vanguard Target Retiremt 2020 Inv Report
2020 and
(VTTVX) - Get Vanguard Target Retiremt 2025 Inv Report
2025 as cheaply priced funds made up almost entirely of index funds. They have expense ratios of 0.21%, 0.20% and 0.21%, respectively.
"Target-date funds tend to be broadly diversified, as investors cross a lot of different types of stocks and bonds," says Morningstar's Greg Carlson. "In a lot of funds-of-funds, the underlying funds are actively managed, so you need to take a look at whether that firm tends to do a lot of things well."
TheStreet.com has a revenue-sharing relationship with Amazon.com under which it receives a portion of the revenue from Amazon purchases by customers directed there from TheStreet.com.