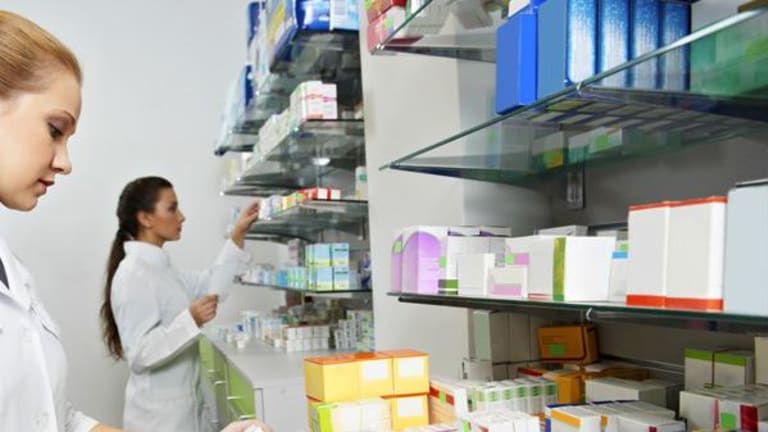 Battered Pharma Stocks Bounce Back, Could Boost Retirement Portfolios
Pharma stocks have bounced back from their prior selloff, but whether they will continue their upward trend under a Donald Trump administration remains unclear.
Pharma stocks have bounced back from their prior selloff, but whether they will continue their upward trend under a Donald Trump administration remains unclear.
Beyond comments of revising the Affordable Care Act, Trump has not provided any details on the direction of health care and insurance in the U.S., said David Twibell, president of Custom Portfolio Group in Englewood, Colo.
Before the election, pharmaceutical and biotech stocks had underperformed against the S&P 500 partly because the stock market feared that a Hillary Clinton victory would lead to price controls on drugs. In the wake of the presidential election, some of the surge in prices is due to investors unwinding short positions or reinitiating positions they had sold over the prior months in this sector, he said.
ETFs and Stocks to Add
Investors who want to increase their allocation in pharma or health care equities in their 401(k), IRA or brokerage accounts, could turn to broad-based sector ETFs such as SPDR S&P Pharmaceuticals (XPH) and iShares Dow Jones U.S. Pharmaceuticals Index (IHE) , which are both good options, said Twibell.
Another strategy is to look at a less direct way to benefit from a resurgence in the pharmaceutical industry by owning the SPDR S&P Biotech (XBI) , which tends to track developments in the drug industry, but also provides access to more dynamic companies than the traditional large cap pharma companies like Pfizer (PFE) , Merck (MRK) and Johnson & Johnson (JNJ) , he said.
Healthcare stocks and ETFs which were severely marked down by Clinton's comments criticizing drug price increases could boost returns of a retirement portfolio. Since her campaign started in August 2015, iShares Nasdaq Biotechnology Index (IBB) has tumbled down by over 35%, said K.C. Ma, a CFA and director of the Roland George investments program at Stetson University in Deland, Fla. PowerShares Dynamic Pharmaceuticals (PJP) has recovered by a 10% gain from its 45% loss while iShares Dow Jones US Pharm Index (IHE) has risen by 16% from a 40% loss.
"There seems to be plenty of upside remaining for these badly beaten pharma ETFs," he said.
Pharma stocks faced the same outcome and United Therapeutics (UTHR) , Acadia Pharmaceuticals (ACAD) , Portola Pharmaceuticals (PTLA) , Alexion Pharmaceuticals (ALXN) , Ultragenyx Pharmaceuticals (RARE) all on average decide by a whopping 30% to 50% and have rebounded by 10% to 20% since November 9.
"Since their business models and number of drugs at different phases have not been changed before and after November 9, it is reasonable to assume that there are still more returns for investors to grab," Ma said.
Trump's reconciliatory tone on the "revising," rather than "repealing" the ACA has helped generate a bounce back for hospital facility industry ETFs such as Vanguard Health Care ETF (VHT) , iShares Dow Jones US Medical Devices (IHI) and iShares Dow Jones US Health Care (IHF) . Prior to the election, these ETFs had spiraled downward by over 20%, but has rebounded by at least 10%, he said.
"The risk premium has been taken out and the uncertainty has been reduced," Ma said.
Hospital facilities stocks, which were on "Trump's hit list, like AmSurg (AMSG) and HCA Holdings (HCA) both suffered from more their more than 40% loss from recent highs, but have already been staging a 20% comeback, he said.
"None of these companies or ETFs have experienced any material changes in fundamentals during this two-year campaign season, let alone on the Election Day," Ma said. "Investors should return to the basics."
Healthcare sectors are a "great long term play" because the majors such as Merck and Pfizer will acquire "promising companies for their product development," said Bill DeShurko, president of 401 Advisor, a registered investment advisor in Centerville, Ohio.
Biotech ETFs such as iShares Nasdaq Biotechnology Index (IBB) and SPDR S&P Pharmaceuticals (XPH) and SPDR S&P Biotech (XBI) belong in every growth investors portfolio, he said.
"Even just a 5% position will pay off in the long run," DeShurko said. "Trump has pretty much said that we will have national health care, but just that his version will be cheaper than Obama's version. While I agree that there is a lot of room to cut costs, it won't be easy. Profit margins will have to be squeezed and it is very hard to determine winners and losers."
Biotech stocks should outperform the healthcare sector under President-elect Trump as he attempts to roll back Obamacare, said Michael Berger, a former Raymond James energy analyst and founder of Technical420, a Miami.-based company that conducts research on cannabis stocks.
"Two of our favorite ETFs levered to the biotech sector are BioShares Biotechnology Clinical Trials Fund (BBC) and BioShares Biotechnology Products Fund (BBP) ," he said. "Due to our bullish view on the biotech sector, we believe these ETFs would be a great addition to an investment portfolio."
A merger and acquisition boom could evolve if tax reform occurs and these companies are allowed to repatriate cash back to the U.S., said Don Shelly, a finance professor at the Cox School of Business at Southern Methodist University in Dallas. If the corporate tax rate is lowered to 15% or 20%, it will incentivize companies to move back to the U.S.
One drawback is that many pharma companies are facing the expiration of patents on key blockbuster drugs during the next four years, which will impact profits as much or more than cuts in reimbursement levels, he said.
While the prospect of widespread deregulation in the pharma and biotech sectors may appear like a promising and a compelling opportunity to buy, over allocating into one sector has many risks, said Mike Loewengart, vice president of investment strategy at E-Trade, a New York-based brokerage firm. Investors should utilize a core satellite approach where a small satellite portion, usually 10% to 40%, is dedicated to the sector.
"The core remains well-diversified and mapped to objectives," Loewengart said.
"Biotech drugs are much more difficult to create, but command much higher prices and has outperformed pharma over the last ten years and especially from 2014 to 2015," Shelly said.
Future of Pharma Stocks
Estimating the future of pharmaceutical stocks is challenging because Trump's plan for the industry "lack much detail beyond repealing Obamacare" and remains an open question, Twibell said. Less regulation and lower corporate tax rates in theory should bode well for pharmaceuticals, but even experts do not know the outcome of repealing and replacing Obamacare.
While a new plan to insure millions of Americans could simply place more market pressure on drug prices even without government-mandated cost controls, new regulations could also "adversely impact things like patent protection and research and development expenditures," he said.
Even if Obamacare is repealed down the road, "it's not a given that Trump will completely back away from the idea of government intervention in drug prices," Twibell said. Just last January he commented that Medicare "could save upwards of $300 billion by aggressively negotiating with pharma companies to lower drug costs."
Pharma appears to be immune from pricing pressure, said Patrick Morris, CEO of New York-based HAGIN Investment Management.
"In any system, other than single payor, there is no chance of negotiated pricing," he said. "The U.S. is the only place in the world that will actually pay full price for drugs with enough population to pay the ultra high development cost of new drugs. It is also reasonable to assume that health care costs are going to keep rising as Americans have become older."