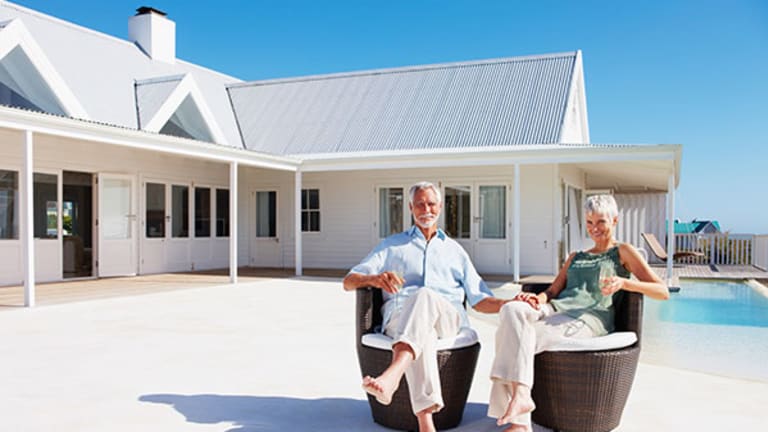 Baby Boomer Housing: Busting 4 Myths about 50+ Homeowners
Downsize? Heck no. A lot of boomers are looking for bigger houses and more amenities.
NEW YORK (MainStreet) — The theory goes, Baby Boomers are on the brink of financial disaster as they approach retirement – looking to downsize from their McMansions and find cheap community living in a warm climate, preferably within walking distance to their Silver Sneakers fitness center. Like the salacious seniors cavorting in the Viagra commercials, most of it is just make believe.
The 50+ crowd does have a large contingent that is financially feeble, but they are either blissfully unaware or painfully procrastinating. A new report by The Demand Institute, a nonprofit think tank operated by The Conference Board and Nielsen, reveals that while Baby Boomers aged 50 to 69 have seen their wealth greatly diminished since the financial crisis, their retirement plans will account for almost one in every four dollars spent on housing within the next five years.
With median assets of less than $250,000 – and half of that tied up in their homes – most analysts believe Boomers are looking to downscale and reduce debt. Yet the Demand Institute research shows nearly two thirds (63%) don't plan to move from their current home. Most (62%) have lived there for more than ten years, and 85% plan on staying there.
In fact, nearly 40% plan on undertaking major home improvement projects in the next three years. Obviously, upgrades to the old homestead to add handrails and access ramps, right? No, Boomers aren't quite that practical. Most say the renovations are being made to increase their home's value or to make repairs. Aging-friendly features are last on the list, in spite of the fact that three-quarters of Boomer households have already suffered a major health incident or have a chronic health condition.
But what about moving to one of those exclusive warm weather "senior communities" where the sea meets Cialis? Only one-in-five favor the "active adult" lifestyle of senior housing. Contrary to popular belief, nearly as many Boomers are upsizing (46%) as are downsizing (54%).
While 22% say their next home will be in a multifamily rental, most (56%) say they plan to buy a single-family home, whether they are looking for a place with more room -- or cutting expenses. And even though "middle age" for these Boomers would mean they would have to live to be about 120 years old, more than half will seek mortgage financing for their next home.
Most 50+ respondents (51%) said that if they do move, it will be within 30 miles of their current location. Two-thirds (67%) will stay in-state. And according to the survey "being close to family" is just as important as looking for a "change in climate" when it comes to planning a move. Apparently playing in the pool with the grandkids is more important than sharing a hot tub with a silver-headed stranger.
--Hal M. Bundrick is a Certified Financial Planner and contributor to MainStreet. Follow him on Twitter: @HalMBundrick