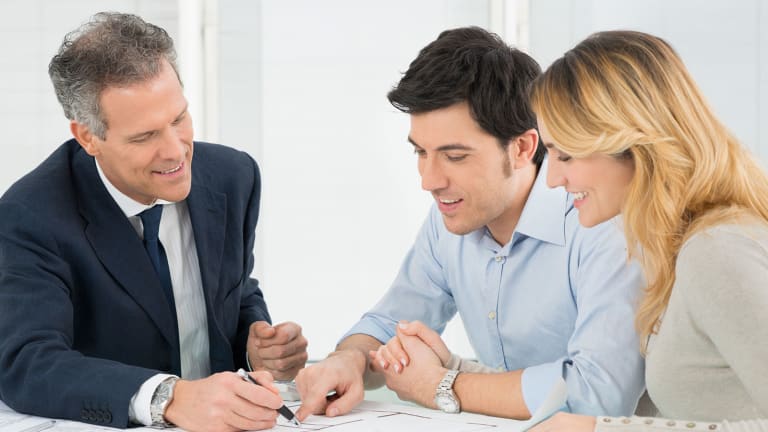 Are Financial Advisers Walled Off From Directly Helping Clients With Their 401(k)s?
It's a gray area, but there are definitely obstacles to financial advisors looking to merge 401(k) planning into their services - and that hurts retirement savers.
Editors' pick: Originally published Oct. 4.
The 401(k) plan retirement system holds $4.8 trillion in assets as of March 2016, on behalf of more than 52 million active participants and millions of former employees and retirees, states the Washington, D.C.-based Investment Company Institute.
Somewhat incredibly, American money managers say they face huge roadblocks in getting access to client 401(k) plans and thus face issues in advising clients on their number-one retirement savings building block.

"A huge chunk of retirement savings - 401(k) plans - is sitting generally unattended, with the people who are saving getting little to no advice on how to invest it and most advisors in no position to give them advice," says Craig Wear, a certified financial planner and founder of Q3 Advisors and Game Plan Advisors, in Houston, Tx

"For a lot of people - maybe most people - an employer-sponsored 401(k) represents their biggest investment," Wear adds. "Yet in most cases, their financial advisor has no access to that money and can't easily and effectively help them manage it."

That's probably one reason many people go years, even decades, without changing their 401(k) investment strategies, and that can lead to underperformance, more investment mistakes, and ultimately less cash saved for retirement, Wear says. He is currently launching a campaign that gives advisors more direct access to their client 401(k) plans.

Wear also notes that financial professionals can't get involved with their clients' 401(k) plans for multiple reasons, with two being paramount:

• Fiduciary role. Federal regulations require that financial professionals who manage a 401(k) must be fiduciaries, but not everyone is in a position to take on the fiduciary role.
• Lack of incentive. Financial advisors usually can't make money off the 401(k), so they have no incentive to take on that added regulatory burden or try to keep tabs on that portion of a client's portfolio.

"Less than 7% of 401(k) participants made changes to their investments last year," says Wear, citing a research report by the Investment Company Institute. "That indicates there's a need for financial advice."

Data from Mass Mutual show that 80% of employers "want their advisor to explain the plan's benefits and options to employees." Another 66% say they want to provide "personalized financial advice for their 401k plan participants."

Other financial industry insiders don't see the 401(k)/advisor access issue the same way, mostly due to legal concerns.

"The truth of the matter is that companies don't want to get involved, because many times the individual or individuals handling the plan have zero idea about the plan," explains Richard E. Reyes, a financial planner with the Wealth & Business Planning Group, LLC, in Maitland, Fla.

"They also don't want to get sued in later years for providing bad advice as they are not licensed to provide advice," Reyes notes. "They then turn it over to the plan provider, but the plan provider has no idea about the individuals needs and can only provide generic information to the investor as it has to do with the plan."

"It's left up to the investor to find help," he adds.

The problem, as Reyes explains it, is an advisor can't get to the plan data directly. "As an advisor, I can only review the plan via the client," he explains. "I can't have access to the plan, because only the individual client can have access. If the client is serious and wants help, they can provide the information on a timely manner. But that's putting barriers on the client and the advisor."
Dan Leonard, a financial advisor with Marathon Retirement Planning in Danville, Calif., says that smaller independent advisors have better access to third-party 401(k) plan managers that give advisors like him the ability to work with clients that have online access to their 401(k) plan.
"I can set up a client with a 401(k) connection, and for $240 a year or 25 basis points, whichever is greater," he says. "The downside is the client has to pay for the service from outside their 401(k). Some clients see the value of having professional
management, while others still think they can do it on their own."
The issue that limits most advisors is the custody of client information, he adds.
"Most firms steer clear of having any login credentials," Leonard says. "Without it, the best advice is usually not applied because clients don't follow through."
Other industry insiders say that financial advisors are reluctant to "chase down" a client's 401(k) plan, since there's really no fee money in providing generalized advice.
"Of course advisors can give clients guidance on 401(k) fund selections, allocations,
and risk tolerance as part of a normal financial plan," notes Jeremy Torgerson, chief executive officer at nVest Advisors, LLC, in Brownsville, Texas. "A client's
401(k) has to be taken into account when you are constructing a retirement
savings strategy, and if you plan on working with the client for a long
time, you need to keep up on their other outside assets."
"I can't even imagine sitting down with a client and telling them I'm going to shepherd
them toward their retirement goals, but be oblivious to what they have
invested for those goals elsewhere," he adds.
Torgerson also cites the recent U.S. Department of Labor Rule, which alters the playing field for non fee-only financial advisors. "Advisors are increasingly more nervous to give guidance on these accounts, because of the higher fiduciary standard," he says. "I've heard it said more than once. Why would advisor risk assuming any fiduciary responsibility over funds they can't be paid to manage?"
The downside is that retirement savers may not be getting the best, and most fully-informed advice on their 401(k)s from money managers, who have trouble getting to the plan data they need.
With almost $5 trillion in 401(k) plan assets on the table, you'd think that U.S. government regulatory agencies, along with the financial services industry, could do much better than that.
But if you did think that, you're probably wrong - and your 401(k) plan may underperform, as a result.