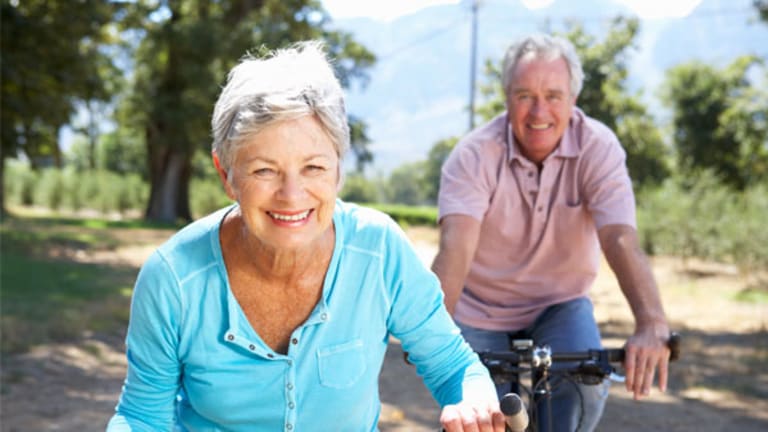 Americans Saving More for Retirement Health Costs
The rising cost of medical expenses has some recalculating their retirement savings.
BOSTON (TheStreet) -- Managing health care expenses is an increasing concern for preretirees and retirees alike.
First Command Financial Services, the parent company of First Command Bank, released research this week suggesting that middle-class Americans are bumping up their monthly retirement savings to cover future health care costs. Its numbers show that average monthly savings solely for health care costs during retirement climbed to $245 in July, up 42% from $173 a year ago. One in five Americans who save for health care costs in retirement are setting aside nearly $300 per month toward this future expense, compared with 14% last year.
The statistics are culled from a monthly survey of 1,000 U.S. residents between the age of 25 and 70 with annual household incomes of at least $50,000.
"More than two-thirds of middle-class families are concerned about how they will pay for medical care during retirement, and they are starting to take action," Scott Spiker, CEO of First Command Financial Services, said in a statement. "Three out of 10 consumers say that their current retirement planning includes saving for health care costs in retirement, separate from typical daily living expenses."
Research released earlier this year by the Center for Retirement Research at Boston College found that, at age 65, a typical married couple, free of chronic disease, can expect to spend $197,000 on health care for the rest of their lives. Including nursing home care, the mean cost is $260,000, with a 5% probability of costs exceeding $570,000.
In March, a study by Fidelity Investments offered a more worrisome projection. It purports that a 65-year-old couple retiring this year may need more than $250,000 to pay for medical expenses, not including nursing-home care. That total is up 4.2% from a similar Fidelity survey last year and an increase of 56% since 2002.
The Fidelity study found that health care costs average $535 a month, or one-fifth of an average retired couple's total monthly expenses of $2,842. The estimates apply to those who lack employer-provided coverage, but qualify for Medicare. More than half (51%) of the respondents said they are paying out-of-pocket for health care costs not covered by Medicare and 45% have bought supplemental insurance to cover that gap.
Even though much of the recent health care reform package is focused on those under 65, retirees may benefit from the closing of the so-called "doughnut hole" gap in Medicare Part D coverage. Seniors caught between the limit of their current drug coverage and the government's "catastrophic coverage threshold" can be stuck paying thousands of dollars out of pocket. The gap, under the reform package, would be eliminated by 2020, when seniors would be responsible for 25% of the cost of their medications until catastrophic coverage kicks in.
—For the best rates on loans, bank accounts and credit cards, enter your ZIP code at BankingMyWay.com.