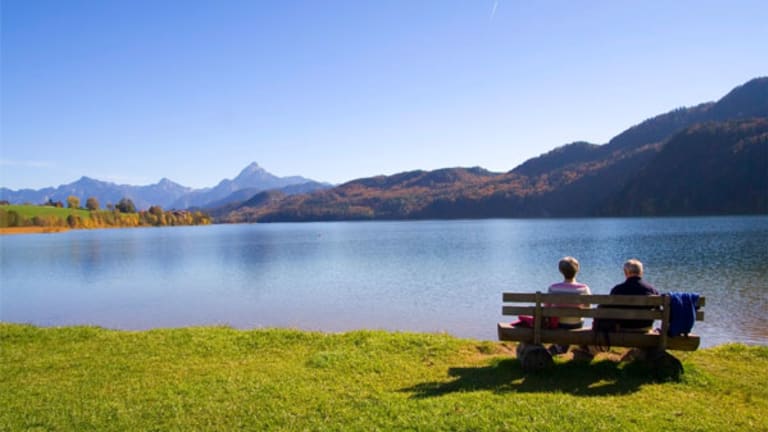 Americans Put Retirement Plans on Autopilot
Automatic retirement-plan enrollment is getting more popular in the U.S., with higher participation rates adding about $8 billion a year.
BOSTON (
) -- Automatic enrollment in 401(k) plans, touted by President Barack Obama as a way to increase retirement savings, is gaining in popularity, even as the stock-market crash wiped out more than $1 trillion in retirement accounts, two studies show.
Automatic enrollment isn't new, but its use has risen dramatically since the federal Pension Protection Act of 2006 encouraged adoption of automatic 401(k)'s and provided legal clarification on existing state laws.
Automatic enrollment enables companies to provide employees a 401(k) plan with an "opt out" alternative. Traditional plans require employees to "opt in."
Automatic enrollment could boost 401(k) participation rates from a national average of about 75% of eligible employees to as much as 95%, according to the Retirement Security Project, an advocacy group partnered with Georgetown University and the Brookings Institute. Nationwide, about 75 million workers don't have access to an employer-sponsored 401(k), according to the organization, which estimates that automatic-retirement plans could boost U.S. savings by as much as $8 billion a year.
The increase in savings would be a boon for asset managers like
T. Rowe Price
(TROW) - Get T. Rowe Price Group Report
,
Legg Mason
(LM) - Get Legg Mason, Inc. Report
,
Fidelity
and
Vanguard
. At the end of last year, Americans held about $14 trillion in retirement assets, $3.5 trillion of which was from employer-sponsored direct-contribution plans, which tend to be managed by the largest investment firms.
On Monday, the Profit Sharing/401k Council of America released its 52nd annual Survey of Profit Sharing and 401(k) Plans. It found that, following a big increase in 2007, the rate of addition of automatic enrollment had slowed. Nearly 40% of all plans and more than half of large companies offered automatic-enrollment plans last year.
The study used 2008 data culled from 908 plans, representing 7.4 million participants and more than $600 billion in plan assets.
That trend was seen in a survey by global consulting firm Watson Wyatt. That survey, which used data from this year, found that almost 47% of companies now automatically enroll employees. A third of those that don't are considering it. Watson Wyatt's survey polled 149 large companies, representing more than 2 million employees.
Automatic enrollment "will be standard practice, but won't be universal," PSCA President David Wray says, noting that smaller companies tend to have higher participation rates because employees aren't spread across different regions or units.
Despite such high-profile companies as
Starbucks
(SBUX) - Get Starbucks Corporation Report
,
FedEx
(FDX) - Get FedEx Corporation Report
and
J. Crew
( JCG) suspending their employee matches in recent months, only 1% of respondents indicated they did so.
According to Watson Wyatt, 82.7% of eligible employees have balances in their 401(k) plans, up from 81.9% in 2007. Almost 40% of plans permit Roth 401(k) contributions, up from 30.3% in 2007. The availability and use of target-date funds also continued to grow, with 57.7% of plans now offering them. A total of 91.6% of companies that offer target-date funds use a packaged product.
-- Reported by Joe Mont in Boston.