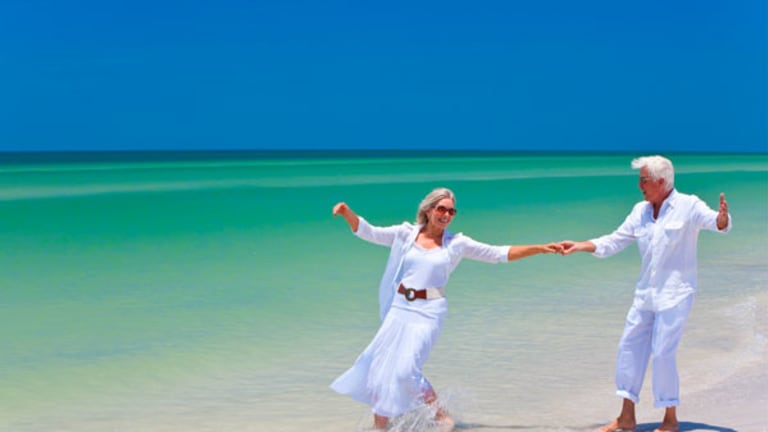 Americans More Optimistic About Retirement
Fewer say they will have to work longer as they adjust their portfolios and the stock market rebounds.
BOSTON (TheStreet) -- Fewer Americans think they will have to postpone retirement as the stock market rebounds, boosting retirement plans. Still, more are skeptical they will ever collect Social Security, a Schwab (SCHWB) survey says.
In the middle of the recession in 2009, the deepest in 80 years, 35% of those polled by Schwab said they'd be forced to put off retirement when the time came. Last month, that share fell to 27%, a "significant" drop, says Stacy Hammond, Schwab's director of Real Life Retirement Services.
The findings show that an increasing number of people who are on the verge of retirement are once again choosing when to make that move based on their age, not on their financial situation.
"A lot has to do with market conditions, but it is also that people have had time to settle into a revised plan over the course of the past year," Hammond says. The stock-market crash "forced folks to think about what their risk tolerance really is and how close they really are to retirement. Now these folks are feeling a little more confident as they approach that date."
A somewhat surprising finding was that fewer Americans of all ages think they can count on Social Security benefits.
Fifty-five percent of 50- to 60-year-olds are counting on Social Security to supplement their retirement savings versus 37% of all Americans. Some 26% of 50- to 60-year olds aren't counting on Social Security at all to be a source of income in retirement compared with 46% of Americans.
Hammond said the views on Social Security reflect a need for control when it comes to financial planning.
"When you choose to retire is, in theory, one of the things you can control," she says. "You can't control what happens in the market and, in the midst of the financial meltdown, folks were feeling really out of control. Even if they didn't need to, we saw that our clients would impose a certain amount of rigor to what they were spending because it gave them a stronger sense of confidence."
--Written by Joe Mont in Boston.
>To contact the writer of this article, click here:
Joe Mont
.
>To follow the writer on Twitter, go to
.
>To submit a news tip, send an email to:
.
RELATED STORIES:
>>Retirement Age Boost Part of Deficit Plan
>>Recession's Toll Still Felt on 401(k) Savings
Get more stock ideas and investing advice on our sister site,