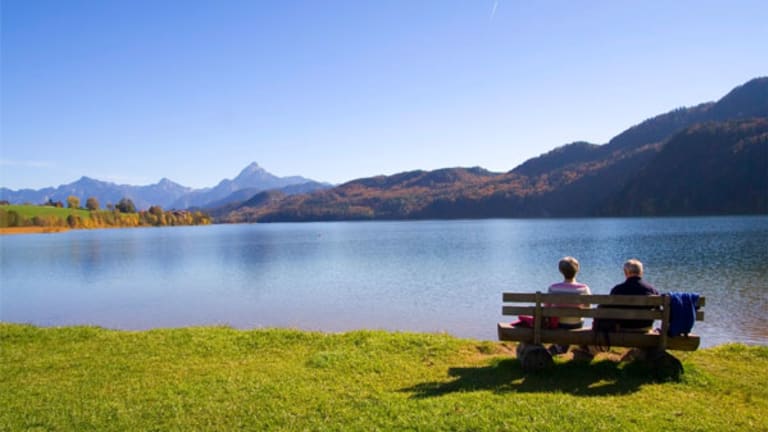 5 Agriculture Stocks That Analysts Love
Scotts Miracle-Gro and Yongye, like their larger rivals, are benefiting from a growing demand for food.
BOSTON (TheStreet) -- The agricultural products and services industry is going to do nothing but grow in coming years as a wealthier world drives up food costs.
World food prices rose to a record in January, according to the U.N.'s Food and Agriculture Organization and its Food Price Index. The index, which measures the cost of a basket of basic food supplies -- sugar, cereals, dairy, oils and fats, and meat - jumped 3.4%, the seventh monthly increase in a row. It's now at its highest level since records began in 1990.
Adding to the potential volatility in commodities prices has been weather disasters. For example, widespread flooding in Australia decimated much of that nation's wheat crops. Buyers from Asia must now tap other markets to meet demand, further driving up prices.
Much of the growth in global nutrient use has come from developing countries in Asia and Latin America, as those regions' rising populations and income levels boost the demand for grains and meat, products that hadn't traditionally been part of their diets.
So finding an international play on the sector, which includes more than 40 companies, is worth considering, although returns have been lackluster of late. Shares in the agricultural inputs sector is down 12.5% this year. The
S&P 500 Index
has risen 5.9%.
Monsanto
(MON)
is a leader in the "agricultural inputs" sector, which includes producers and sellers of seeds, biotechnology traits, fertilizers and herbicides.
But it's not the only player to look at when considering an investment.
There are a host of other companies with excellent prospects, ranging from fertilizer makers to seed suppliers to conglomerates serving the world's corporate farmers in one form or another.
Here are
:
Monsanto's head-on competitor is the giant conglomerate
E. I. du Pont de Nemours
(DD) - Get Report
.
Although the agricultural unit is but a portion of its business, DuPont is growing it rapidly.
"The competition with Monsanto is likely to be fierce," wrote Morningstar analyst Min Tang-Varner in a Jan. 26 research note. In 2010, DuPont "successfully increased its North American corn and soybean market shares, thanks to its excellent marketing and distribution channels, as well as mishaps (that set back product launches by) Monsanto's SmartStax and Roundup Ready 2 Yield. But Monsanto remains a formidable opponent, in our opinion, and the outcome of this competition is far from certain."
Du Pont is aggressively developing its agriculture and nutrition segment, which includes the development and marketing of crop protection chemicals such as insecticide, herbicide and fungicide.
"DuPont leveraged its knowledge of corn and soybeans and actively developed genetically modified seed technologies" after a 1999 merger with Pioneer, a leader in that field, Tang-Varner said, and it is developing genetically modified seeds. "We expect this segment to account for the lion's share of future growth for the company in both North America and emerging markets.
Du Pont is going strong. It recently reported 2010 earnings of $3.28 per share, up 62% from a challenging year in 2009.
Morningstar has a $42 price target on it, equal to 12 times its 2010 earnings per share. It pays a 2.99% dividend yield.
Its shares are up 9% this year and 66% over the past year. The company has a market value of $50 billion.
Analysts give it nine "buy," ratings, one "outperform" and five "holds."
Syngenta
(SYT)
is a Swiss agribusiness company engaged in the development and sale of a range of products designed to enhance crop yields and food quality worldwide. It operates in three segments: crop protection, seeds and business development.
The company was formed in 2000 from spinoffs of
Novartis'
(NVS) - Get Report
crop protection and seed business and
AstraZeneca's
(AZN) - Get Report
agrochemicals business. It is a formidable international competitor that is investing heavily in research and development of genetically modified seeds.
Zacks Investment Research says the company ranks first in crop protection, and third in the high-value commercial seeds market. Zacks price target is $68.60. Its shares are currently trading at $67.30.
Morningstar analyst Jeffrey Stafford says Syngenta recently released yield data that show that its stacked corn seeds are competitive with similar products from DeKalb (Monsanto) and Pioneer (DuPont). The company has a strong foothold in many emerging regions, including South America and Asia.
"With competitors concentrating on corn and soybeans, Syngenta has gained a solid position in the vegetable seeds market," he writes. "The company expects this segment to grow as emerging regions demand more high-value vegetables in their diets."
Its shares are up 12% this year and 29% over the past year, contributing to its market value of $32 billion.
Analysts give the company 10 "buy" ratings, three "outperform," 10 "hold" and one "sell."
Mosaic
(MOS) - Get Report
, with a market value of $37 billion, is the world's No. 1 producer of phosphate, with about a 13% share of global production and the second-largest North American producer of potash.
Phosphate and potash are two of the three primary crop nutrients. Mosaic owns phosphate rock mines in Florida and potash mines in Canada, giving it a reliable base of supply for years to come.
Analysts said tighter inventories would help producers push through price increases in overseas markets, and that there is a shortage of the stuff setting up as farmers get ready for spring planting season.
Morningstar analyst Jeffrey Stafford wrote in a Jan. 19 research note that "crop supply and demand balances point to a robust 2011 for fertilizer pricing and demand. However, the long-term dynamics are not quite as clear.
"While the need to feed a growing population will lead to increased demand for crop inputs, fertilizer prices will depend on the amount of additional capacity that is brought on line over the next decade," he said.
Mosaic, of Plymouth, Minn., has seen its shares rise to a recent 52-week high in the past few weeks. They're up 11% this year and 45% over the past 12 months.
Morningstar says its review of analysts' ratings finds five "buys," one "outperform," 11 "hold" and one "underperform" rating.
While mostly commercial products have been listed so far, another company in the agricultural products sector worth noting is
Scotts Miracle-Gro
(SMG) - Get Report
.
Most people know it for its folksy TV ads where a spokesman praises the results of its products in the raising of flowers in a backyard garden.
But it has a wide range of products including plant nutrients and pesticides used to grow and maintain lawns, gardens and golf courses and in the professional turf and horticulture markets.
Its brand names are: Scotts, Miracle-Gro, Ortho and Roundup. Its products are carried by large retail chains throughout North America and Europe. It also owns Scotts Lawn Service is one of the largest lawn-care providers in North America.
For fiscal 2011, analysts estimate the company will earn $3.64 per share and that will grow by 13% to $4.13 per share in 2012.
Standard & Poor's gives it a "buy" rating and four out of five stars. It gives it a 12-month $59 price target. Shares are currently trading around $55.
S&P's review of analysts' ratings finds four "buys," five "buy/holds" and four "holds."
Scotts Miracle-Gro shares are up 11% this year and 46% over the past 12 months, giving it a $3.7 billion market value. It has a 1.78% dividend yield. Institutional investors own about 30% of its shares.
For those who may want a small-cap stock in this sector, China's
Yongye International
(YONG)
may be worth considering.
Yongye is a small fulvic-acid fertilizer producer with about $100 million in revenue in 2009.
The company is growing rapidly, feeding the soaring demand generated by new Chinese agriculture initiatives and new applications for its products.
Although created by the reverse-merger process, a Morningstar analyst says she investigated the company and gives it a four-star rating out of the firm's five-star scale.
The analyst, Min Tang-Varner, writes that "we expect Yongye to experience outsized growth for the next few years. Its revenue comes from two fulvic acid-based product lines: a general plant food line accounting for more than 90% of revenue and a dairy cow feed additive line accounting for less than 10% of revenue.
"With the new expansion, Yongye hopes to venture into grain-producing regions such as central and southern China while heavily promoting its animal feed product," she writes. "Vertical integration into lignite coal also offers better cost control over the long run. However, Yongye's business profile is risky."
Although it only has a market value of $353 million, Yongye has a lot of Wall Street interest as indicated by its 26% institutional investors' ownership. The largest investor is Knight Bridge Group at 6%. Vanguard holds 2.5% and Keane Capital, 1.6%.
Thomson Reuters says its review of analysts' ratings finds one "strong buy," three "buys," and one "hold." Those same analysts give it a 12-month price target of $14.70, about double its current price.
>To see these stocks in action, visit the
5 Agriculture Stocks That Analysts Love
portfolio on Stockpickr.
Readers Also Like:
5 Top-Ranked Gold Stocks for Year Ahead
5 Brand-Power Stocks With Upside of 52%
Disclosure: TheStreet's editorial policy prohibits staff editors and reporters from holding positions in any individual stocks.