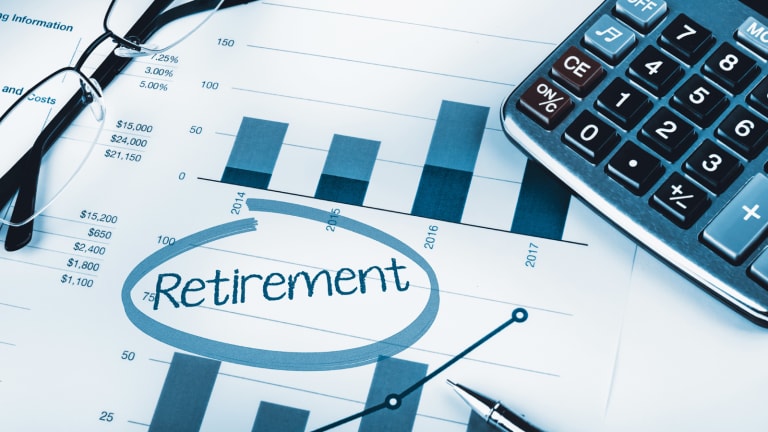 What Is a Profit Sharing Plan and How Does It Work?
Profit sharing plans are a way for employers to help employees save for retirement, but it isn't necessarily based on company profits.
A profit-sharing plan is a type of defined-contribution plan that companies can offer to aid the retirement savings efforts of their employees. Profit-sharing contributions are only made by the employer. 
What Is a Profit Sharing Plan? 
A profit-sharing plan is a type of defined contribution retirement plan. Employers can make discretionary contributions to the account of each employee on an annual basis. The amount contributed is generally a percentage of the employee's compensation. Discretionary means that the amount can vary year to year, the employer can also forgo contributions in a particular year as well. This might happen if the financial results of the company were below expectations for that year. 
Note that the term profit sharing is a bit of a misnomer. Profit-sharing contributions are not limited by or do not have to be based upon the company's profits. 
Employer contributions to a profit-sharing plan are deductible as a business expense. 
How Does a Profit Sharing Plan Work?
Unlike a 401(k) plan, all profit-sharing contributions are made by the employer. The employer can decide each year how much to contribute to the plan or to forgo contributing for that year. 
A profit-sharing plan is often combined with other types of retirement plans. A 401(k) plan with a profit-sharing component is quite common. Often the investment accounts for the employees contain both their own 401(k) contributions and employer profit-sharing contributions. The investment lineups are also generally the same. 
The plan will have a predetermined formula governing how the contributions are allocated to the company's employees. Some options include: 
Contribute the same percentage of compensation for each eligible participant. For example, if the decision is to contribute 3% of compensation for each employee, then the employee earning $50,000 will receive a contribution of $1,500, the employee earning $100,000 will receive a contribution of $3,000 to their account.
Contribute a flat dollar amount to the account of each eligible participant. If the company decides to contribute a flat $2,000 for each eligible participant, then that would be the amount everyone receives regardless of the level of their compensation. 
Both of the above options are considered to be safe-harbor options under the IRS nondiscrimination rules. These rules prohibit plans from favoring certain participants over others in determining how much to contribute. There is one other safe-harbor formula that integrates the contributions into the employee's Social Security wage base. 
In some cases, business owners may want to skew the profit-sharing contributions more toward their account. Two common plan designs accomplish this, neither is considered a safe harbor option: 
An age-weighted plan considers the relative age of the participants and the owner of the company. Contributions are then skewed accordingly to the owner.
New comparability plans group participants into categories and again skew the allocations toward the owner. 
Both of these types of plan designs are generally associated with smaller company plans. 
Profit Sharing Plan Contribution Limits
For 2019, the limits on profit-sharing contributions are as follows: 
Employers can deduct contributions to employee accounts for up to 25% of total employee compensation.
Total contributions on a per-employee basis may not exceed 100% of that employee's total compensation for the year. This includes a combination of employee salary deferral contributions to their 401(k) and employer profit-sharing contributions.
The dollar amount that can be contributed for each employee is limited to $56,000 combined for employee and employer contributions in 2019, with an extra $6,000 contribution allowed for those employees who are 50 or older at any point during the year.
The amount of per-employee compensation that can be considered in the calculation is limited to $280,000 for 2019. 
Note these limits can and do change over time. 
What Are the Pros and Cons of a Profit Sharing Plan?
Pros:
For the employer, the contributions are discretionary each year, they can even skip a year if need be.
The contributions are deductible as a business expense for the employer.
There are plan design options that small business owners can use to direct a greater percentage of the company's contributions towards them in some cases.
For employees, the annual contributions can serve as an addition to their retirement savings contributions.
For those who are self-employed and who contribute to their own solo 401(k), the annual profit-sharing limits offer an additional avenue they can use to save for their retirement and also are a deductible business expense for them. 
Cons:
Employees are not guaranteed to receive a profit-sharing contribution each year. That said, many employers try to contribute to these plans annually.
Employees may be subject to vesting in determining whether or not they "own" all of the employer contributions. Those come into play if they leave the company before the full vesting period. If vesting occurs over five years and the employee leaves after three years, then they may forfeit some of their profit-sharing contributions.
Adding a profit-sharing component to a 401(k) plan may increase the employer's cost of administration for the plan as a whole. 
Profit Sharing Plan vs. 401(k) - Key Differences
Both 401(k) plans and profit-sharing plans are defined contribution plans, meaning that the ultimate amount that the participant will accumulate in the plan is determined based on the amount contributed and the performance of the investments made within the plan. 
Profit-sharing contributions consist only of employer contributions. Contributions to a 401(k) plan are primarily made by the employees through salary deferrals each pay period. Employer contributions may also be made if the employer offers a 401(k) match. 
Employee contributions to their 401(k) plan are always 100% theirs. They can be rolled over or withdrawn at the employee's discretion when they leave the company. Any employer contributions made via the profit-sharing plan (and any 401(k) matching contributions) can be subject to a vesting schedule. Unvested dollars are forfeited by the employee when they leave the company.