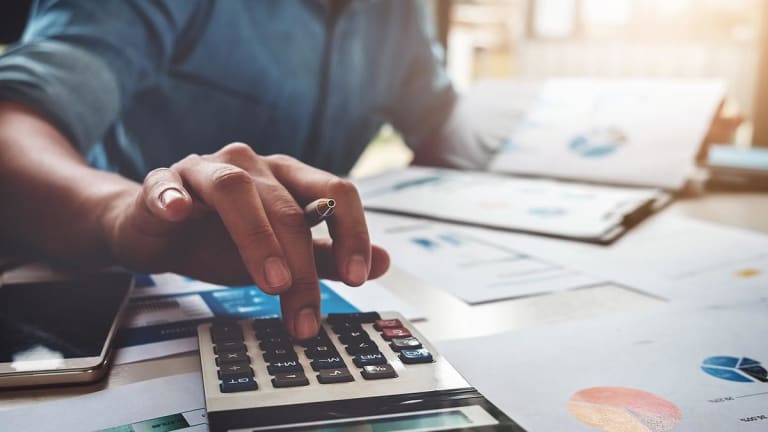 Future of Retirement: Many Americans Will Run Out of Money
Experts weigh in on practical solutions to the future shortfalls in Americans' retirement savings.
The future of retirement is, in a word, bleak.
Currently, only 58% of households between the ages of 35 and 64 are predicted to not run short of money in retirement, according to Jack VanDerhei, Research Director of the Employee Benefit Research Institute, and one of 16 experts who spoke at TheStreet's Retirement, Taxes, and Income Strategies symposium held recently in New York.
Or put another way: Roughly four in every 10 households between the ages of 35 and 64 (call it 27 million households) are predicted to run short of money in retirement, according to EBRI's research.
According to VanDerhei, EBRI's research finds that the aggregate retirement deficit American households in this age cohort face, taking into account current Social Security retirement benefits, is currently estimated to be $3.83 trillion. "That's how far short we're going to run," he said during the panel discussion titled "Future of Retirement: Predictions and Perspectives." "And, that assumes, the current Social Security benefits are going to be paid out. As we all know within 15 years, the trust fund is supposed to go down to zero. It's supposed to get a 23 to 24% reduction in Social Security benefits. If that would happen, the deficits go up."
When pro-rata reductions to Social Security retirement benefits are assumed to begin in 2034, the aggregate retirement deficit increases by 6% to $4.06 trillion.
When looked at on an individual basis, EBRI's research reveals that the average retirement savings shortfall for those ages 60 to 64 ranges from $12,640 per individual for widowers to $15,782 for widows. It increases to $24,905 for single males and $62,127 for single females.
So, what does all this mean for Americans?
Something is going to change. "I'm not sure what it is, but you can't have a situation like we have today, where there are so many uncovered, and even if they are covered, they're going to have massive deficits at retirement," he says.
VanDerhei offered up four predictions for the future of retirement.
First, there will be something done to deal with the coverage problem -- the problem that too many people don't have access to an employer-sponsored retirement plan. "Depending on who you believe, someplace between 50 and 80%, whether your part-time or full-time, are going to have coverage in any particular period," he says.
Given that, and given that Richard Neal (D-Mass.) is now the chairman of the House Ways and Means Committee, the bill he sponsored last year, the Automatic Retirement Plan Act (ARPA), "is going to come back and play, no doubt very quickly." ARPA would require businesses with at least 10 employees to have a workplace retirement plan with automatic enrollment, which not unlike a law in the U.K. (Beginning in 2001, the U.K. required all employers with five or more employees to offer a retirement savings plan. Read Retirement Savings Lessons from the United Kingdom.)
"(ARPA) would say all employers, with perhaps some size exemptions, are going to have to offer some type of automatic retirement plan," says VanDerhei. "So now suddenly, we have a situation, they might turn out to be auto IRAs, much like the states are doing, for example, Oregon, but basically, that will get at the coverage problem, at least partly."
VanDerhei also predicts the issue of "leakage" will be addressed. According to EBRI, a recurring issue with defined contribution (DC) savings plans such as the 401(k) is the risk of "leakage"-preretirement reductions in plan savings by workers, either through loans, hardship withdrawals, or payouts at job change. Read Reducing Retirement Savings Leakage.
"I'm sure many of you are aware of people who had pretty decent account balances, they changed jobs, and what did they do?" he asked. "They didn't roll it over, they didn't leave with their current plan, they didn't take it to their new employer, they just cashed it out."
He predicts that "auto portability" will become part of the retirement landscape. "Where there's some kind of a clearinghouse, and basically what happens when you change jobs, is that the default, is that the money goes into a clearinghouse and tries to match you up with a future employer who is also going to be sponsoring a retirement plan," he says. "So, instead of having a bunch of little account balances, which are highly susceptible to being cashed out, you know have it rolled over until you have one big 401(k) balance with your next employer."
VanDerhei also predicted that plans will be put in place to help families deal with long-term care expenses. The single most important factor that takes families that look like they're going to be OK at 65, and they still end up running short of money at retirement, is the long-term care expenses," he says. "Something is going to have to happen, whether it's some kind of catastrophic long-term coverage, whether the federal government has to get involved through a reinsurance program, I can't tell you. But basically, that is still too much of a risk, and we can't continue with a public policy where we find so many of our retirees, and retirees who saved like they were supposed to have saved before retirement age, end up running completely short of money because of long-term care."
And the final prediction? People have to realize that 65 is no longer the magic number. "They have to start learning that they're going to need to defer retirement age if they're going to have any chance of having a successful retirement," he says.