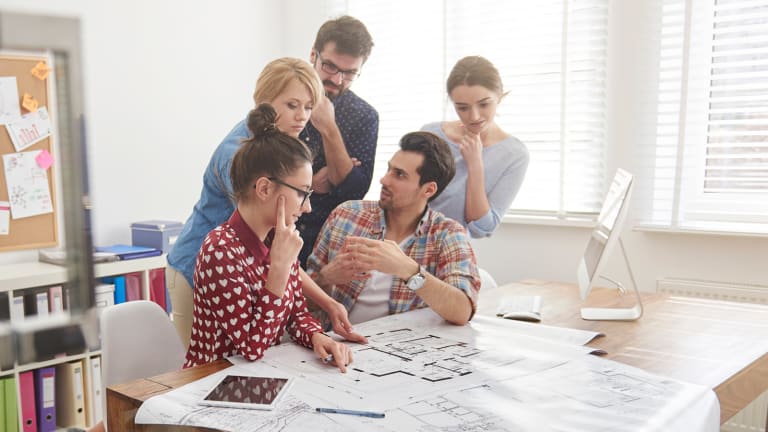 Many recent college grads are working for companies that offer a 401(k). But just as many don't work for a company that offers any employer-sponsored retirement plan.
And that means if you are a younger worker, you need to start saving for retirement on your own.
That can be done using a traditional IRA, a Roth IRA, and/or taxable account or a combination of all three. In general, however, experts say adults entering the workforce use a Roth IRA for retirement, but over time they should consider using all three types of accounts.
The Roth IRA is like a traditional IRA in one respect: The money in your Roth IRA (including earnings and gains) grows tax-free. But the Roth IRA differs from a traditional IRA in two ways:
With a Roth IRA, you contribute after-tax dollars into the account; Roth IRA contributions aren't deductible. By contrast, you may be able to claim a deduction on your individual federal income tax return for the amount you contributed to your traditional IRA.
With a Roth IRA, if you satisfy the requirements, qualified distributions are tax-free. By contrast, distributions are from a traditional IRA are taxed as ordinary income.
Why the Roth IRA? In general, it's a matter of taxes. Typically, it's a good idea to use a Roth IRA when you're in a low tax bracket and expect to withdraw money from that account when you're in a higher tax bracket. By contrast, you might do the opposite -- save using a traditional IRA -- if you're in a high tax bracket now and expect to be in a lower tax bracket in retirement.
What Are the Best Funds to Start With?
What fund or funds might you consider using if you're just starting out?
We asked experts to share their picks.
Todd Rosenbluth, the director of ETF and Mutual Fund Research at CFRA recommends the Fidelity 500 Index fund -- Investor Class undefined . The gross expense ratio 0.09% and the minimum to invest is $2,500. "It's based on the S&P 500 index which has consistently done better than most active equity funds," says Rosenbluth.
Jim Lowell, the chief investment officer of Adviser Investments and the editor-in-chief of the Fidelity Investor and Fidelity Sector Investor newsletters recommends the Fidelity Low-Priced Stock fund (FLPSX) - Get Fidelity Low-Priced Stock Report .
According to Lowell, the fund's manager, Joel Tillinghast, created and launched this unique approach back in 1989 -- delivering three times his benchmark in terms of total return -- and always with less risk and more global orientation. "Joel is typically early in times of duress but also among the first to market bubble party," says Lowell. "Joel and this fund have seen a lot of different investment environments -- both at home and globally."
Lowell also notes that Tillinghast has always run FLPSX as truly global fund; established foreign market investments make up 34% of his holdings. "He's also always focused on real things consumers are buying rather than pipe dreams that might drive buyers to them," says Lowell.
Top sectors: consumer discretionary (26%), information technology (19%), and financials (12%). Top holdings include UnitedHealth Group (UNH) - Get UnitedHealth Group Incorporated Report , Seagate Technology (STX) - Get Seagate Technology PLC Report , Ross Stores (ROST) - Get Ross Stores, Inc. Report , Best Buy (BBY) - Get Best Buy Co., Inc. Report , and Next (NXGPF) .
Daniel Wiener, the chairman of Adviser Investments and co-editor of The Independent Adviser for Vanguard Investors, recommend younger investors buy PRIMECAP Odyssey Growth (POGRX) - Get PRIMECAP Odyssey Growth Fund Report and "just keep adding money to it as often as they can -- within the guidelines for IRAs of course."
Why this fund? Wiener offers the following reasons: growth at a reasonable price strategy; focus on healthcare and technology -- two sectors that he believes have the best potential for long-term growth; not focused on income so for a taxable account it's tax efficient; team of managers means if any one manager is hit by a bus it doesn't blow up the thesis; all managers have at least $500,000 and most have more than $1 million of their own money in the fund; long-term focus-stick to their knitting; and, oh yeah, and performance by this team has been outstanding.
The fund's average total return has been 13.27% per year over the past 10 years. By contrast, the S&P 500 has risen, on average, 9.49% per year.
"Our advice would be to invest in an age-appropriate target-date fund," says Grant Verhaeghe, a senior director with Captrust Financial Advisors. "Initially, we would lean towards controlling cost through a passively-focused fund. We would also recommend that (young workers) then reevaluate as assets grow and they can better understand the nuances of each target date series -- such as active vs. passive, use of additional diversifying asset classes, and how aggressive/conservative the glidepath is."
Note, for instance, that target-date funds (TDFs) change their asset allocation and risk posture over time based on a target retirement date.
David Cohne of Cohne Investment Group is also among those who are fond of TDFs, specifically the Fidelity Freedom Index 2060 fund, which has a minimum initial investment of $2,500. "Many mutual funds have that minimum, so it will be hard for (20-somethings) to perform asset allocation using multiple funds until their portfolio grows a little bigger," he says.
Other advisers also recommend target-date and target-risks funds. "Perhaps the best option for (young workers) would be to invest their contributions in a life-cycle or similar life-stage or target risk fund," says Louis Conrad II, president of Compass Wealth Management. "Such funds are really a fund of funds, investing in multiple areas of the equity and fixed income markets to provide a diversified all-in-one fund."
A couple of the better options according to Conrad:
Rowe Price Personal Strategy Growth . This fund offers a current targeted asset allocation of roughly 77% equities and 23% bonds/cash/other. About 38% is foreign. As the reader grows older, they may want to switch to a slightly more conservative version, such as T. Rowe Price Personal Strategy Balanced .
Rowe Price Retirement 2060 . This fund automatically reallocates its asset allocation over time to become more conservative as the investor grows older. With such a fund, no rebalancing is needed, and this one fund may be able to meet the needs of an investor throughout their life.
Vanguard LifeStrategy Growth Investor (VASGX) - Get Vanguard LifeStrategy Growth Inv Report . Similar to the T. Rowe Price Personal Strategy Growth, the Vanguard offering has 78% current allocation to stocks and 22% bonds/cash/other. About 39% is foreign.
Conrad is also fond of the Vanguard Target Retirement 2060 (VTTSX) - Get Vanguard Target Retiremt 2060 Inv Report . Similar to T. Rowe Price Retirement 2060, Conrad says this Vanguard fund automatically adjusts its allocation over time in order to match the declining investment time horizon of the investor.
Of note, the fund families most notable for lower cost index-based TDFs are Vanguard and Blackrock, the latter of which offers the LifePath Index 2060 Fund.
Meanwhile, Christine Benz, the director of personal finance at Morningstar, referred us to an article about starter funds from Morningstar.com. Benz, for her part, finds "Schwab so easy to recommend for people just starting out because the index funds don't have any minimums, and they're very low-cost too."
Consider: Schwab Total Stock Market Index (SWTSX) - Get Schwab Total Stock Market Index Report (Initial investment: none; expense ratio: 0.03%) and Schwab US Broad Market ETF (SCHB) - Get Schwab U.S. Broad Market ETF Report (No minimum; expense ratio: 0.03%).
It's never too early -- or too late -- to begin planning and saving for retirement. To build the retirement plan for the future you deserve, check out TheStreet's new premium newsletter from Robert Powell, Retirement Daily. Have questions about money, retirement and/or investments? Email directly at Robert.Powell@TheStreet.com.