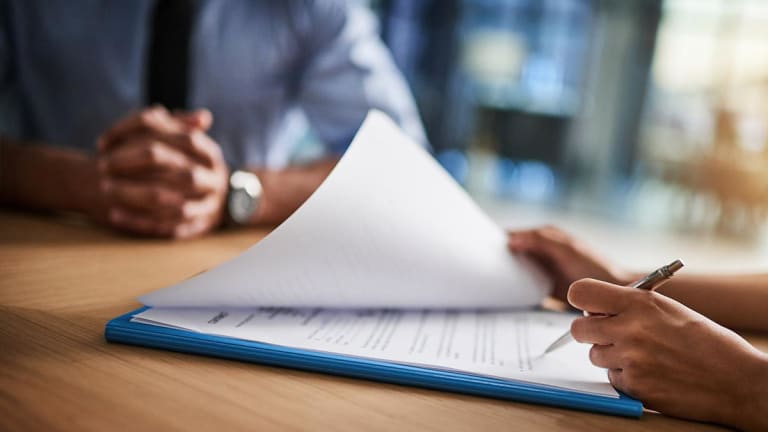 Avoid These Big Mistakes in Your Retirement Planning
Retirement experts say failure to invest enough and not judging your spending are two of the biggest pitfalls.
All too often, people want to think about retirement as a gauzy nirvana off in the future. So when it arrives, they may be unprepared or make big mistakes at the outset.
How to avoid typical retirement errors was the subject of a panel discussion at TheStreet's Retirement, Taxes & Income Strategies Symposium, held recently in New York. One solid piece of obvious but little-followed advice: Doing a lot of the planning before retiring is wise.
Waiting carries powerful risks, as Robert Powell, the panel's moderator and editor of TheStreet's Retirement Daily put it: "As you age, your cognitive decline is occurring, but your confidence in your decision-making rises. You are increasingly confident about the bad decisions you make."
Some of the biggest mistakes:
Not Planning for Healthcare Costs
Healthcare is enormously expensive, and inflation in the field is more than three times the Consumer Price Index's annual increase. Medical inflation hit an average of 6.8% in 2017, according to a study by Willis Towers Watson. While Medicare, which Americans must enroll in at age 65, covers costs such as hospitalization (known in Medicare parlance as Part A) and doctor visits (Part B), there are many things it doesn't -- like long-term care, vision, dental, co-pays, and deductibles. 
And the healthcare outlays mount with advancing years. Expenditures can rise from 5% during the retirement go-go years (the early part, when people tend to be vigorous) to 15% in the no-go years, Powell said.
Related. The Three Pillars Needed to Find Happiness In Retirement
Moreover, people often aren't smart shoppers about Medicare options they pay extra for, like part D (prescriptions) or Medigap (covering areas that traditional Medicare doesn't). And they can overspend by 90%, said one panelist, Dr. Katy Votava, president and founder of Goodcare.com, a consulting firm that aids consumers and financial advisers on health care coverage.
How do they do that? Very often, they spend far more than they need to because they pick plans that don't include all the drugs they need or insist on one that includes their doctors.
Just as bad is ignorance about the deadline to enroll in Medicare, at 65. People often miss it and have to pay a penalty to get in the program, Votava said. And they might get confused if they have employer coverage. Not helping, Powell said, is that the Medicare and You instruction book is 130-plus pages, so many don't bother delving through it.
Failure to Save
This is a huge problem, especially for the young, who think they have plenty of time to take care of their investing needs -- and before they know it, have a family with its financial demands. The Pension Protection Act of 2006 smoothed the legal path for companies to automatically sign up employees for retirement programs like the 401(k), but not all workplaces do. And the employees can opt-out.
The earlier that you start a retirement program, the better off you are. But that noble-sounding platitude runs into some real-life hindrances.
One is that 401(k) plans often offer a bewildering array of fund choices to new workers. "They're overwhelmed, and so they do nothing," said Frank Pare, founder and president of PF Wealth Management Group, and a previous national president of the Financial Planning Association (where he now serves as national chair).
Related. Will Your Retirement Savings Survive Your 100-Year-Life?
Plus, parents' finger-wagging at young folks for not saving is counter-productive, said Douglas Boneparth, president of Bone Fide Wealth, which specializes in high-achieving millennials, young professionals and entrepreneurs. "We shouldn't guilt young people for paying down student debt or buying a house ahead of retirement, he said.
The panel agreed that the young should at least be encouraged to put away something for retirement. Boneparth advocated more automatic deductions for investments as a possible solution for under-saving.
Investing Badly
Financial illiteracy is widespread and limits people's ability to judge how best to allocate their investments. Too often, Powell noted, people fall back on heuristics -- namely, mental shortcuts that may prove ruinous. He said he's seen cases where people will look at 10 investment options and place 10% with each. Or invest alphabetically. "We're giving people the keys to the car without giving them any drivers' education," he remarked.
The panel chewed over the advisability of target-date funds, which are aimed at providing sufficient retirement funding at a person's 65th birthday. These vehicles become more conservative over time, with the bond portion of the portfolio increasing and the more risky stock allocation decreasing.
But as appealing as that arrangement may be, Pare pointed out that most don't stay in the same job for life, and when they move on, they may cash out their account. Bye-bye planning for the future. As a result, Pare suggested signing up with a professional financial adviser who "lives and breathes this stuff, day in and day out." And engaging a pro, Boneparth added, provides a "buffer against making stupid mistakes," such as when the market crashes and scared people cash out, rather than wait out the storm.
Related. This May Be the Biggest Challenge Facing Women in Retirement
Hubris 
Over-weaning self-regard has destroyed many people's financial stability. This is where, as Powell put it, "You put your fingers underneath your lapels and then say, 'I've got it and it's going to work.'"
One clear example of that is a failure to anticipate how spending can creep up and overwhelm the most careful financial plan. "The actual document becomes useless the next day because life changes that quick," Pare said. A retiree may have been successful in his or her career, but that doesn't translate into knowing much about financial planning, he continued.
Such successful souls have a hard time appearing vulnerable and admitting they don't know what they don't know. "If you are very good at what you do, the last thing you want is to do" is have someone else judge you intellectually deficient at managing your money, Pare said.
And that, he went on, is a good argument for engaging an adviser. An adviser can provide that outside perspective to prevent clients from making stupid, emotion-based mistakes. What's difficult, Boneparth said, is convincing people to buy stocks when the market has crashed, like in early 2009.
People will suffer, Pare said, if they believe "they can read a book or go on the Internet" and instantly master the difficult task of planning for their financial futures.