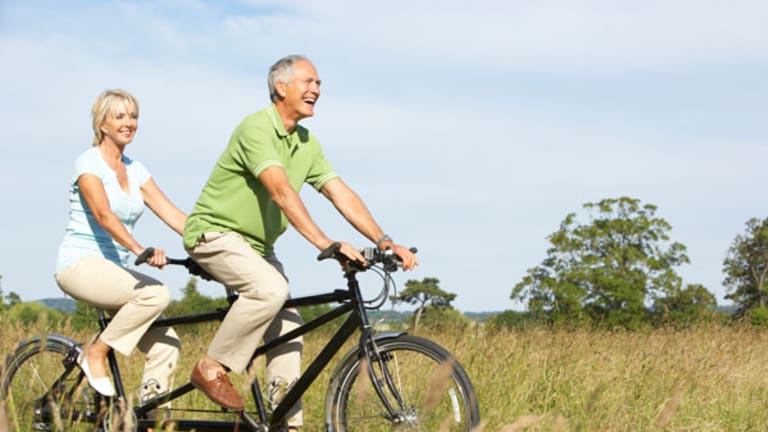 4 Crucial Ways to Change Your Retirement Planning in 2015
Americans need to do more to ramp up retirement savings. Here's a blueprint for the coming year.
NEW YORK (MainStreet) — Too many Americans just don't seem to get it when it comes to retirement savings, which could cost them when their working years are done.
A study from E-Trade says 40% of working Americans would rather spend money on themselves than on their retirements, and that rises to 58% for those under the age of 34. Workers said they would use only 28% of employee bonuses toward retirement savings.
That study mirrors a long list of others that conclude Americans aren't taking their retirement savings seriously. An October study from Wells Fargo said 34% of middle-class Americans hadn't contributed anything to an employee retirement account such as a 401(k) or IRA plan, and that 41% of Americans age 50 to 59 have also not saved anything toward retirement. A full 61% of all middle-class Americans in the Wells Fargo study say they are not sacrificing "a lot" to save for retirement.
"Saving for retirement isn't easy," says Joe Ready, a director at Wells Fargo. "It requires sacrifice, and it's not something people can push off and hope to achieve later in life."
E-Trade advises people to change the way they think about retirement savings and take creative but diligent and disciplined steps to saving. "The end of the year is a natural time to review your retirement goals and the progress you made in achieving them," says Lena Haas, a senior vice president at the online investment company. "Making disciplined contributions is the key to success — and may be the most significant factor in the health of your retirement account. Fortunately, there are a number of actions investors can take to create a systematic approach to saving for retirement."
Haas offers several ways to shift your retirement savings into higher gear:
Pop things into "automatic." "Setting up automatic contributions removes the guesswork from how much you will contribute each period," Haas says.
Know your retirement plan inside and out. "Dig in" to your plan with the help of a financial planner and really get to know all of your options. "Review the critical components like asset allocation and fee structures, but also some of the lesser-known features," Haas says. "For example, some plans offer the ability to draw loans, which will give you options if you have a short-term setback. Additionally, for those 50 or older, several retirement plans offer increased contribution amounts, or 'catch-ups.'"
Shed your portfolio losers. Review your portfolio by Dec. 31 and earn tax breaks by selling underperforming stocks, bonds and funds. Reinvest the proceeds into investments that give you more bang for your buck.
Leave no stone unturned. Leaving money on the table is a real problem for many retirement investors, as many retirement plans offer cash incentives. "For example, many employers offer 401(k) plans with a contribution match," Haas says. "For those with IRAs, make sure to contribute the annual maximum to take advantage of the potential pretax dollar benefit." The maximum is $5,500 for those under 50, and $6,500 for those 50 or over. 
— By Brian O'Connell for MainStreet