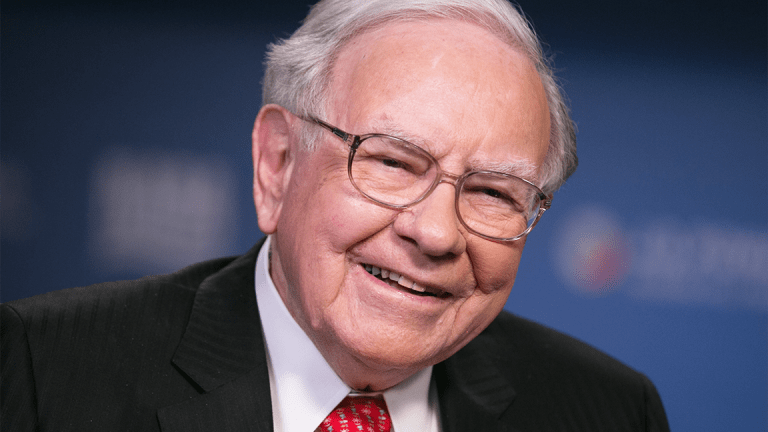 3 Warren Buffett Stock Picks That Could Be Perfect for Your Retirement Portfolio
If they're good enough for the Oracle of Omaha, they're good enough for you.
If they're good enough for the Oracle of Omaha, they're good enough for you.
Warren Buffett, the chief executive of Berkshire Hathaway Inc.  (BRK.A) - Get Report , has long been lauded as one of the greatest value investors of this lifetime.
That makes his picks for Berkshire a solid pick for a retirement fund with a few years to grow. His preferences are smart for long-term retirement investors especially - after all, Buffett's favorite holding period, he has said, is "forever."
These are some of the best Berkshire- and Buffett-approved holdings to keep in your retirement portfolio if you're looking for sustained returns over the long run.
American Express
American Express Co. (AXP) - Get Report first earned Buffett as an investor way back in the 1960s. Since then, Buffett's Berkshire has amassed a 17.47% stake in the credit card company worth more than $14 billion. While it's clear Buffett likes credit card firms - Berkshire also owns Mastercard Inc. (MA) - Get Report and Synchrony Financial Inc. (SYF) - Get Report  - AmEx is especially savvy.
The company's 1.3% dividend yield isn't anything to write home about, but it boasts a strong management team and maintains one of the longest-dominating brands there is. Plus, American Express is a free cash flow generating machine, meaning it has plenty of cash left to pay investors dividends and buy back stock. In 2017, AmEx reported $12.48 billion in free cash flow, an increase of 82.2% from the previous year.
Coca-Cola
Coca-Cola Co. (KO) - Get Report has paid a dividend religiously since 1920 and has increased that dividend each year for the past 55 years, according to the company. It's most recent dividend yield came in at a respectable 3.2% for 2017, and FactSet analysts predict that yield will grow to 3.6% for 2018, 3.8% for 2019 and 4.1% for 2020.
Buffett first invested in Coca-Cola in 1988, when the dividend was just 30 cents. That dividend today is 30% larger. In a letter to Berkshire shareholders the year he invested in Coke, Buffett said he intended to hold onto the stock "for a long time."
Watch below what Coca-Cola CEO James Quincey just told TheStreet's Executive Editor Brian Sozzi about Warren Buffett.
Apple
Apple Inc. (AAPL) - Get Report may not seem like it's a made-for-retirement stock, but it could be worth taking another look. Sure, it's a tech company, but it's tough to imagine a world in which the majority of people don't have an iPhone. Part of this company's allure is that it's essentially hooked a user base with staggering loyalty.
Plus, Buffett has said he sees Apple, not Amazon.com Inc. (AMZN) - Get Report or Alphabet Inc. (GOOGL) - Get Report , becoming the world's first trillion-dollar company. At an $854 billion market cap, it's not too far off.
Plus - though Apple isn't known as a dividend company - its dividend yield is expected to grow to 2% by 2020 from 1.6% in 2017, according to FactSet. In addition, the stock has returned 20% over the last year, far outpacing the S&P 500's 11% gain in the same time frame.
Amazon, Apple and Google are holdings in Jim Cramer's Action Alerts PLUS member club. Want to be alerted before Jim Cramer buys or sells these stocks?Learn more now.